Lobby
      Welcome to the Federal Courthouse in Pittsburgh!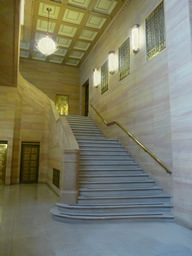 Thank you for coming and we hope that you find your visit interesting. This building, which is listed on the National Register of Historic Places, was built in 1934 as one of the many federal construction projects that were done to pull our country out of the Great Depression of 1929. It took three (3) years to complete and was originally designed to house the postal service operations in Pittsburgh and the surrounding areas. As a matter of fact, this building was built over train tracks to make the loading and unloading of mail easier. In some places, this building is still referred to as the "United States Post Office and Courthouse." Over the years, however, the postal service moved its operations to a larger building on the North Side of Pittsburgh, near what used to be Three Rivers Stadium, making the United States District Court the largest tenant in this building.
Over time, this building has had numerous renovations and alterations. The most significant improvement took place between 2002 to 2006. While four (4) years doesn't seem like a long time, the seeds of this renovation were planted in 1988–14 years before construction began!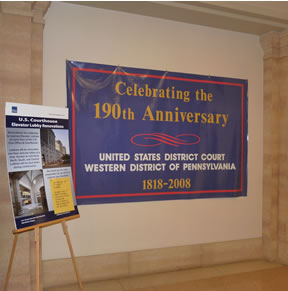 There are 94 federal judicial districts, including at least one district in each state, the District of Columbia and Puerto Rico. There are also districts in three (3) U.S. territories. The United States district courts are the trial courts of the federal judicial system. These courts hear nearly all categories of federal cases, including both civil and criminal matters. In the Commonwealth of Pennsylvania, there are three (3) districts: the Eastern District, which covers the Philadelphia area; the Middle District, which covers the Harrisburg and State College areas; and the Western District, which is the area that this Court covers.
The Western District of Pennsylvania runs north to the Pennsylvania-New York border, south to the Pennsylvania-West Virginia border, west to the Pennsylvania-Ohio border, and east to the Johnstown-Altoona area. In short, this Court has jurisdiction over one-third of the state.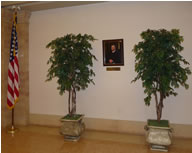 To cover this much area, there are ten district judgeships allotted to this district. This district is divided into three (3) Divisions; the Pittsburgh, Erie and Johnstown divisions. Eight judges are assigned to the Pittsburgh Division, one is assigned to the Erie Division, and one is assigned to the Johnstown Division. Unlike state court judges, district judges are not elected to their positions. Instead, federal judges are nominated by the President of the United States and confirmed by the United States Senate.
To assist the district judges, this district has five (5) full-time magistrate judges and one (1) part-time magistrate judge. Four magistrate judges sit here in Pittsburgh, one sits in Erie, and one sits in Johnstown. Unlike district judges, magistrate judges are appointed for terms of eight (8) years and must be re-appointed by the Board of Judges. There are many types of cases that federal judges hear. Such disputes include cases involving the civil and criminal laws of the United States, cases that deal with the constitutionality of those laws, civil rights cases, cases that involve disputes which occur on our waterways, and cases that involve disputes between parties who reside in different states. There are several types of criminal cases that they hear, involving drug offenses, income tax evasion, wire fraud and postal theft. Sometimes a federal court can handle a case involving a state claim as well, such as where the parties to a civil action are citizens of different states, or where a state claim is asserted by a plaintiff who is also asserting a federal claim over which the federal court has jurisdiction.