JP Diroll – Artist Biography
Once upon a time in the land of steel and bridges, there was an engineer.  Despite having earned a mechanical engineering degree in 2007 from Carnegie Mellon University, one of the premier engineering schools in the country, and landing a job at home in Pittsburgh, our engineer was unhappy.  As you've probably guessed, I was that unhappy engineer.  Luckily, the rest of our little tale is a happy one.
Hi, I'm JP Diroll, and all my life I've been a visual person, fascinated by wildlife photos specifically.  But I needed to make my own, so with the extra scratch I had in my pocket from that engineering gig, I bought my first digital camera, also in 2007.  It was a sweet little Nikon D50 with a whopping 6.1 megapixels.  I had NO clue how to use the thing, but to this day I believe buying that camera was the smartest dumb thing I ever did.
I was no longer taking photos.  I was creating images.  The creative process immediately began to consume me, confirming what I knew all along:  I was never an engineer.  I was an artist, and a good one.  So I took a leap of faith in 2013.  No more 9-5.  No more steady paycheck.  Just a camera, a vision, and the determination (and support - thank you Alyssa!) to pursue a dream.
Fast forward to today and the dream is a reality.  As a full time professional photographer, I'm happier than ever.  Here in the city I love, I get to share my journey and art, showing YOU the city you love too, but through my eyes.  And I guarantee you're going to LOVE what you see!
JP Diroll
PHONE: 412-377-1081
EMAIL: jp@jpdirollphotography.com
WEBSITE: www.jpdiroll.com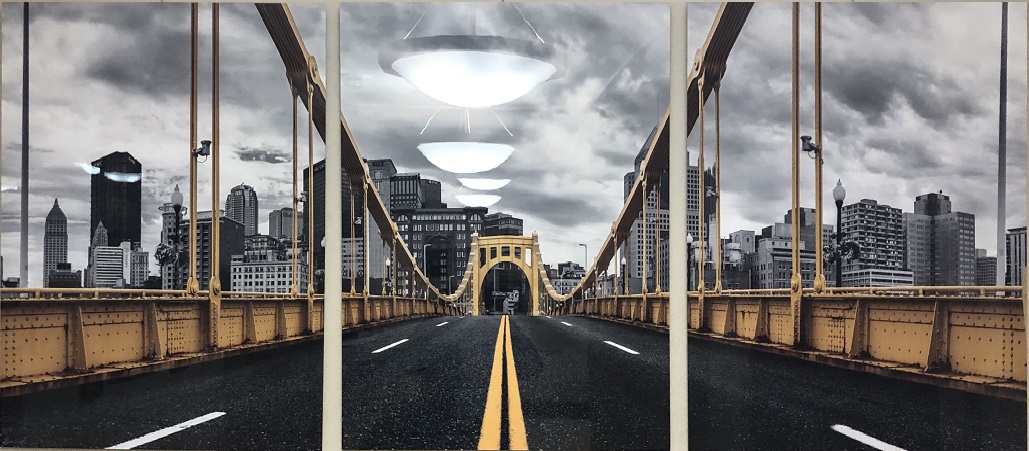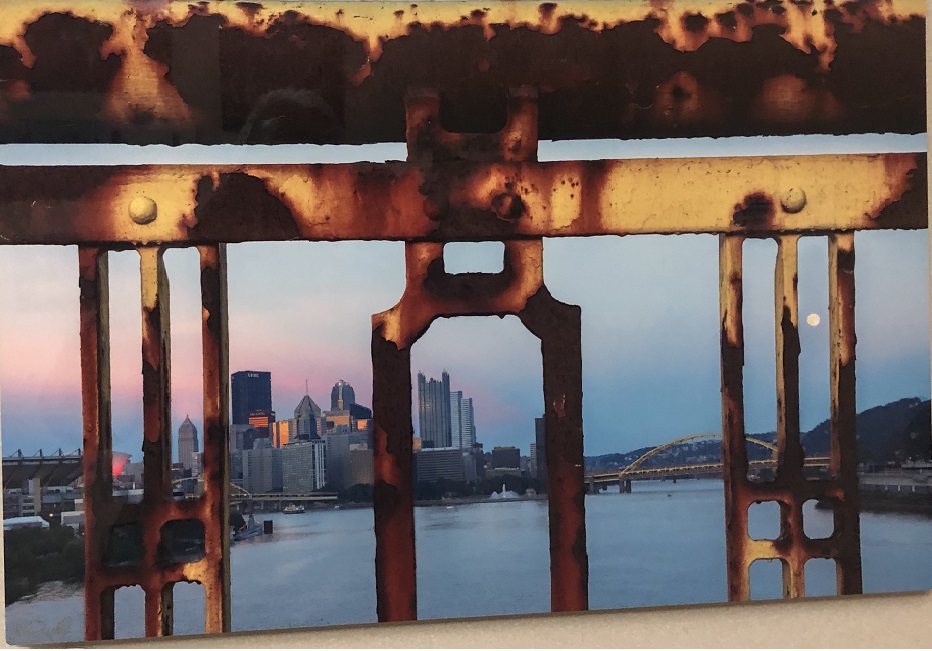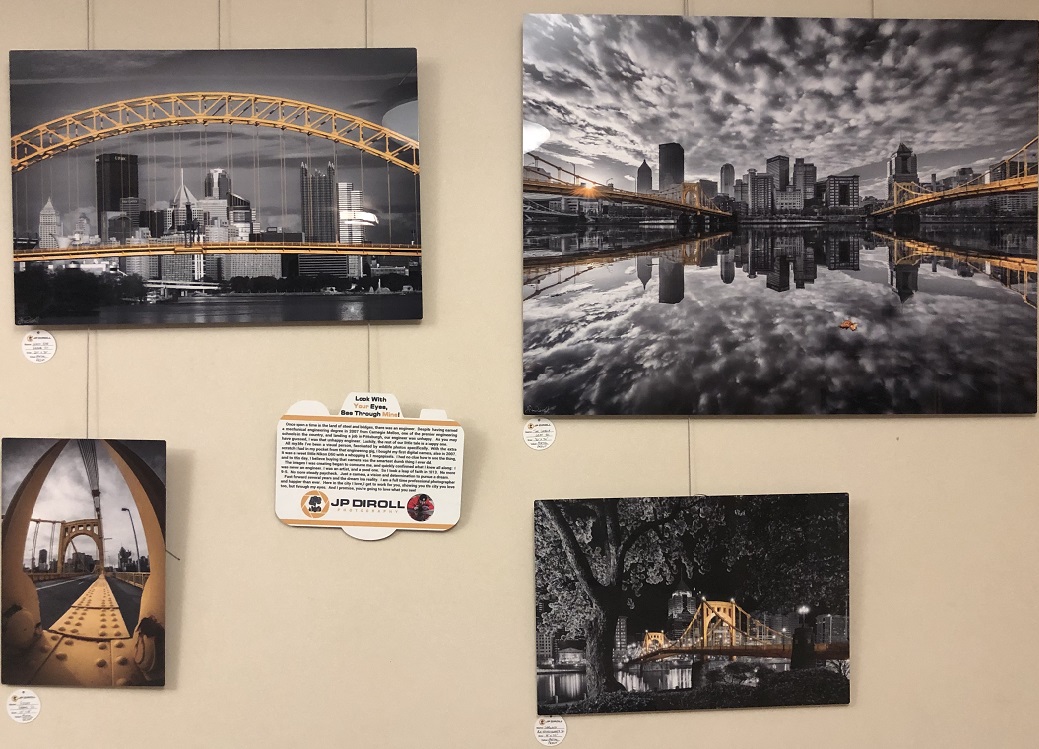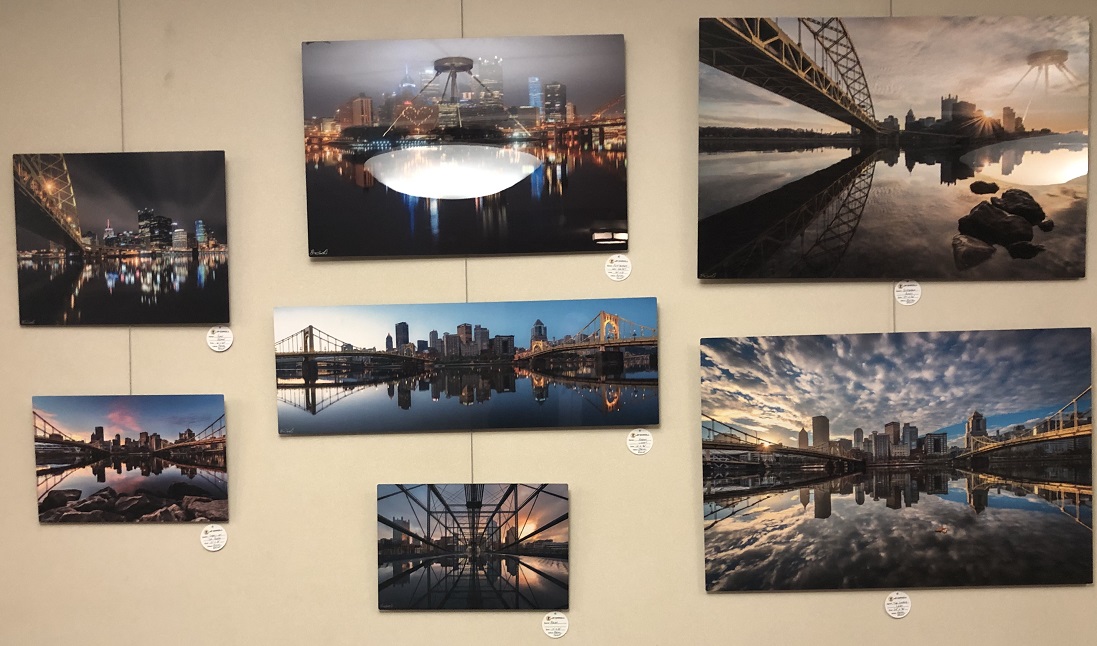 ---
Featured Display 12/19

Hi! I'm Kathy Mazur.  I was born, raised, and love living in Pittsburgh, PA. After working in the corporate world for over 35 years as a web designer, technical writer, and software instructor, I decided that it was time for a life of less stress and more fun! In 2016, I was fortunate to be able to take an early retirement and discovered a latent passion for painting.
Life changes...you never know what will come next. So, here I am, redefining myself as an artist. I believe that everyone should continue to grow and evolve throughout our lives. Therefore, most of my work is focused on things that grow—flowers, trees, and even cities—a small nod to my Pittsburgh roots.
With no education in painting, I was thrilled to receive a scholarship in 2017 as an Emerging Artist for the Three Rivers Arts Festival and have participated each successive year. I've also exhibited in various other local art shows, been the in-house artist at various venues in the Pittsburgh area, and had my artwork purchased for use on television shows on Netflix, CBS, and CBS All Access.
Thank you for taking time to view my work! I hope that you enjoy it as much as I did creating it.
KMazurArt.com 412-475-9865 | kathy@kmazurart.com | @kmazurart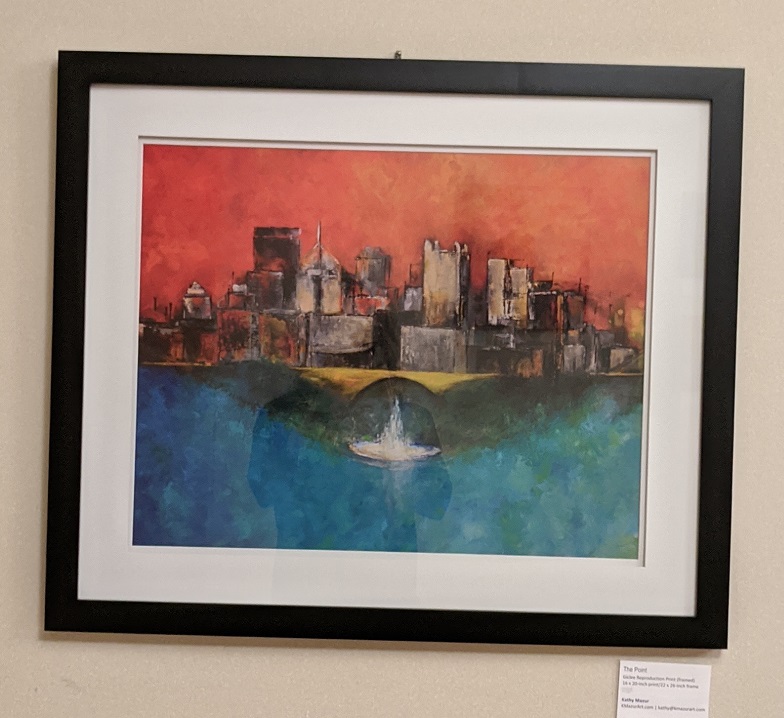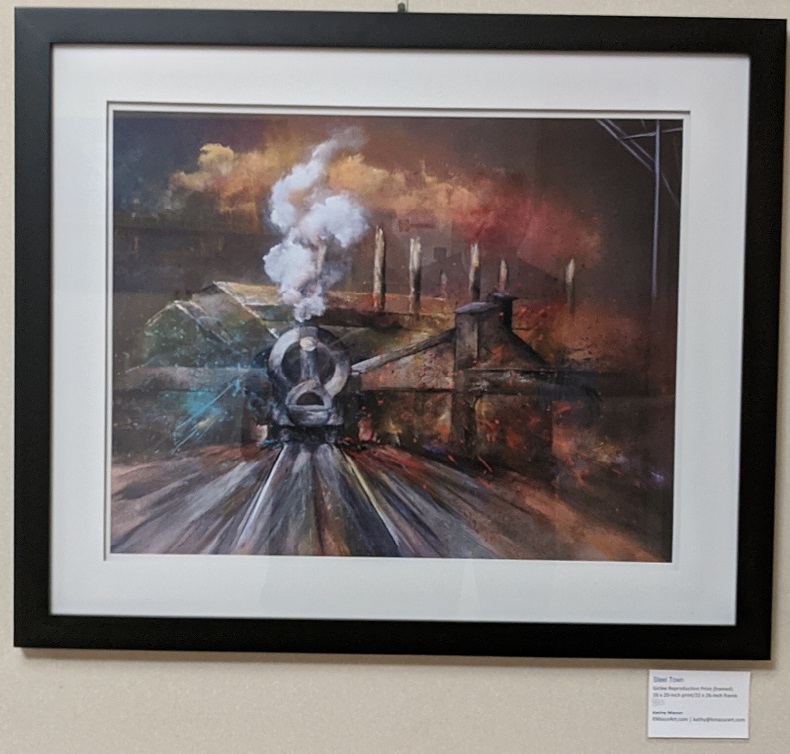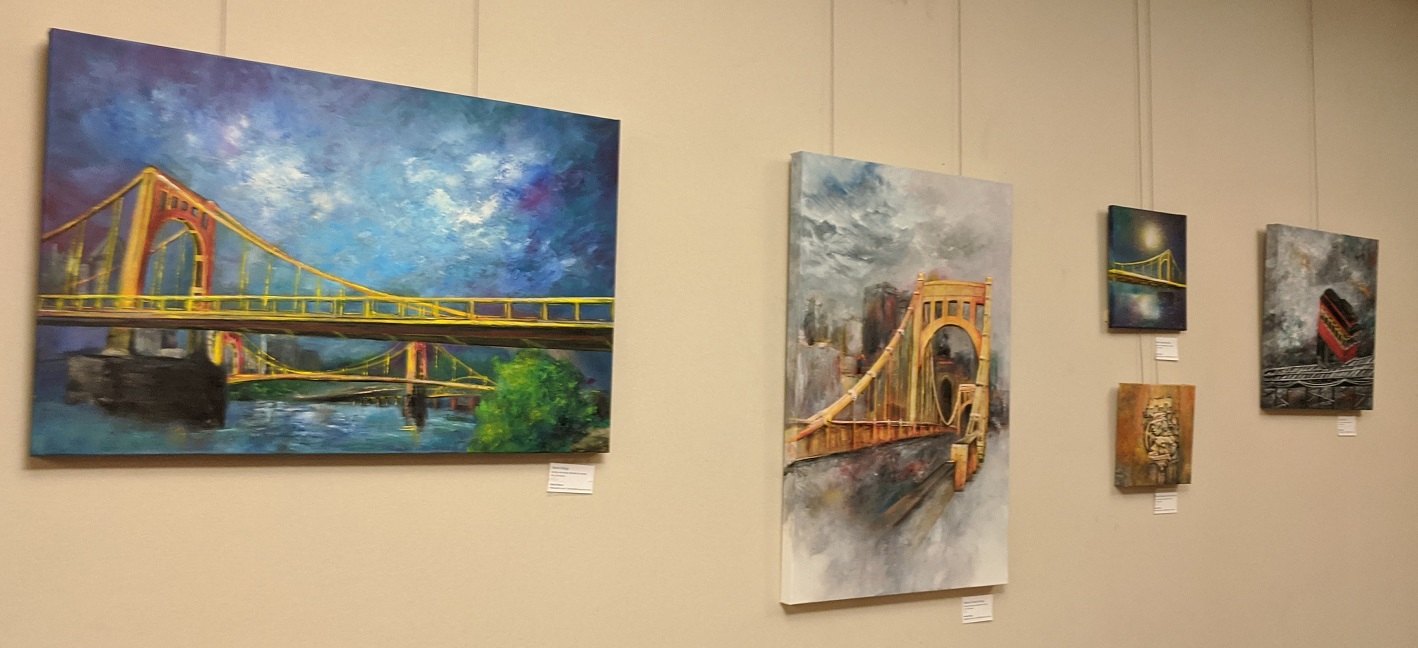 ---
Featured Display 11/2019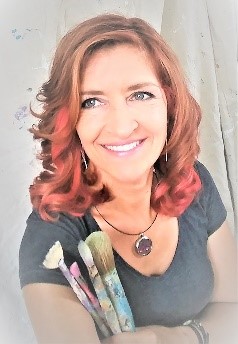 About the Artist: Maria DeSimone Prascak is best known for her hand painted murals in Pittsburgh established in1982 as Maria's Ideas.
Her art is enchanting and imaginative, inspired by wildlife and nature. Maria's murals can be seen at Sarris Candies and the Pittsburgh Zoo. Her art is available on her website, art shows, and gift shops, Johno's Art Studio and the National Aviary where she was the featured artist for their Wings & Wildlife Art Show 2017. Inspiring others motivates her to paint everyday, she also volunteers at Little Sisters of the Poor teaching art classes to the residents.
The artwork in this exhibit " FLORA, FAUNA & FOOD" is available to purchase. Fine art reproductions are available for many of the pieces.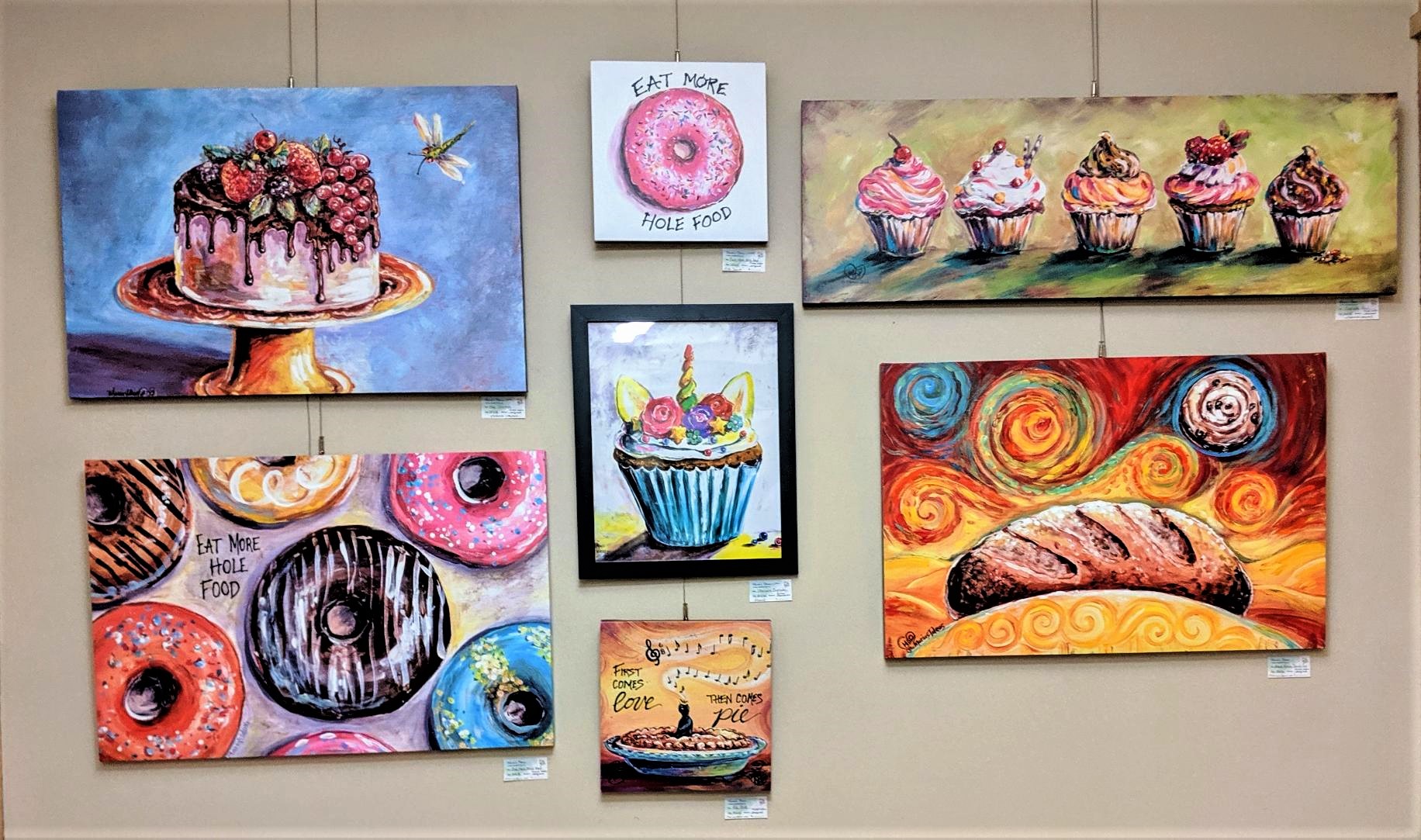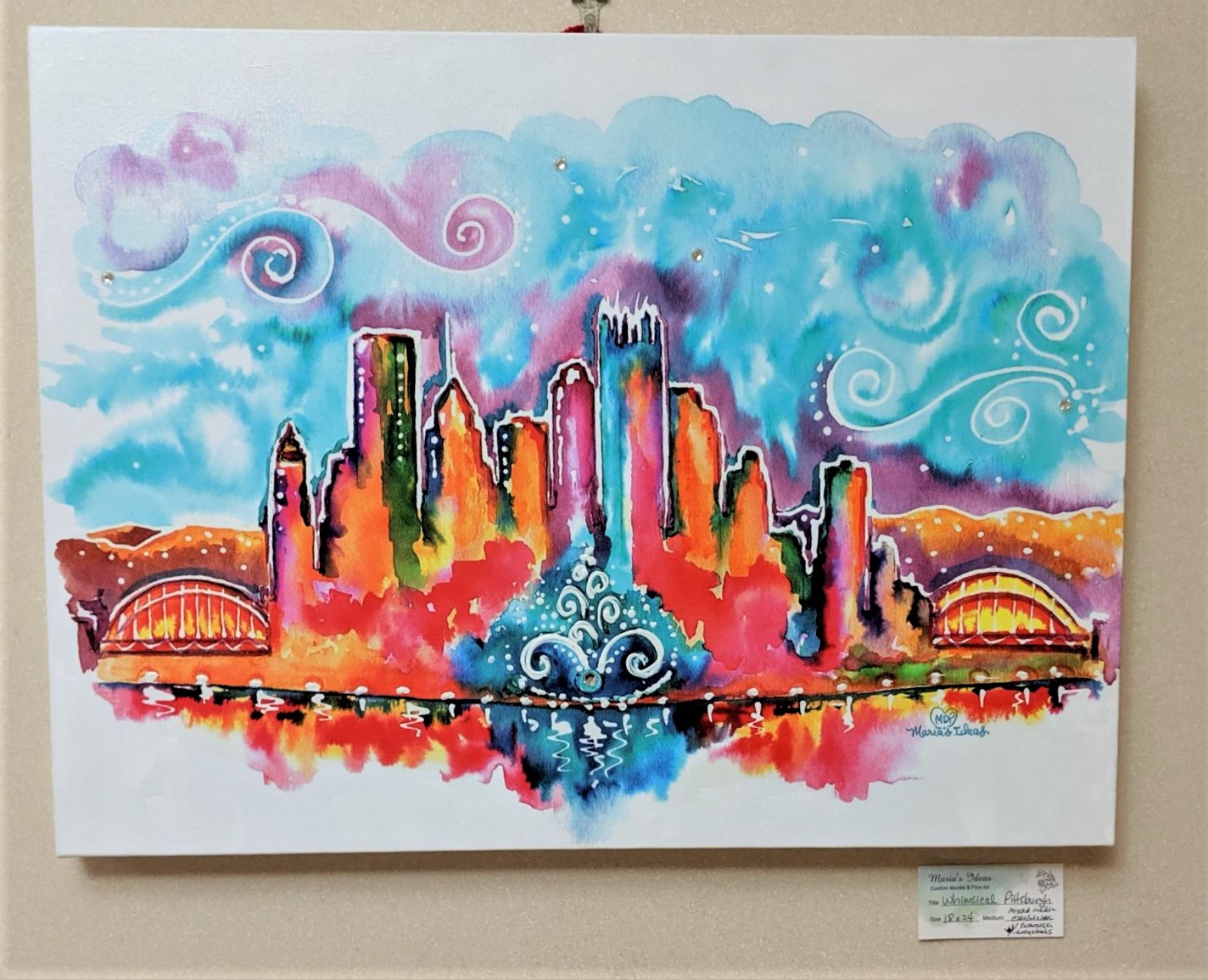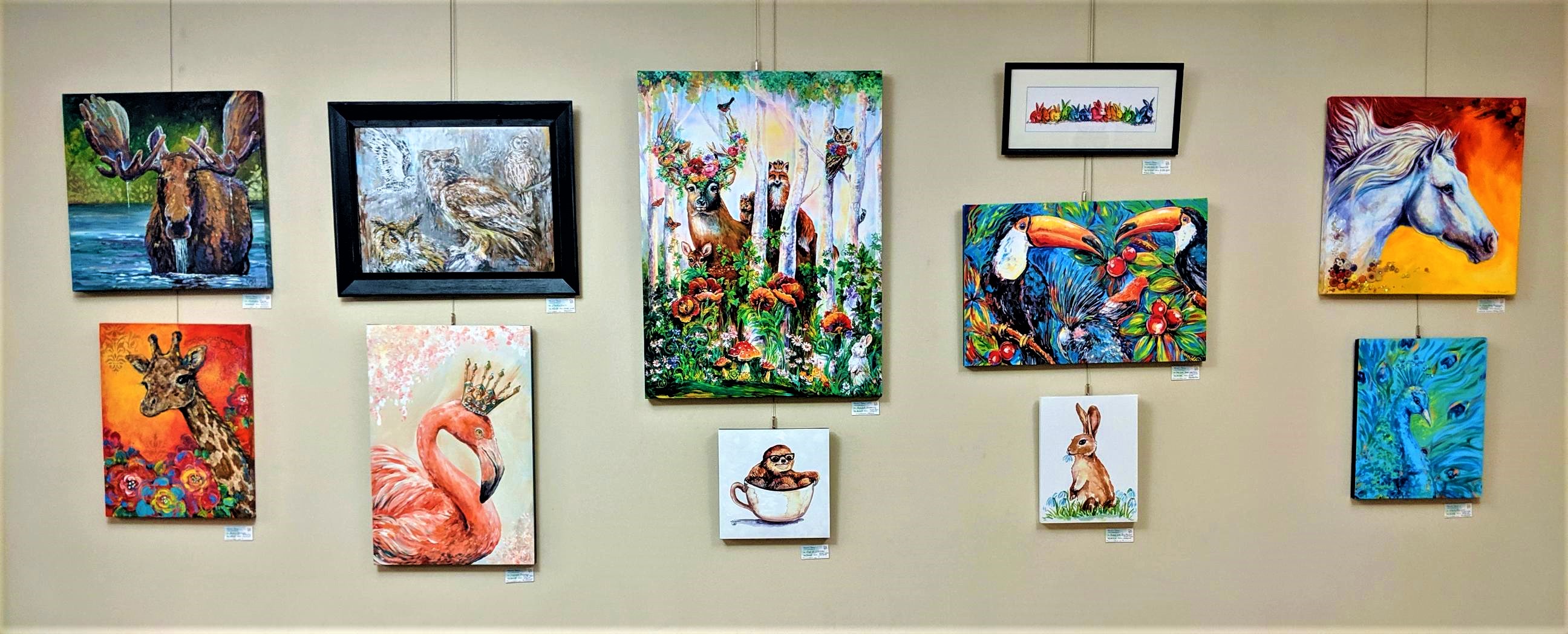 www.facebook.com/MariasIdeasArt
www.instagram.com/MariasIdeasArt
---
Featured Display 5/2019
May is Mental Health Awareness Month
The need to focus on mental wellbeing and behavioral health is growing by the minute, especially in the professions where the increasing pace of business keeps driving the insanely high levels of stress and burnout even higher. One of those professions is LAW. Turns out that lawyers outpace medical doctors, finance specialists and other professionals when it comes to depression, anxiety, burnout and substance abuse. This scary "overachieving" trend starts as early as law school.
That's the bad news. The good news is that the legal profession is finally responding to the urgent need to address this issue through increasing wellness advocacy and practice. In 2018 American Bar Association launched its Well-Being Pledge calling on legal professionals to (1) acknowledge that more can and should be done to improve mental health and well-being of legal professionals, and (2) pledge to support, adopt, and promote tools and practices for improving and maintaining well-being within the profession.
This art show is a response to the ABA Pledge. ART is a wonderful tool which is frequently used to maintain and improve mental health, well-being and resilience. Studies have consistently shown that making art improves cognitive function, aids stress-relief, builds resilience, reduces anxiety, and helps improve and maintain overall well-being. Making art and even looking at art improve cognitive abilities and restore neurological pathways necessary for healthy brain function.
The artwork presented here is created by legal professionals—Judges, law students, attorneys, legal staff, and courtroom translators—as a way to feel better. We invite you to read each artist's statement and find out how art makes a difference in their life. Make Art. Feel Better.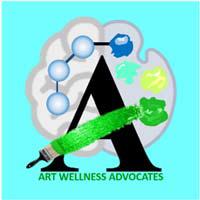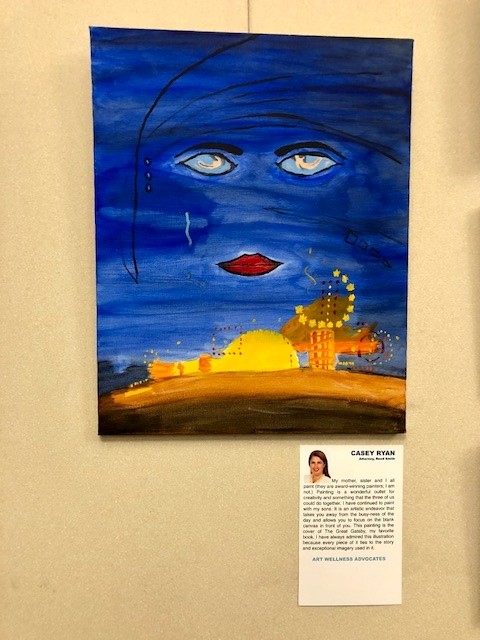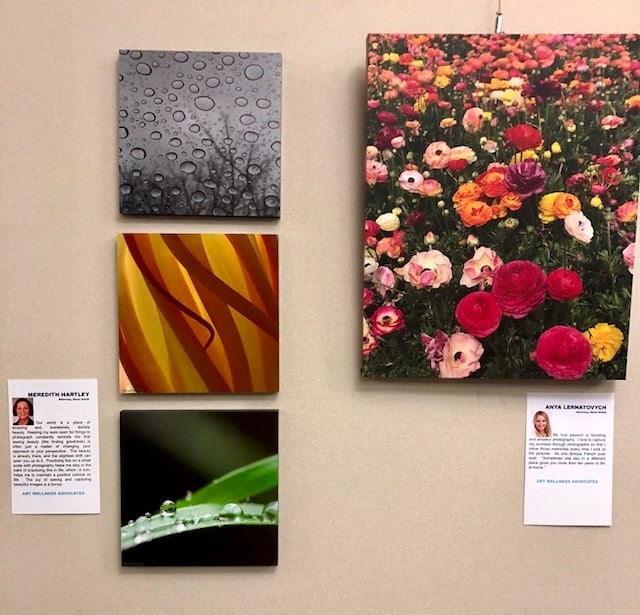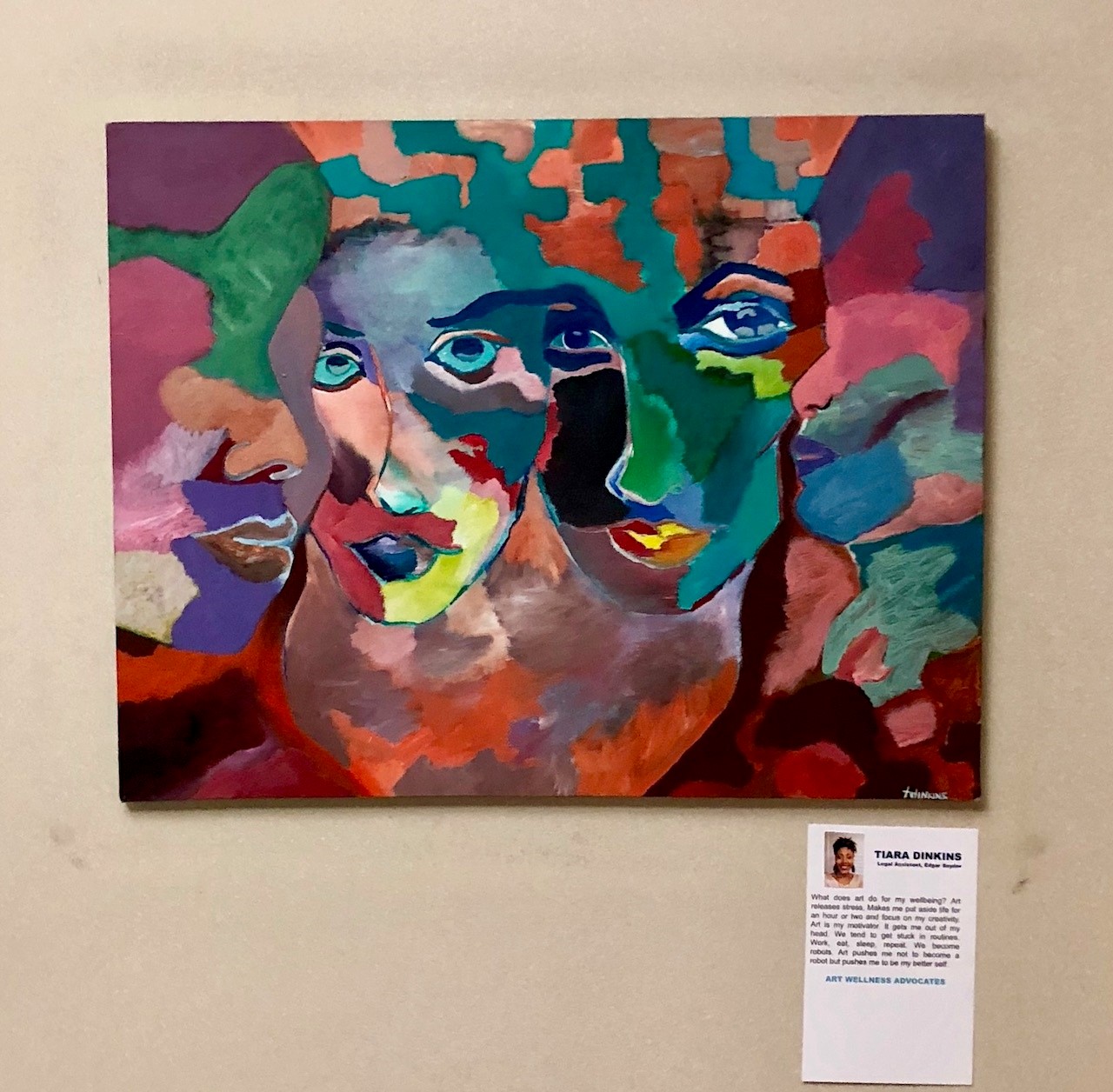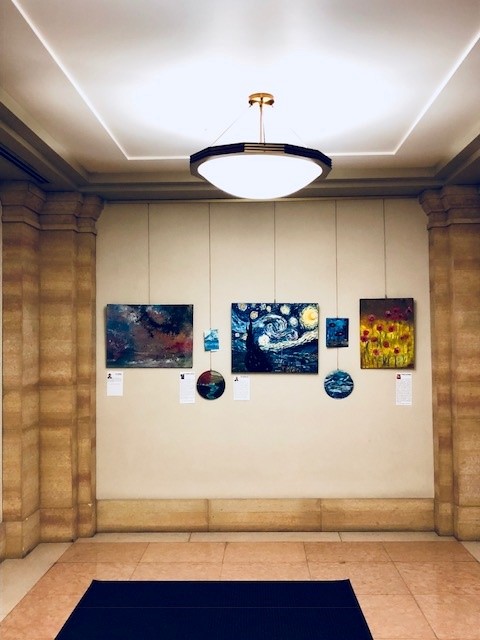 MEREDITH HARTLEY, Attorney, Reed Smith Our world is a place of amazing and, sometimes, terrible beauty. Keeping my eyes open for things to photograph constantly reminds me that seeing beauty (like finding goodness) is often just a matter of changing your approach or your perspective. The beauty is already there, and the slightest shift can open you up to it. Practicing this on a small scale with photography helps me stay in the habit of practicing this in life, which, in turn, helps me to maintain a positive outlook on life. The joy of seeing and capturing beautiful images is a bonus.

DEB STEINMEYER, Legal Assistant, Reed Smith I am always in awe of any artist's work because coming from a poor farming family, art was not nurtured. I am very creative with crafts and flower arrangements, but I never painted because I had no confidence and was intimidated by people around me who had great unique artistic abilities. The first art piece I did was to support a fundraiser for the Heitz 61 Memorial Foundation. It was very simple, of the Pittsburgh "Triangle" of the City, but it wasn't horrible. Uncle Sam was done on a art wellness work break. I have done other paintings with groups of friends and I am proud that I have the confidence to select different colors than that of the sample. I like painting with friends, and after attending Sasha Phillips' wellness painting class, and her encouragement to "let your artistic abilities flow" whether it be painting, dance, music, etc., that I am going to try more new things.

JON MARMO, Attorney, Reed Smith  Abstract painting allows me to indulge and develop my creative side, while also decompressing from the day. I enjoy working with different colors and mediums to see what develops.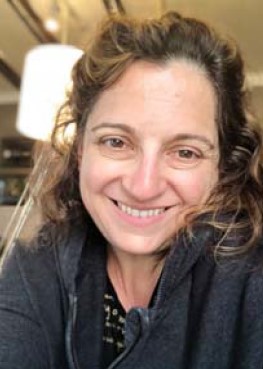 YELENA LAMM, Children's Advocate I've been painting for a long time, but never did pet portraits before my cat, Rio, got sick. He needed knee surgery. He was miserable, and I was heartbroken… I painted this portrait of him, as my own art therapy. Working on this painting helped me to calm down, relax, collect my thoughts, and come up with a plan. I decided to take pet portraits commissions to raise funds for Rio's surgery. Once started, I fell in love doing it. It looked like others also loved it, since more people asked me to paint their beautiful furry friends. When painting pet portrait, I want to know more about my models. I ask people to send me multiple photos of their pets, I want to learn about their personalities, their character, I like to hear people's stories about them. I literally talk to pets as I put them on canvas. This emotional connection with my subject helps to create a successful portrait, and my clients appreciate it. This project, inspired by my cat, helped us both. Rio is now running and jumping again, better than ever. I'm happy to keep painting pet portraits that bring people joy.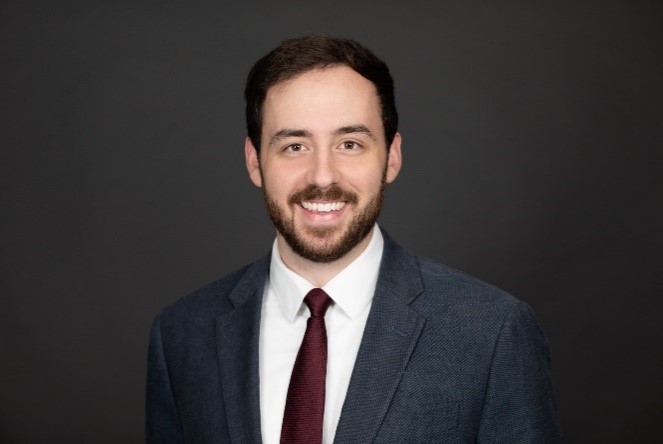 CASEY SNYDER, Attorney, Babst Calland Art can be as simple as water. There is chemistry behind choosing the right color and mathematics behind creating a good composition. But as a self-taught artist, I do not feel particularly bound by any rules of the craft. My art is simple. It is how I feel or what I see. Focusing on what feels right for a few hours every week keeps me in touch with my creative self. I believe it is a side that everyone should nurture, no matter one's profession.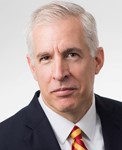 JIM DOERFLER, Attorney, Reed Smith Outside the law firm I tend to gravitate toward activities that require a certain level of mental focus, such as long distance running or painting. It helps mentally to get a break from the stresses of the work day by focusing on something else. I have done amateur drawing and painting over the years and enjoy the technical aspects of painting, which has included the restoration of a 1930's landscape mural painted on the dining room walls of my home. Artists that I find inspiring are two of the Dutch masters: Vermeer (for his sense of balance and the stillness in his paintings) and Rembrandt (for his technical virtuosity mid-career and the emotional power of his later works). As the last of my four daughters departs for college in the fall, I hope to have more time to spend working on art in the near future.
CASEY RYAN, Attorney, Reed Smith My mother, sister and I all paint (they are award-winning painters; I am not.) Painting is a wonderful outlet for creativity and something that the three of us could do together. I have continued to paint with my sons. It is an artistic endeavor that takes you away from the busy-ness of the day and allows you to focus on the blank canvas in front of you. This painting is the cover of The Great Gatsby, my favorite book. I have always admired this illustration because every piece of it ties to the story and exceptional imagery used in it.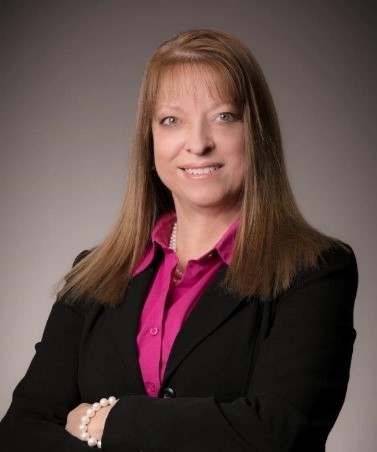 KIM MCCONNELL, Legal Assistant, LANXESS My life as an artist has evolved over the years. It began with pencil drawings, creative needlepoint, wood carving and tole painting which has lead me to water colors, oils and acrylics. Painting is my stress reliever (along with regular exercise) and has gotten me through difficult times. I love the smell of oil paints and their vibrant colors, the flow of a water color paint as it mixes with another color to create something new on paper. As I paint my happy sunflowers, the warmness flows through me like an overflowing creek spreading across its banks, and I smile.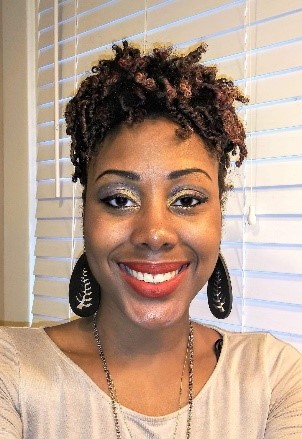 TIARA DINKINS, Legal Assistant, Edgar Snyder What does art do for my wellbeing? Art releases stress. Makes me put aside life for an hour or two and focus on my creativity. Art is my motivator. It gets me out of my head. We tend to get stuck in routines. Work, eat, sleep, repeat. We become robots. Art pushes me not to become a robot but pushes me to be my better self.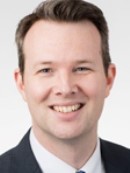 DOMINIC RUPPRECHT, Attorney, Reed Smith I started painting on a lark. During my clerkship I suggested to my judge that we should take a watercolor class together, mostly in the hopes of getting out of work early every Thursday. To my surprise, and co-clerks' annoyance, she said yes. And after I finished my first painting (a piece of blueberry pie with a healthy dollop of whipped cream) I was hooked. While painting can't offer the glitz and glamor of being an insurance lawyer, there is something to be said for throwing some paint on a blank piece of paper and letting the water take control.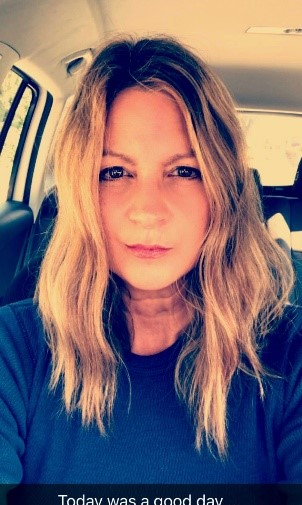 MARIA DICHIERA, Paralegal, Tucker Arensberg I am a huge advocate of finding a place where one must put their feelings/hardships into a positive place. I found for me, art has given me that ability to express my helplessness. I have been personally effected by mental health situations where my daughter felt there is no place to put her hurt and pain. After her third attempt she has become a much better person and one that is able to love herself, one day at a time. As a mother you feel helpless and hopeless and when I have felt like I've run out of options, a tool I've used to cope and get through it during that time was painting. Painting for me allows me to put myself in a happy place. In a time where all you can do is pray and hope that all will be well soon is to do something to take care of yourself. I've learned I have/had to be strong. Although it hasn't been easy to hold it together some days, I would always circle back to a paint brush and a quiet space to heal. There have been many times painting made me feel "hope" and I have learned that you have to be present, in the moment, always. Art for me in any form, shows expression. My daughter keeps her thoughts calm by doing her own artwork; it truly is an act of awareness and self-expression.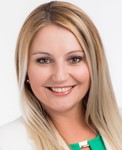 ANYA LERNATOVYCH, Attorney, Reed Smith My true passion is traveling and amateur photography. I love to capture my journeys through photographs so that I relive those memories every time I look at the pictures. As one famous French poet said: "Sometimes one day in a different place gives you more than ten years of life at home."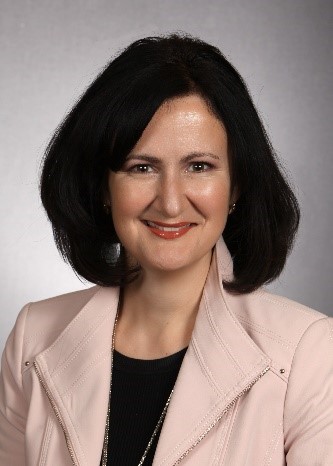 SASHA PHILLIPS, Attorney, Reed Smith I consider Art to be as much of a wellness tool as nutrition or exercise – we need all three to stay healthy and mentally fit. Any time I paint, I feel an overwhelming sense of relief, peace and happiness, and it has nothing to do with how well the finished painting looks. I often hear a question - how do you manage to find time and energy for demanding stressful work, four children AND painting? And my answer is – if I didn't paint, I wouldn't have energy or strength to do as many things or to do them as well. Turns out there is a scientific explanation to this – neuroscientists link art-making with surges of energy, elevated mood, lowered stress and increased cognitive function. Art also helps me build personal and professional relationships. For example, painting this portrait of my daughter allowed us to build a stronger bond. And a wonderful conversation at an art event with SUSAN OTT—one of the artists featured here—led to the Art Wellness Advocates launch.

ALEJANDRO PINZON, Legal and Medical Spanish Interpreter I paint… in BLUE! Blue symbolizes loyalty, strength, wisdom and trust. Blue is also known to have a calming effect on the psyche, and believed to keep bad spirits away; but I didn't know any of that when I started painting. I have been an artist for most of my life, in several disciplines. One day, I felt the need to hold a brush and start creating something. First thing that came to mind was Bob Ross, his iconic landscapes, his snowy mountains, and his "happy trees". I dipped the brush and… the results can be seen hanging on the wall. Rather than looking for flamboyant colors, my intuition took me in a different direction. I enjoy the challenge of using two or three colors to create scenes. The creative process is a kind of meditation. It is a quiet time and a quiet space. For more information about my blue paintings, please search for "Simply Blue Paintings" on Facebook.
LINDA KING, Attorney I started to paint in 2007 as I was going through the dissolution of a 20 year relationship. Since the beginning, painting has been a wonderful way for me to channel stress and anxiety. The art allows me to be totally consumed in the piece that I am painting. Without any other sounds or distractions, I can sit there for hours working on a project. It gives me a feeling of calm and accomplishment, when the work turns out the way in which I had envisioned.
---
Featured Display 1/19
BRANDON CORNER
Email: brandancorner@gmail.com
I've always been excited by the traffic stopping colors and the wildly expressive marks found in graffiti. This inspired me to transfer those aesthetic ideals into my work. I experimented with still lives to understand how to best mend fine art and graffiti aesthetics together. Now that I'm growing stronger as a young artist, I am starting to use pastel chalks to tell stories and attack topics that are impactful to my life, such as depression and the unusual relationship my mother and I had. Brandan Corner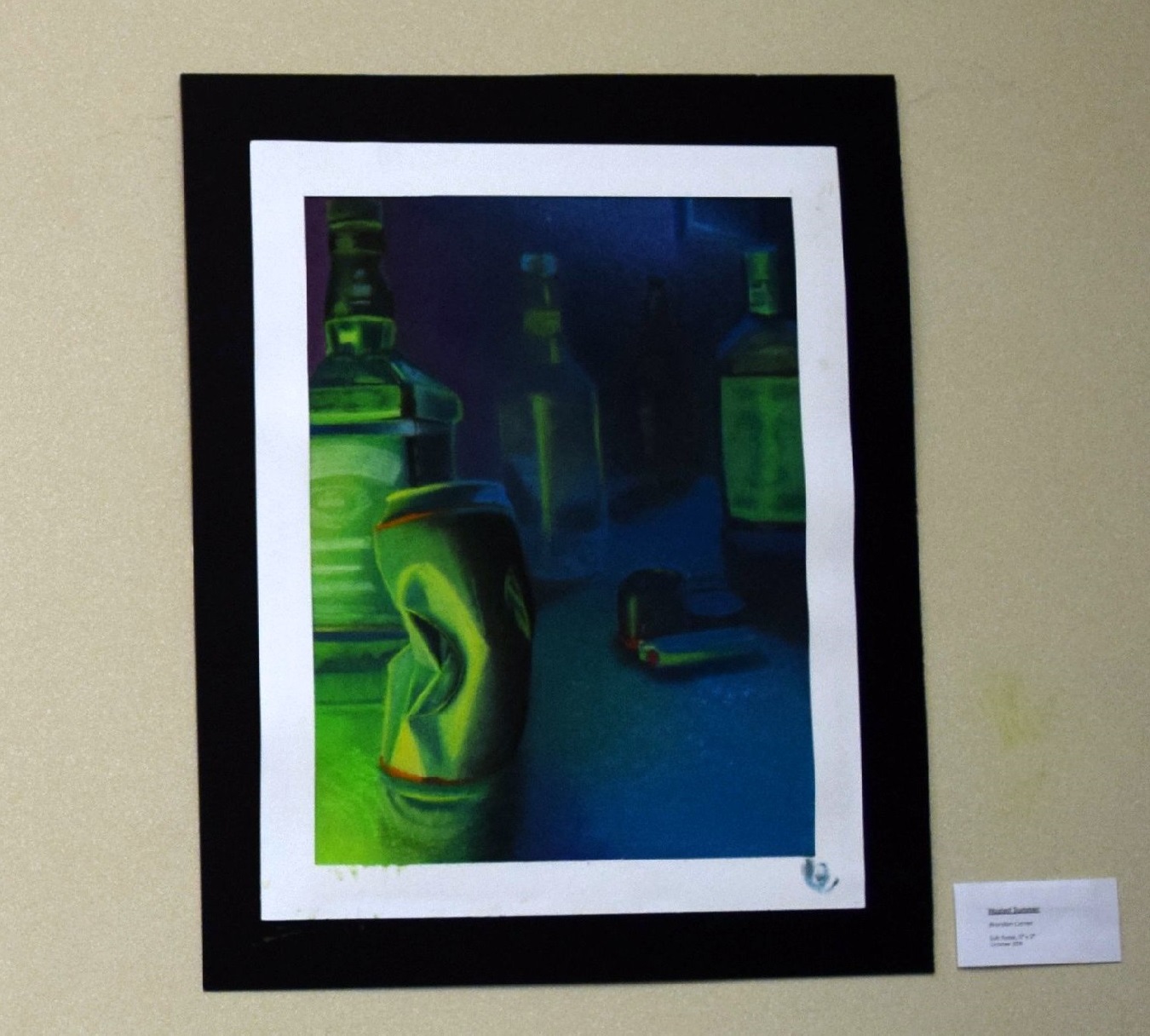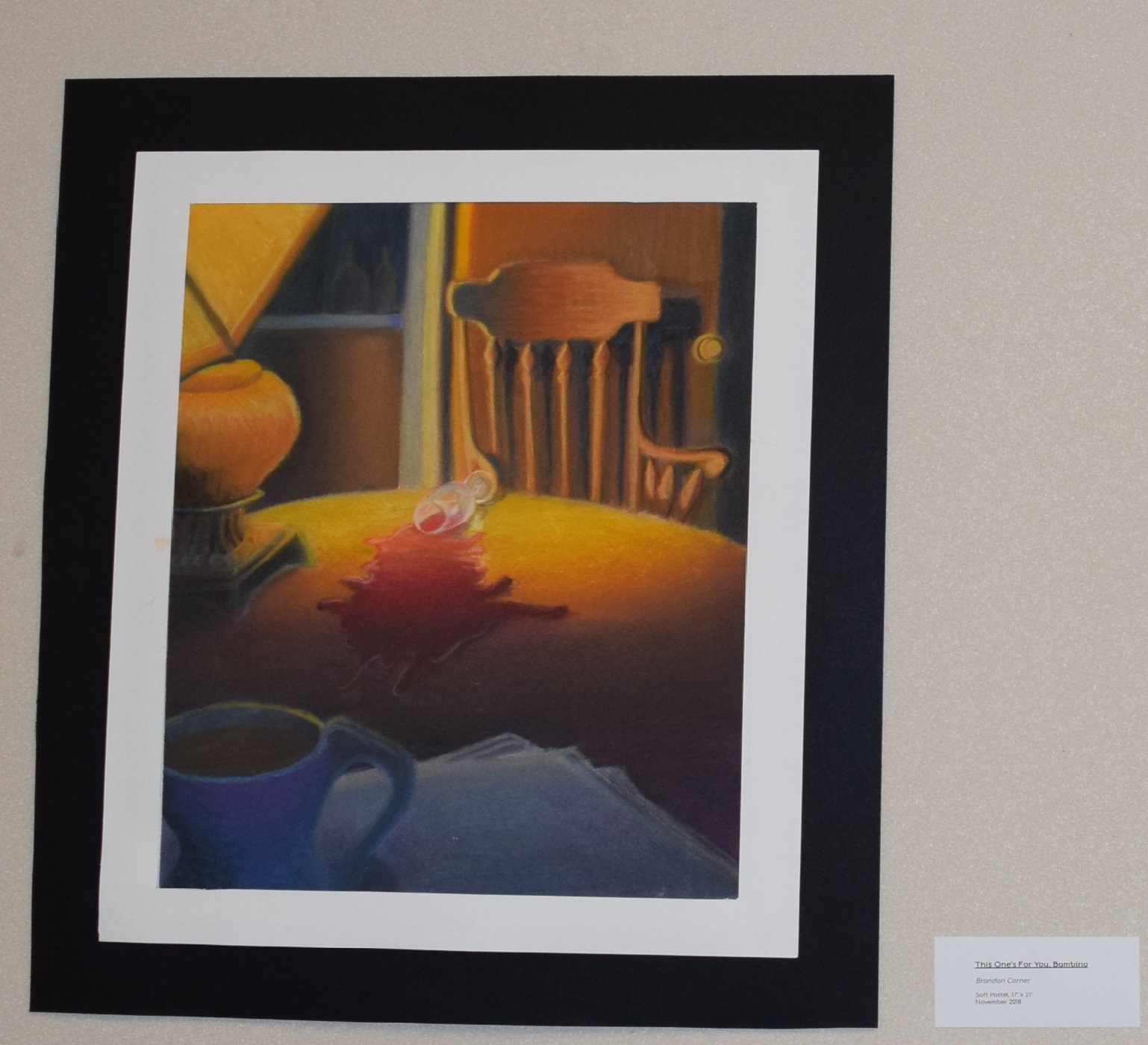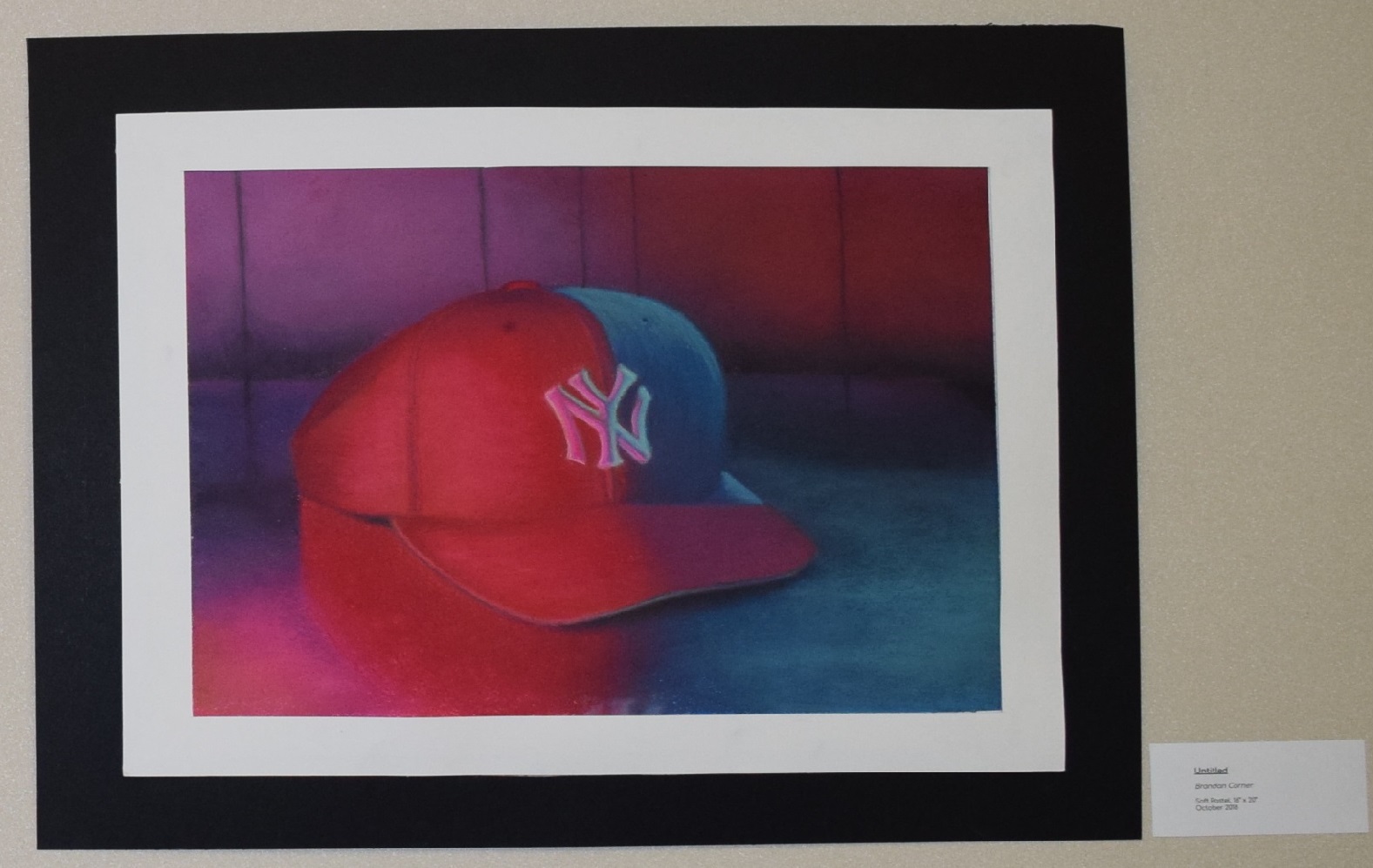 ---
GABE MERRIMAN
I'm Gabe Merriman, a junior art history major at Edinboro University. Last year, when I was offered the opportunity to show my work here, I enthusiastically agreed. This body of work ranges from freshman year to the end of 2018, and features mainly portraiture. For me, the human face is the epitome of subtlety when it comes to art. Humans all have the same traits- a nose, eyes, lips, ears, skin, etc., but there are billions of faces across the world, and each one is slightly different. I love portraiture because you create the illusion of reality, of a real person, and the last few brush strokes can imbue life into a piece.
For inquiries, please reach me at: Email- robinswing15210@gmail.com
Instagram- @yaha.kui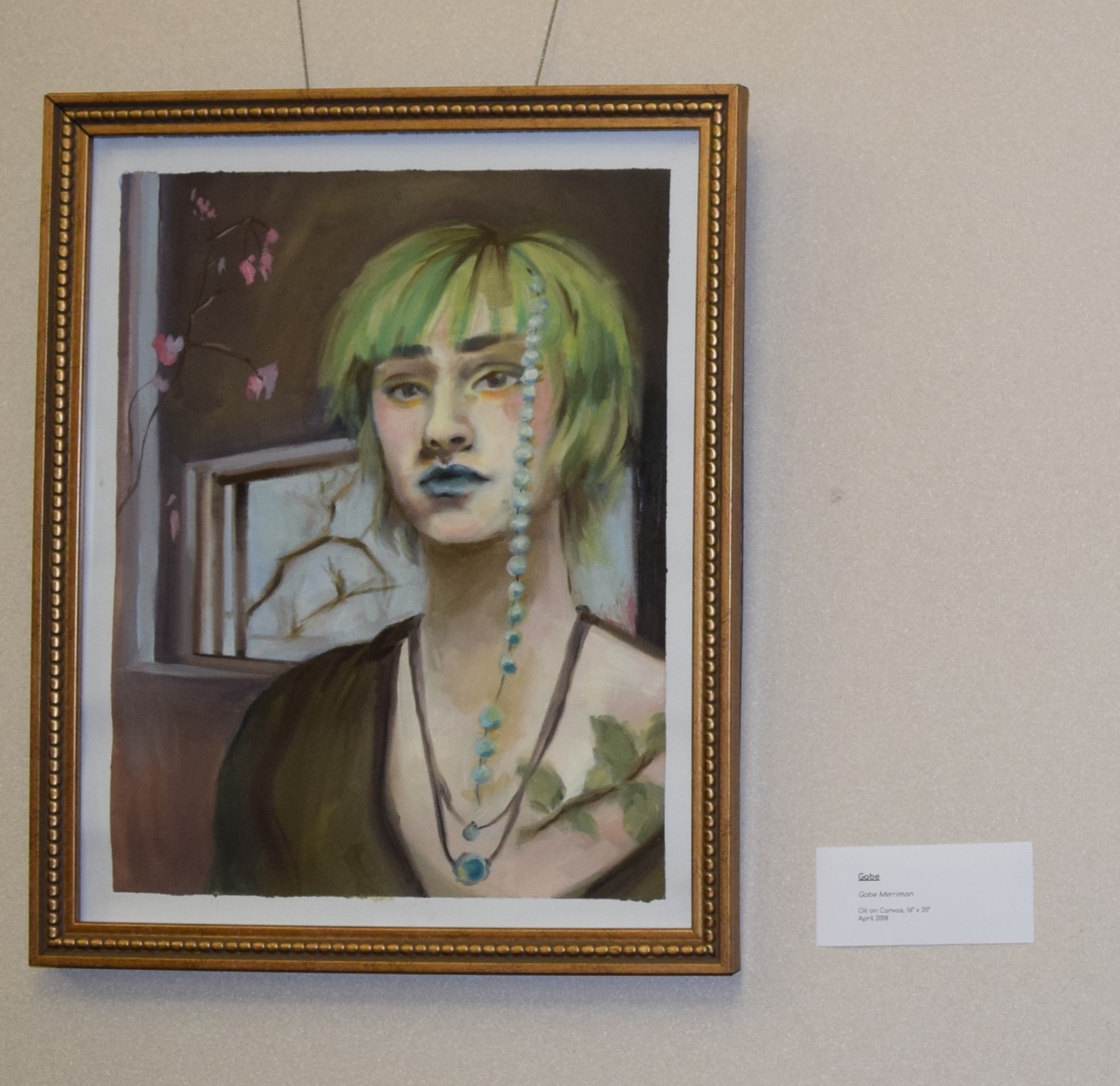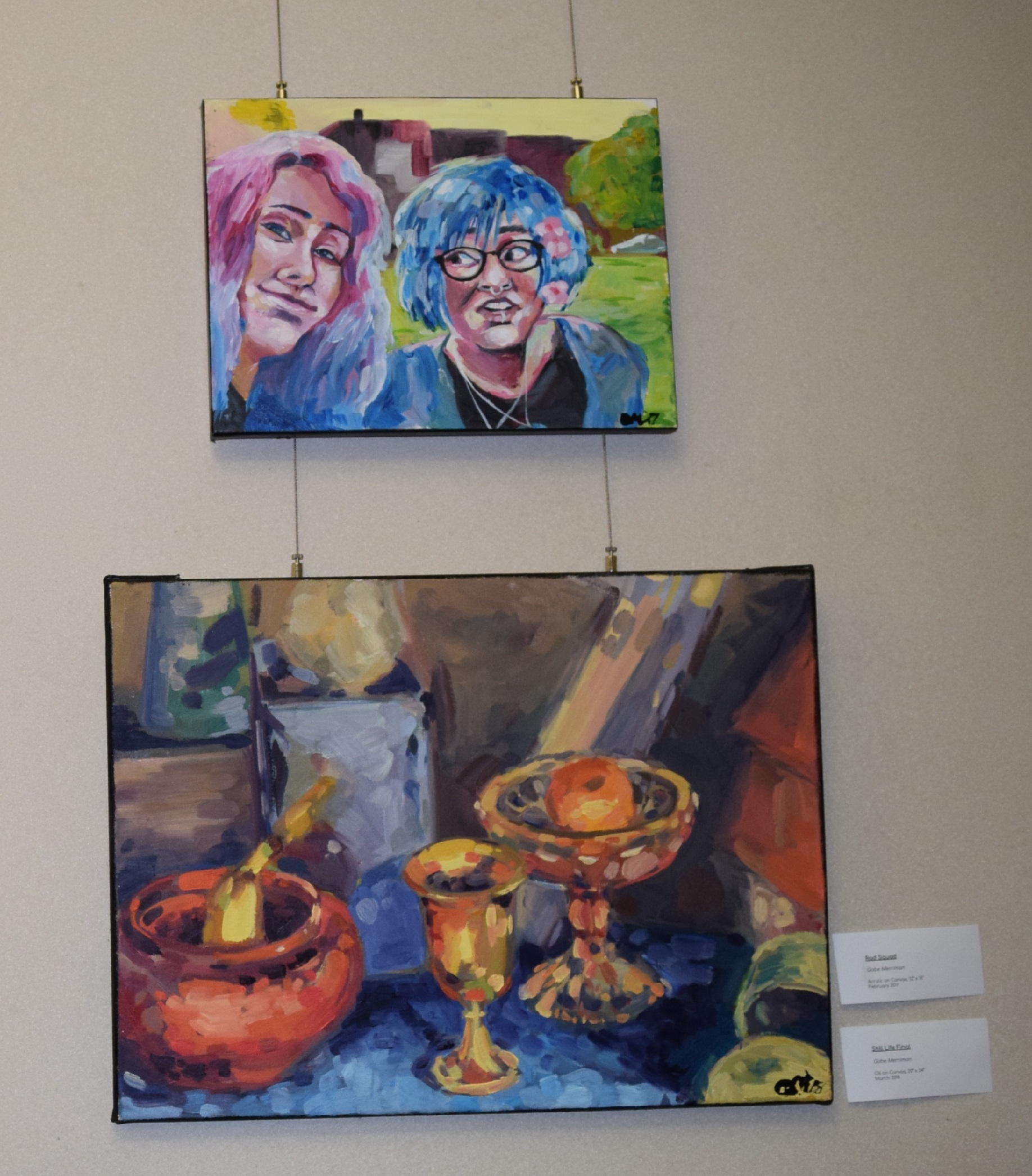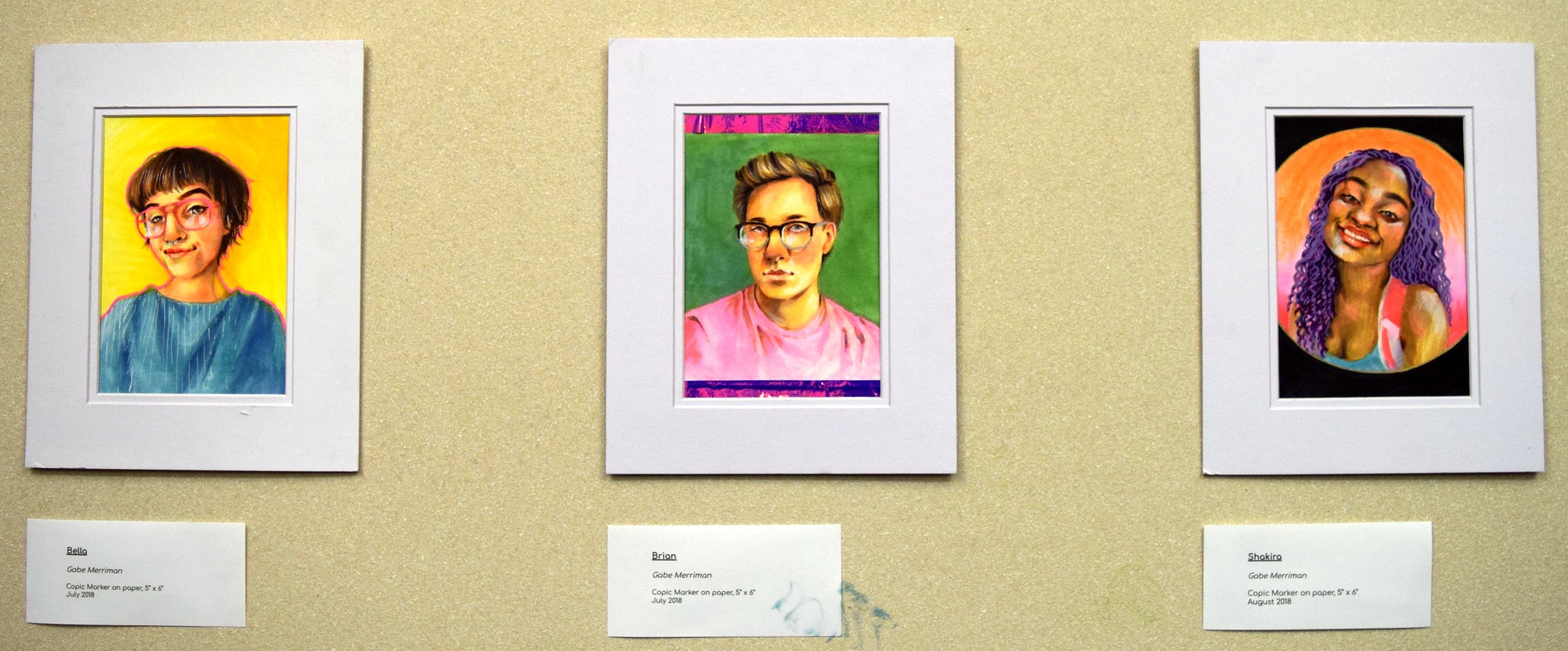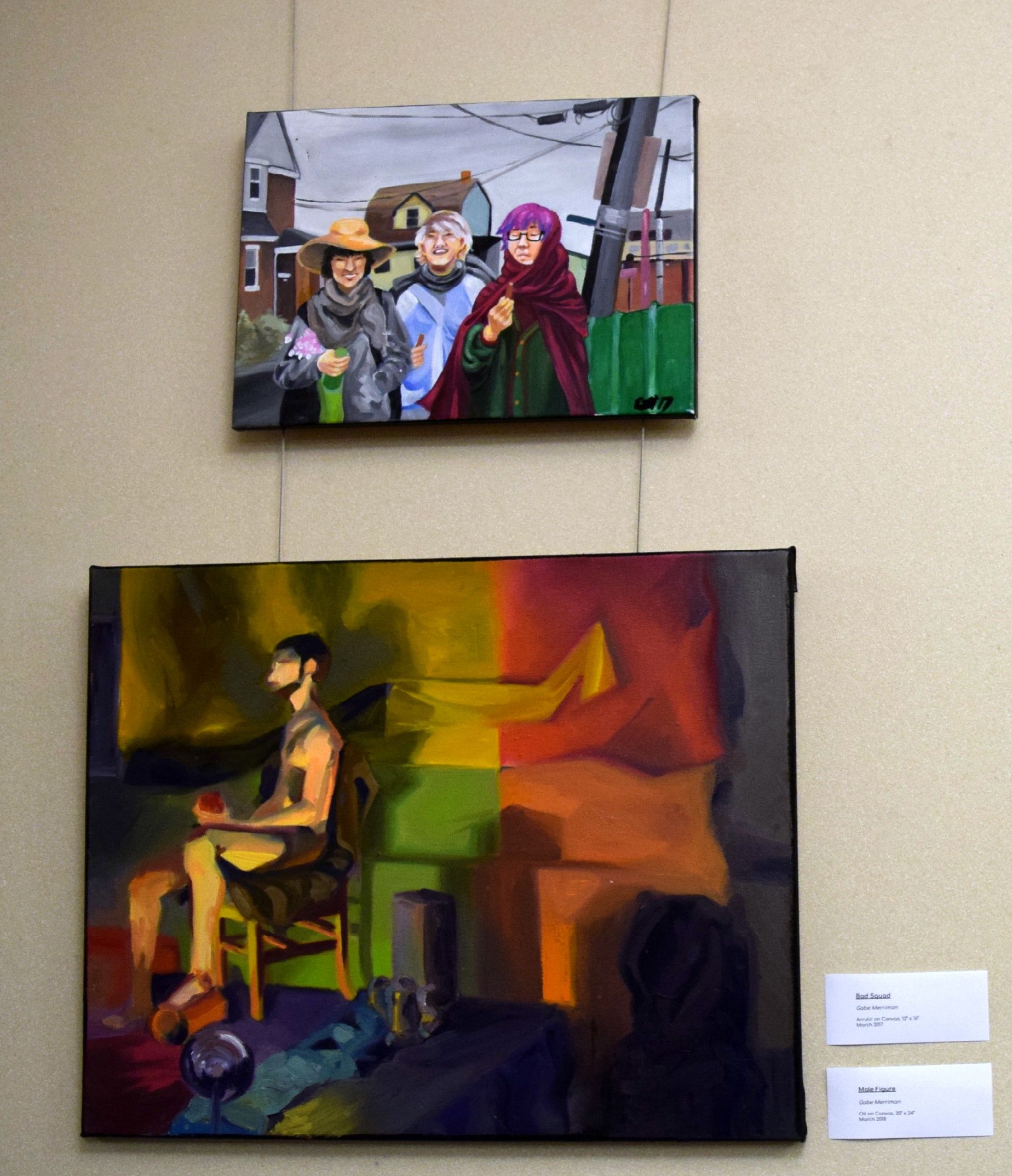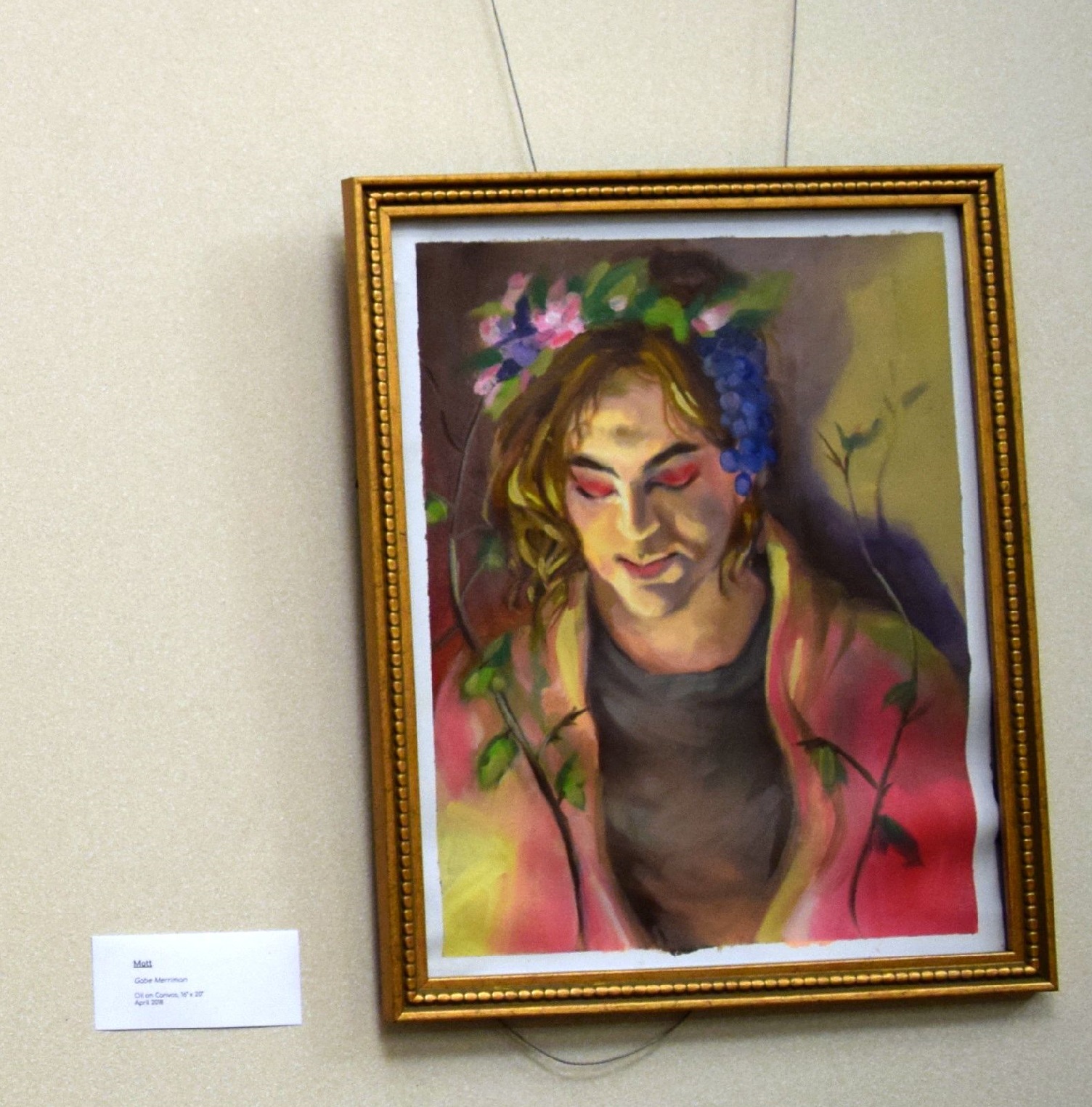 ---
OLIVA ROWE
Junior painting student, Edinboro University
Email: olivia.rowe23@verizon.net
The amazing thing about paint is that it retains a sense of temporality. It's a liquid medium that dries, but you can still see the fluidity. The gesture made to place each stroke is held, as is the observation and the thought that prompted it. The temporality and life I find in painting is significant to me. I want to use painting to capture the things, places, and people that make my life what it is now, before I forget. I want to paint a live version of the world that has me both in it and looking at it. It's less about documentation and more about celebration, because by painting something that is seemingly menial and ordinary (a house that you always stop to admire, the backyard of your first apartment, the quirks of your pet) it has the opportunity to become everything. The little things are special, and you miss them when they aren't there. The memory just isn't complete!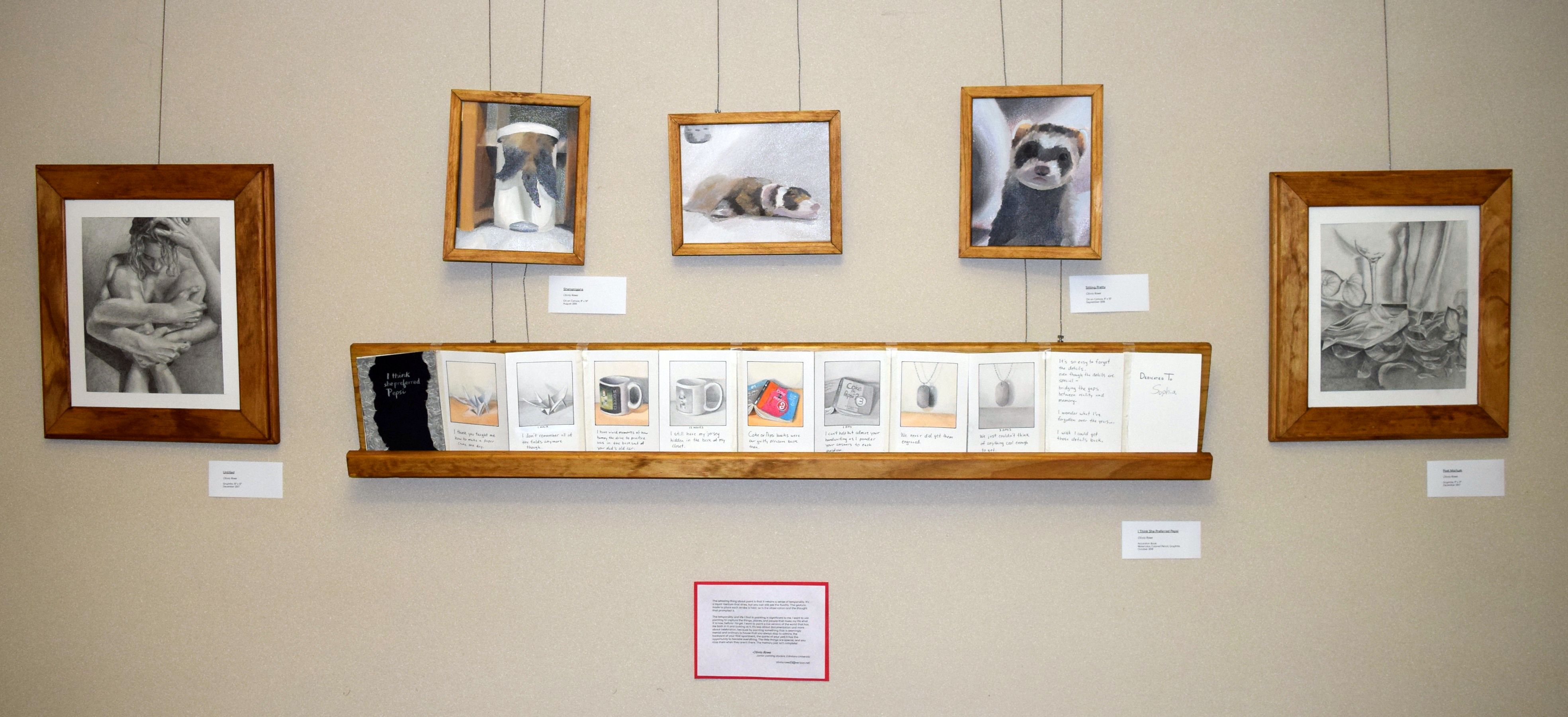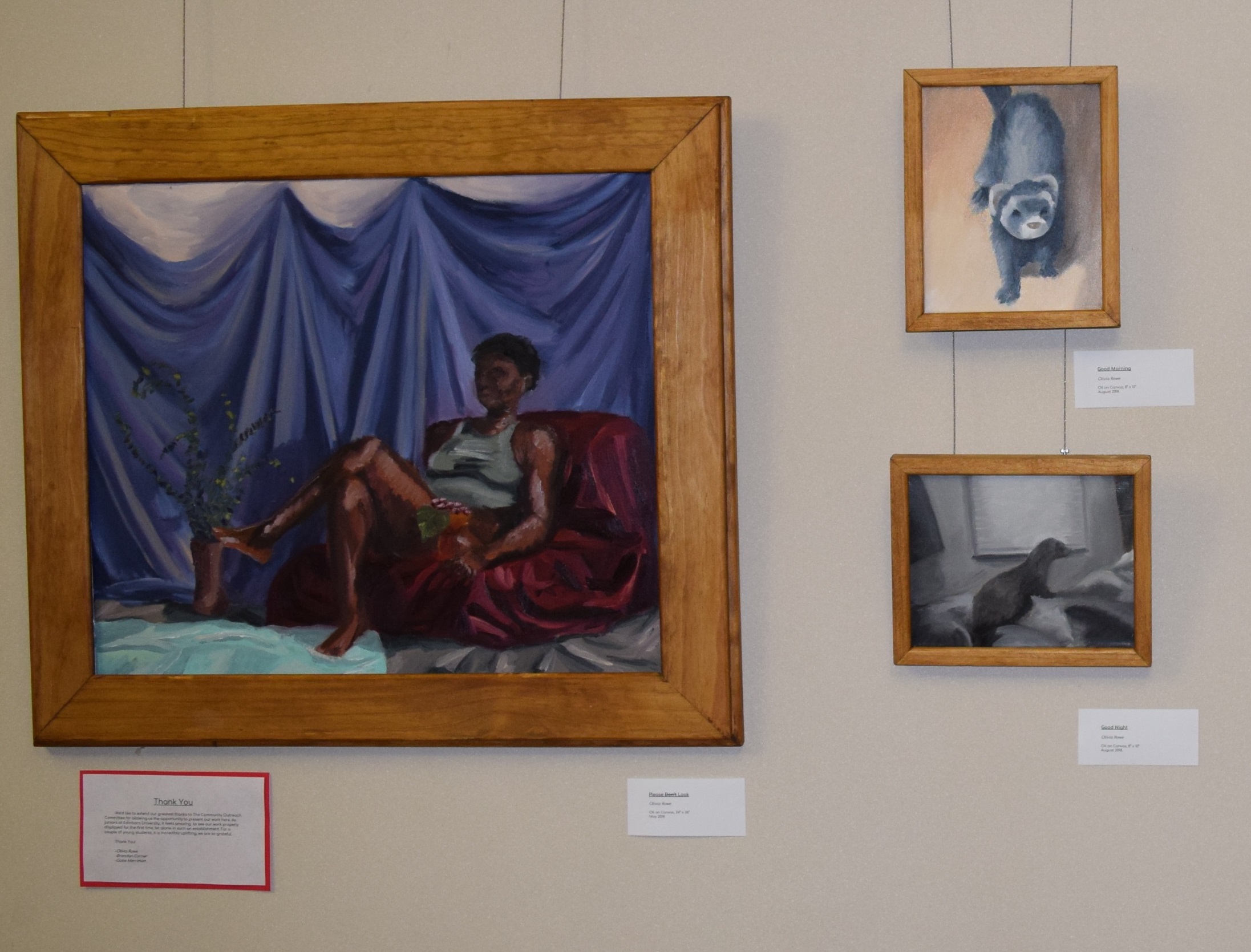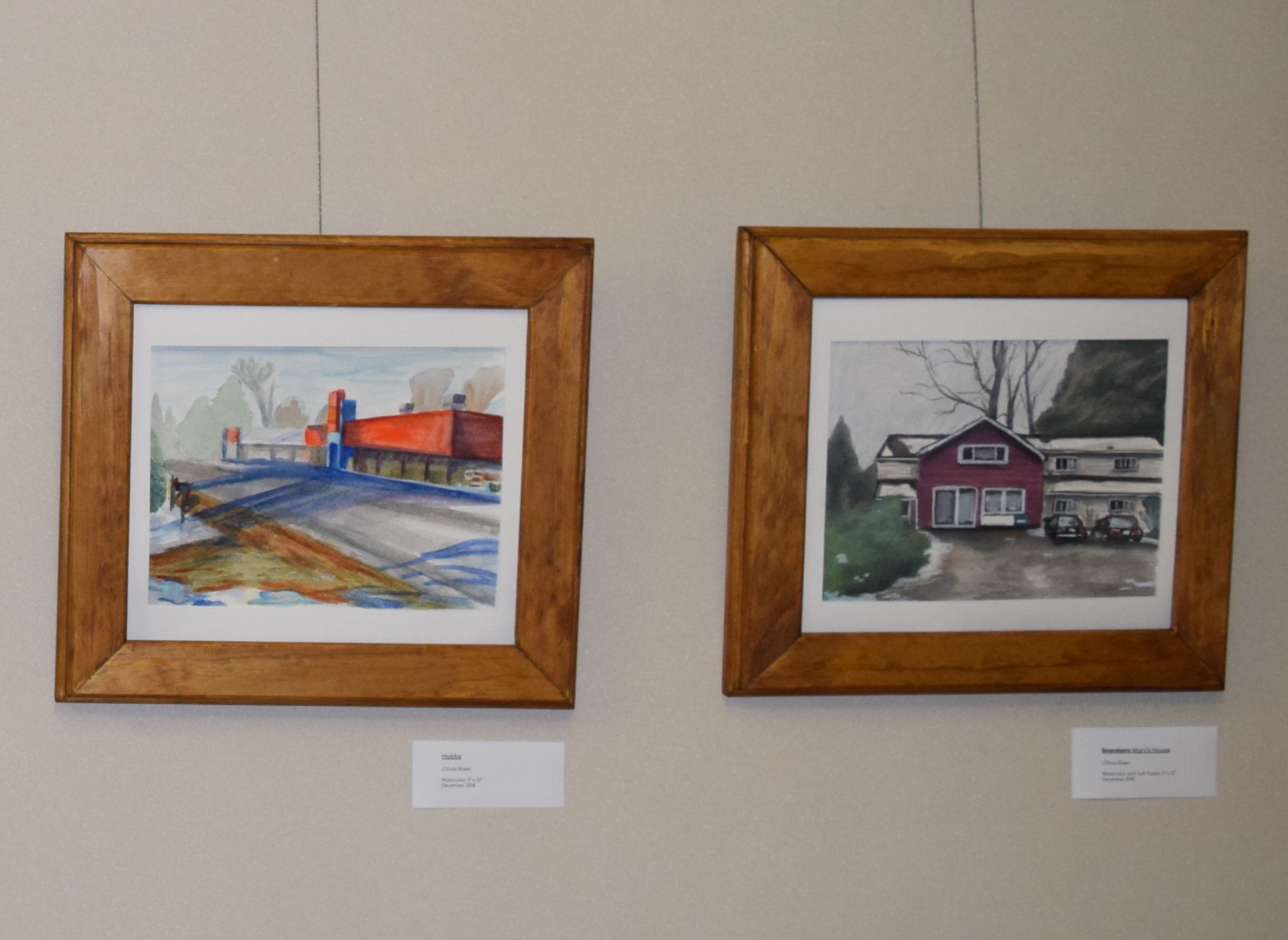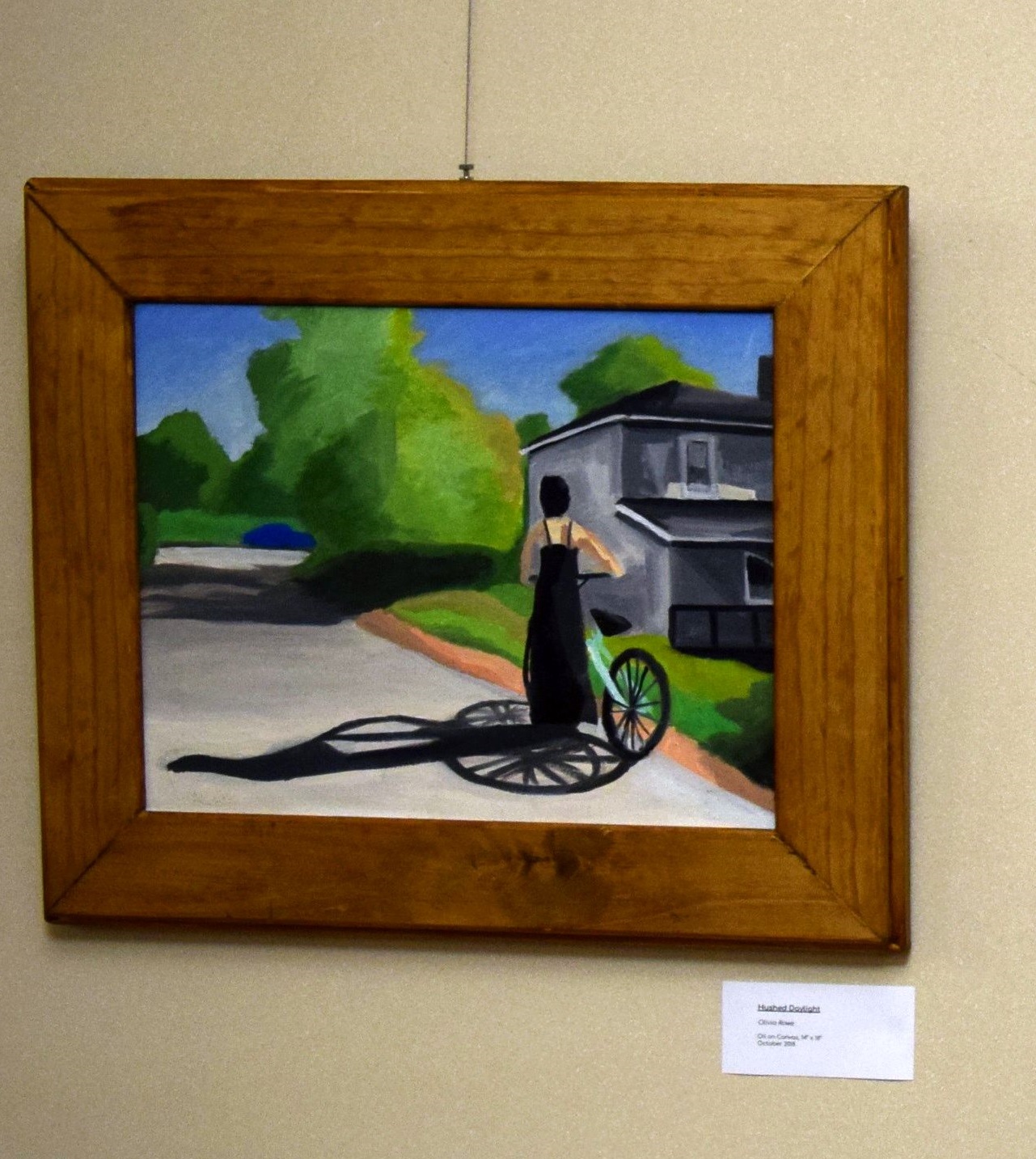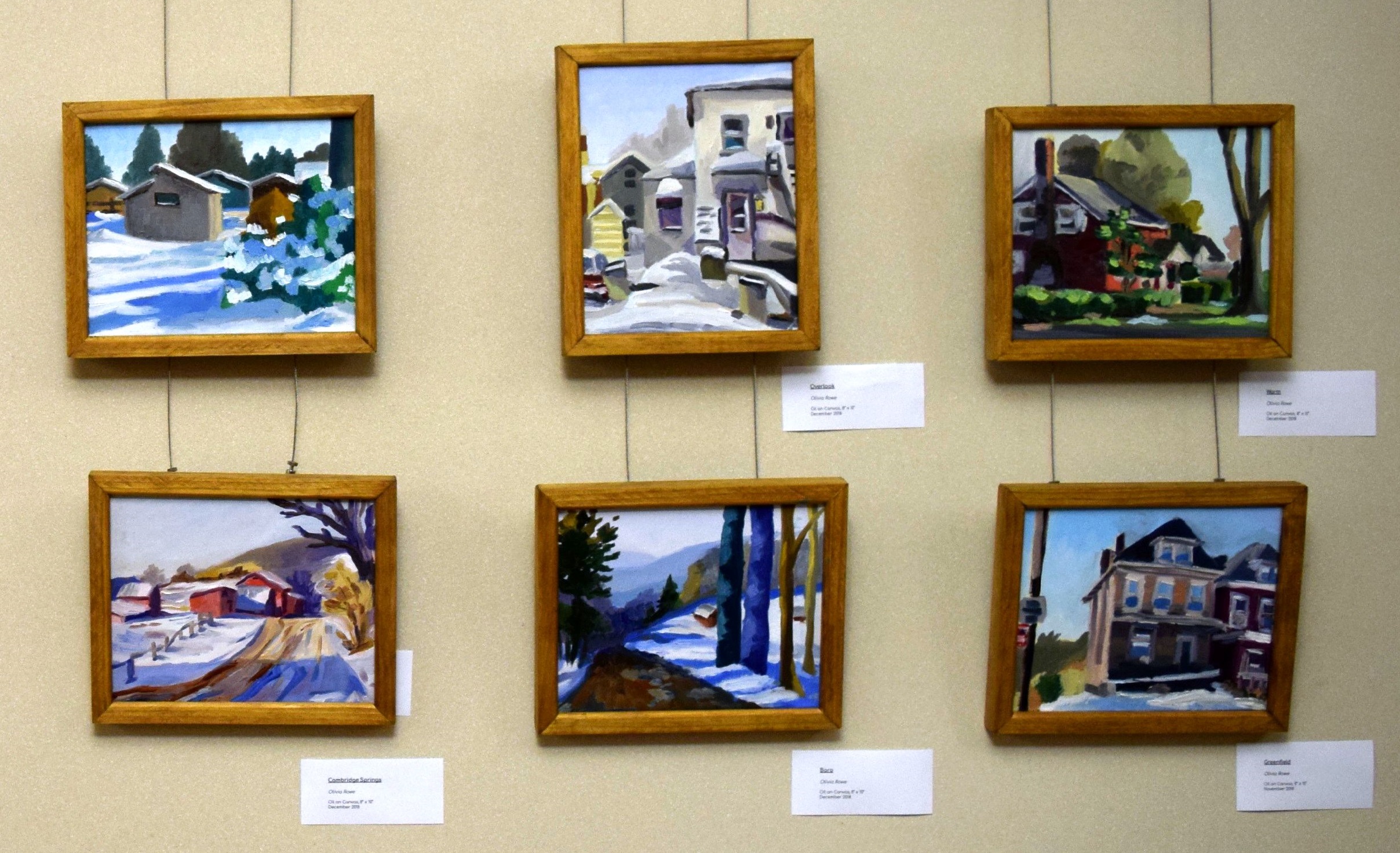 ---
Featured Display 12/18
JOHNO PRASCAK
About the Artist:
I was born in Munhall, PA and grew up in Dormont. I am proud to be a Pittsburgher, having lived here my entire life. I paint full time and sell my art from my studio perched on top of the historic South Side Slopes. Beginning at the age of 13, and after 10 years of suffering with ulcerative colitis I had life-saving surgery and now wear a permanent ileostomy. I will never forget my Mom at my bedside and the priest administering last rights. My will to survive and to do something meaningful with my life was the motivation to get well. While recuperating from surgery I studied art, many old masters work inspired me. I began painting as a form of therapy. My first art exhibition was at the National Aviary's Wings & Wildlife Show in 1988. The demand for my work grew and continues to this day. I create each painting by mixing enamels and Mon sand, giving my artwork an unusual texture. Sand from client's collections is often incorporated into their commissioned pieces. The fascinating people I meet, current events and life experiences inspire me. One of my most inspiring commissions sent me to Megjugorje, Yugoslavia in 1990. The challenge was to transfer onto canvas my feelings of the little village where there have been reported sightings of the Blessed Mother. I painted the pilgrims from around the world convening in prayer at the cross. I am blessed to have my art in homes and businesses in the United States and around the world, including Australia, Singapore, Japan, Canada, Italy and Sweden…
Public places in the U.S. where Commissioned Originals are on permanent display.
"The Point" one of 4 on the set of Pittsburgh Today LIVE KDKA TV 2. for 5 years 2010-2015.
5 of my prints are part of the Pittsburgh Collection at the NFL Pro Football Hall of Fame in Canton, Ohio. (Heinz Field, Steeler Sunday, Terry Bradshaw, Three Rivers Stadium & The Chief).
Pittsburgh Skyline, Black 'n Gold Pittsburgh & USA Flag & Ole Saint Nick on boxes by Sarris Candies in Canonsburg, PA
The National Aviary in Pittsburgh, PA. - Heinz Field original hangs at Heinz Field. - Fallingwater Museum Store.
The Senator John Heinz History Center Museum Shop. - Visit Pittsburgh, Downtown Pittsburgh
Sports Museum at Penn State. - Hollyhocks print was on the set of NBC's Will & Grace finale May 2006.
My painting of President George H.W.Bush Sr. hangs at The George Bush Presidential Library & Museum at Texas A&M.
Original commissioned by 1963 football team at US Naval Academy. - Carnegie Library of Homestead hangs at that library. - Pittsburgh art in private office and break room at Pittsburgh Mayor Bill Peduto's office. - August Henry's Saloon.  Roberto Clemente Museum in Lawrenceville, PA. - Dormont Pool, Friends of Dormont Pool.  25 Eat n' Park Restaurants display the Heinz Field print. - Colors of Carson Street for The South Side Local Development Co. - 50,000 South Side Neighborhood Guides. – Pittsburgh's Rock 'n Roll Hall of Fame, Hard Rock Cafe Station Square eternity piece by Wendell August Forge. - TWO Pittsburgh Skyline Green Gears Pedicabs.  "For many years, I have been involved with many local and national charities raising much needed funds. It is important for me to "give back". My art enables me to help others in a unique way. I simply didn't plan any of this, all I had was the will to live, to do well and help others. I am so very grateful for this fantastic ride!"  Johno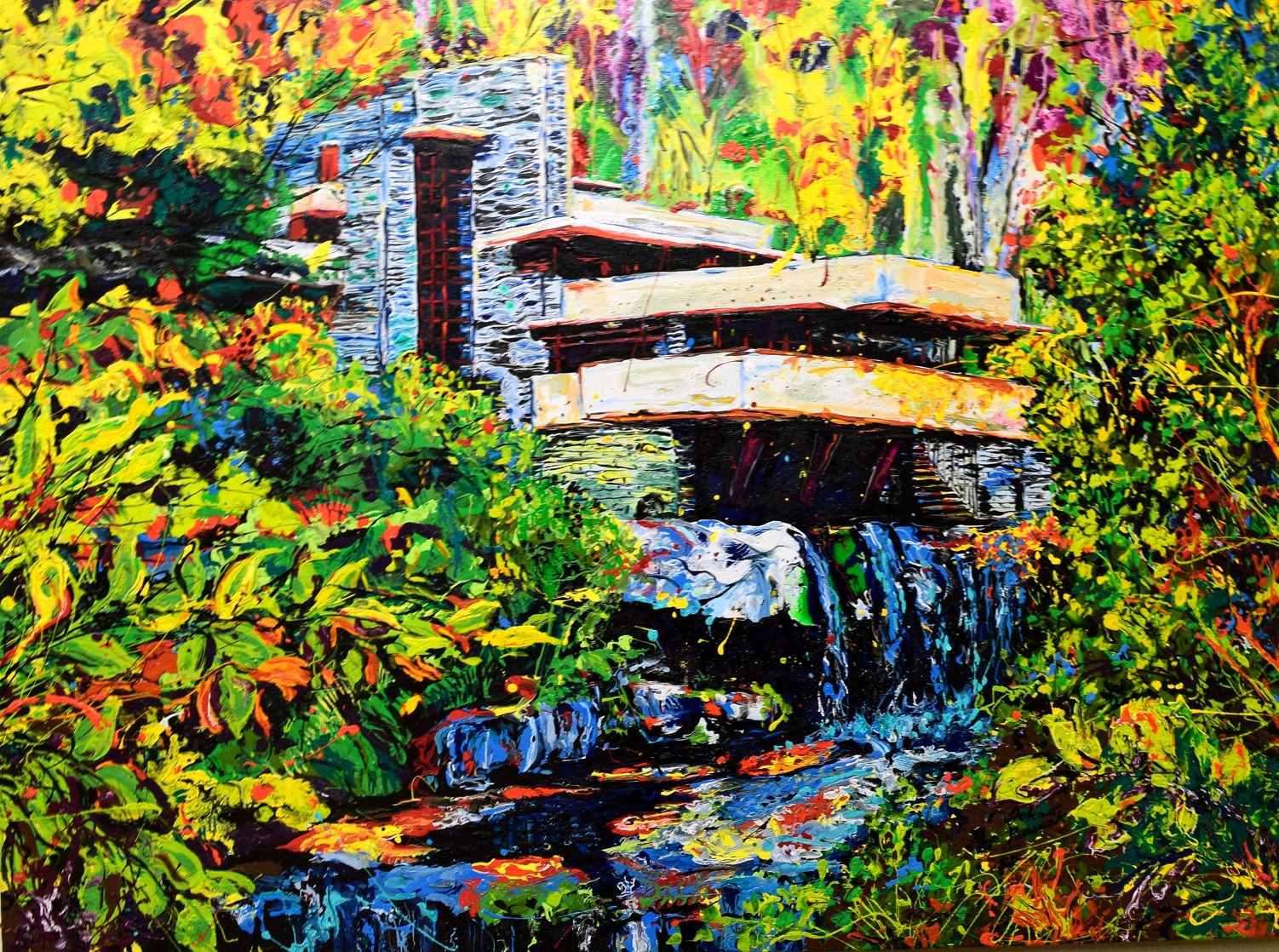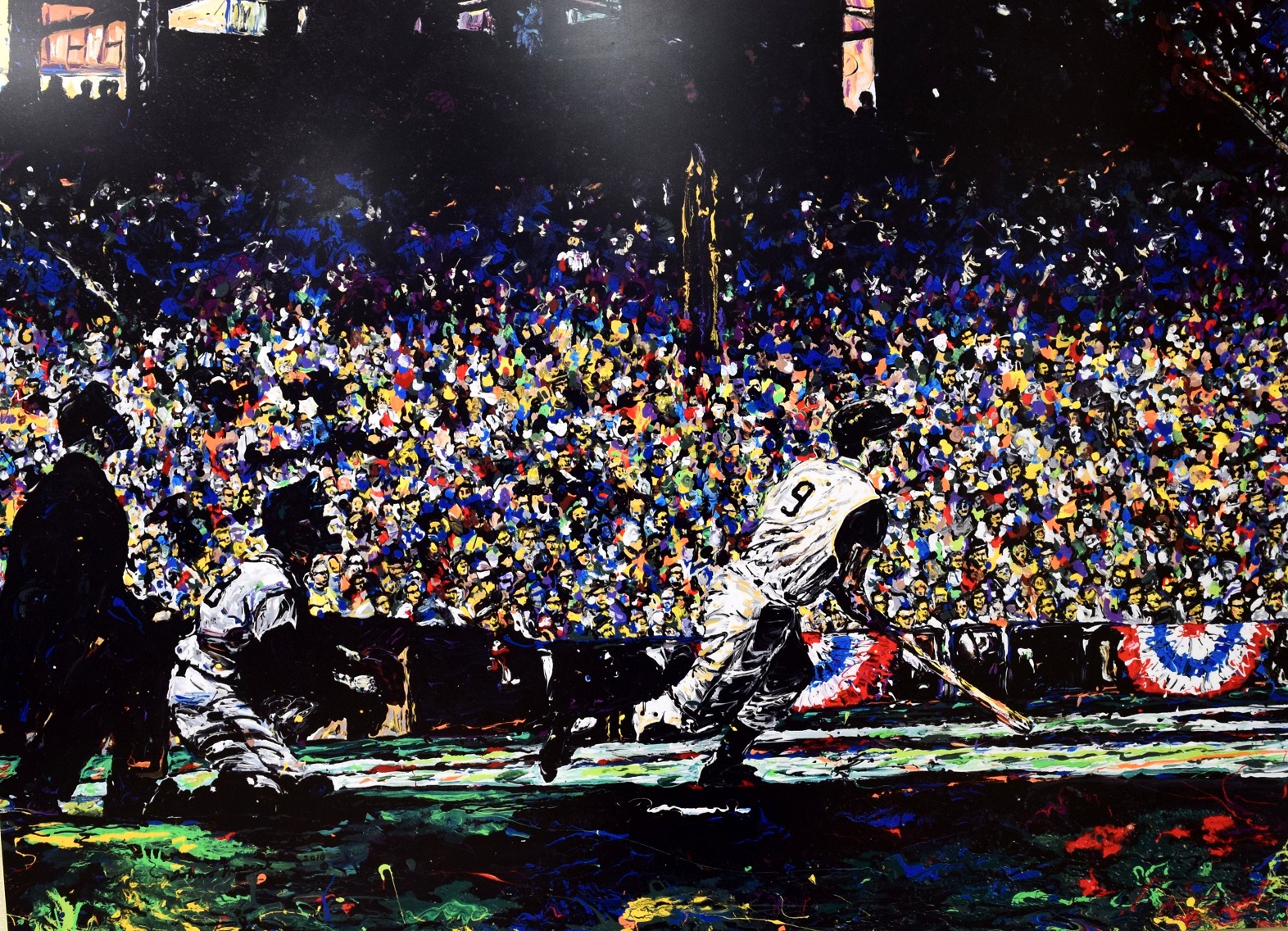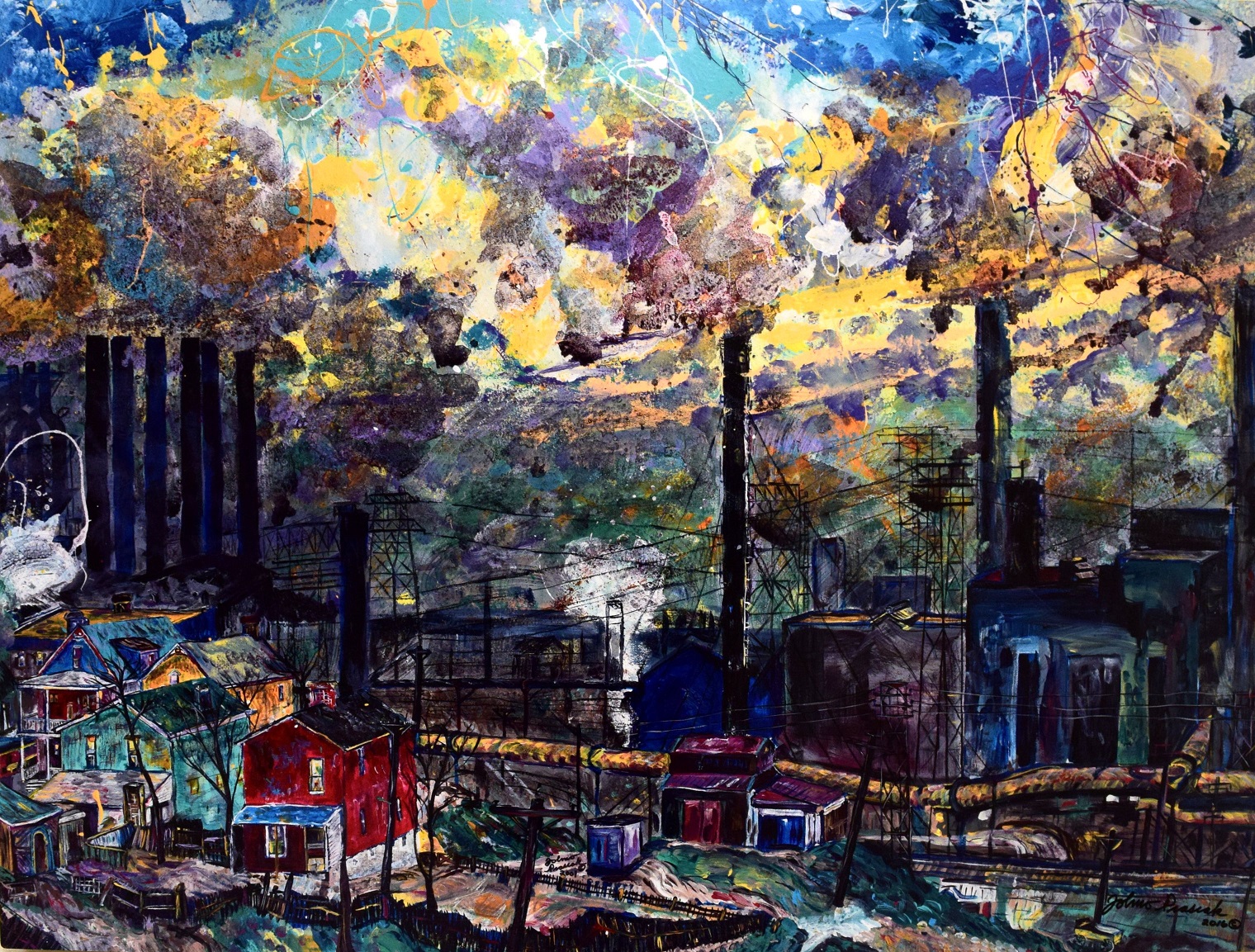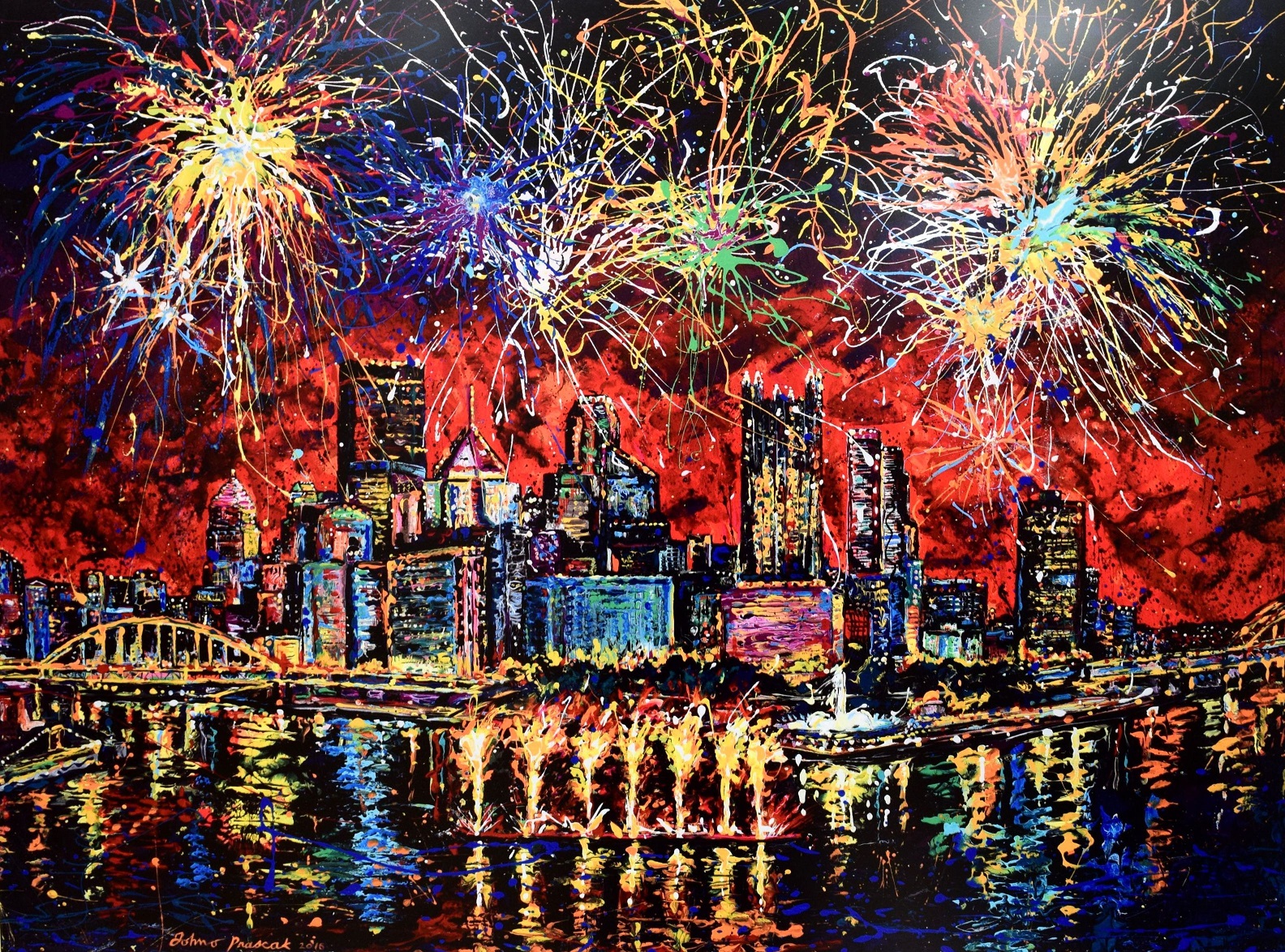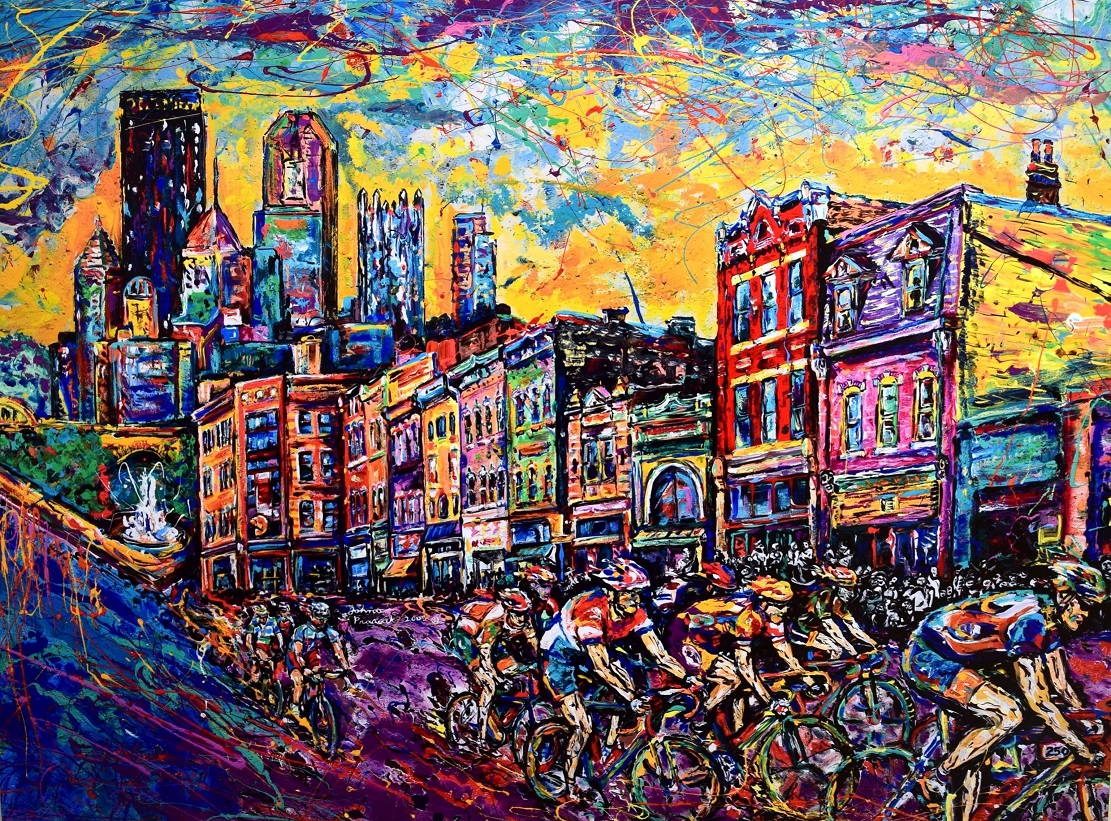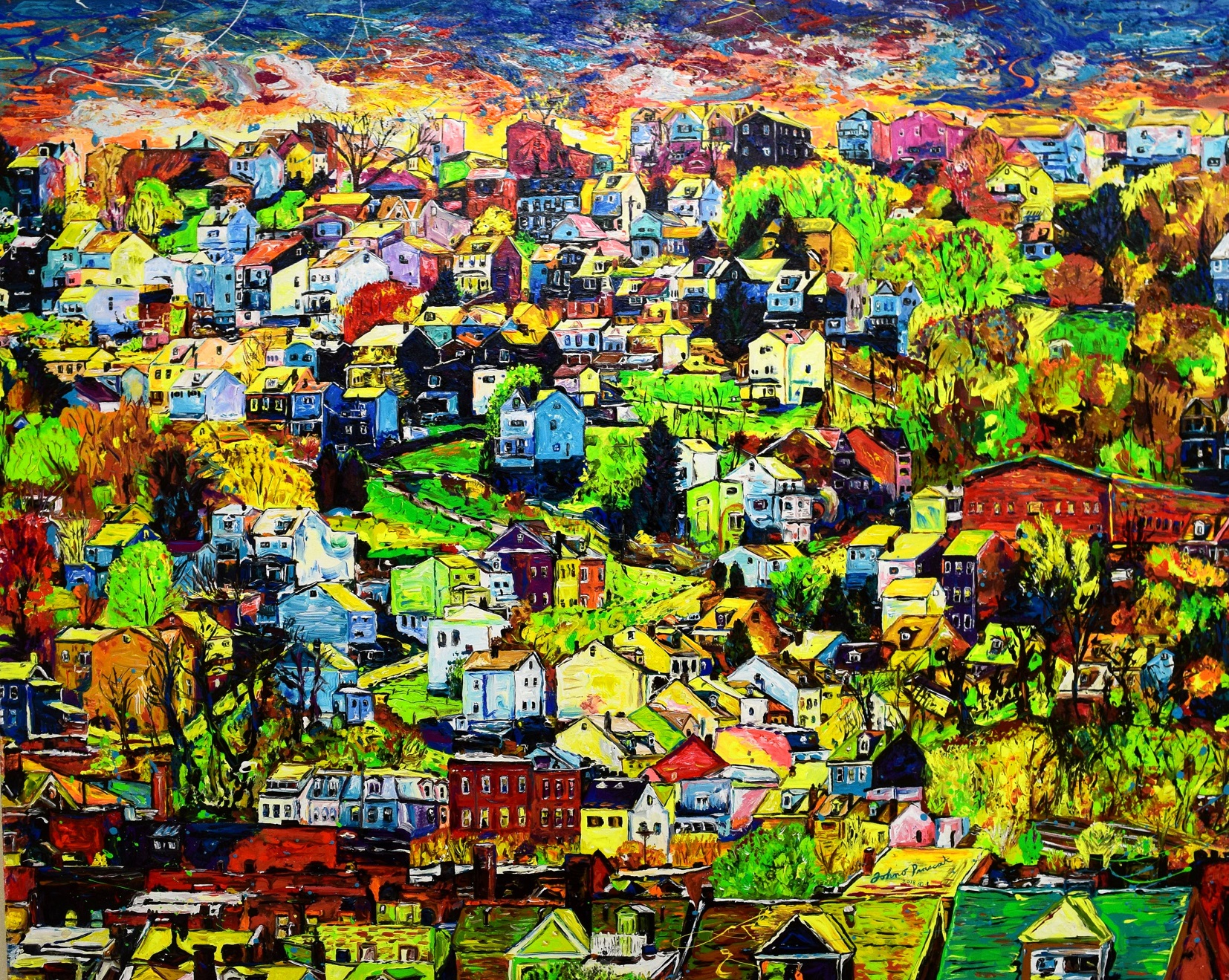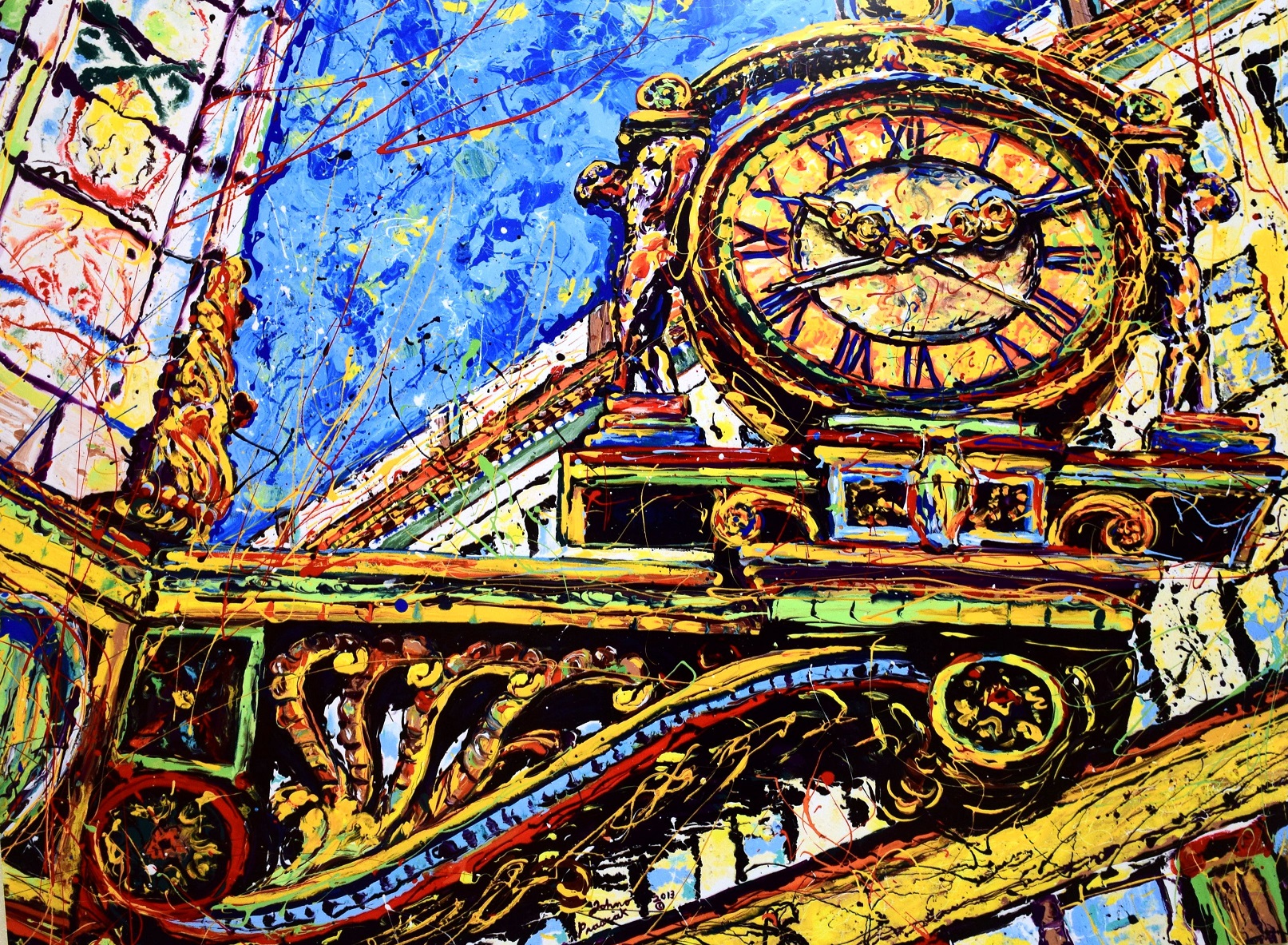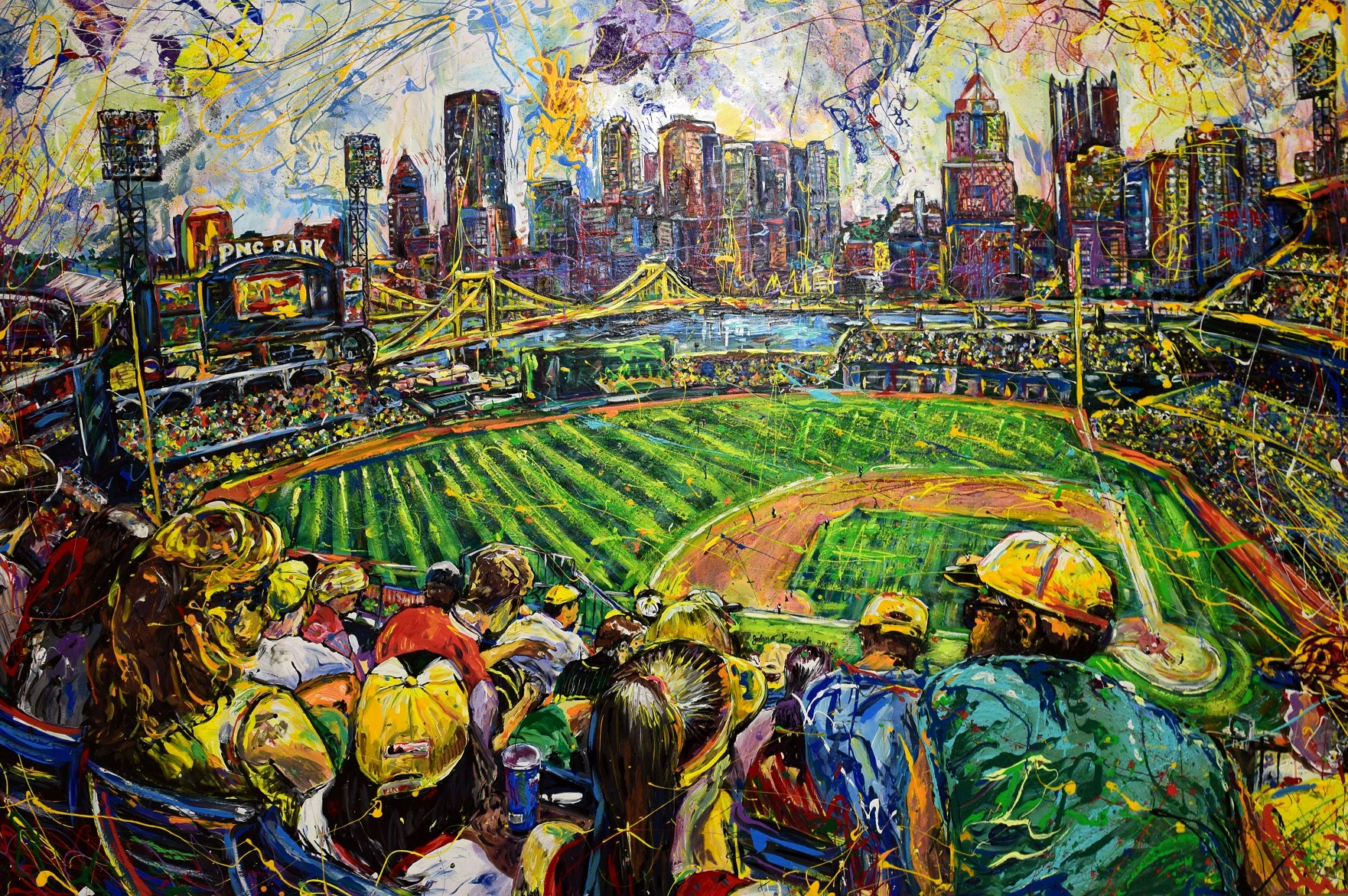 Ask me about Fundraising with my art! Reproductions are available in my online store and at the studio. Limited Editions and New Metal prints ready to hang, no framing needed.
OPEN Thursdays Noon-6PM otherwise by Chance or appointment. JohnosArt.com Email: Johno@JohnosArt.com 412-481-4208 Johno's Art Studio 1705 Arlington Ave Pittsburgh, PA 15210 Facebook: johnosart Instagram: johnosart Twitter: JohnosArtStudio
---
Featured Display 2018
NELLIE LOU SLAGLE
IMPACT PAINTINGS
Nellie Lou Slagle's artistic career as a painter, weaver and teacher began after her graduation from Sarah Lawrence College. She has worked with a variety of media through her career, including oil, oil pastel, acrylic, collage, encaustic, fiber, clay and paper. Ms. Slagle lives and works in the Lawrenceville neighborhood of Pittsburgh and in West Palm Beach, Florida. She is represented by Michael Hertrich Art and Frame, Pittsburgh.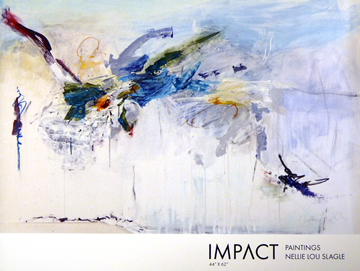 This exhibition is a compilation of works of art created both in Florida and in Pittsburgh in 2016-2017. During that time my art was influenced both by my sense of place and by a series of events that weighed heavily on me. Some events I participated in and some I imagined but all had an impact on my artistic life.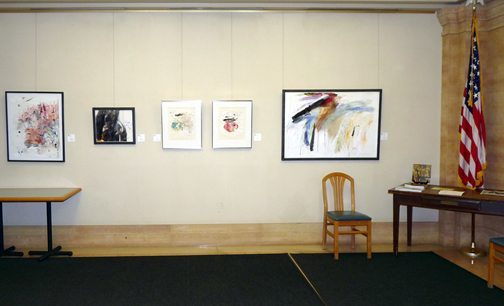 In the summer of ,2016, I moved from the house I had lived in for most of my adult life to an apartment in another part of the city - For me a momentous change. Thankfully I had the anchor of Florida lo keep me balanced. The ocean was still there for me. The impact of its noise, its terrifying beauty and ever changing seascape grabbed me. I would wake up in anticipation of those gorgeous sunrises on the horizon. I would smell the air and embrace the warmth. How could I not feel the impact and capture it?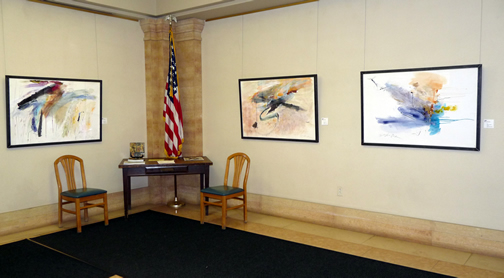 Then there was the grit of life which haunted me in the winter of 2017. In early January, while I was in Florida, one of my daughters and her Family were in a plane crash in Tanzania, which destroyed their small plane and against all odds spared their lives. It was a miracle. Thinking about that event took me to a place that I could only imagine. I was not there physically but visually I lived in that moment. I discovered that painting out loud takes courage. I held my own hand as I painted Furiously. The process became a surprisingly violent act of destroying, rearranging and pushing again and again. And oh the vibrant colors I created en route! I tried to mitigate the impact of these different images and, in the end, whole paintings miraculously emerged. Ultimately I found beauty in the grit of this world.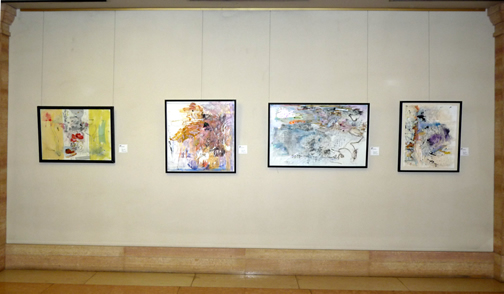 I invite you, the viewer, to experience my artistic point of view and find the joy I have expressed in these paintings.
Please contact gallery for purchase inquiries. 412-431-3337 412-613-3171
---
Featured Display 4/2018
Sara O'Connor Fine Art
Enthusiasts of captivating color, deliciously rich texture, and intricate detail have found their match. Emerging international artist Sara O'Connor continues to astonish art collectors who delightedly discover her refreshingly original work.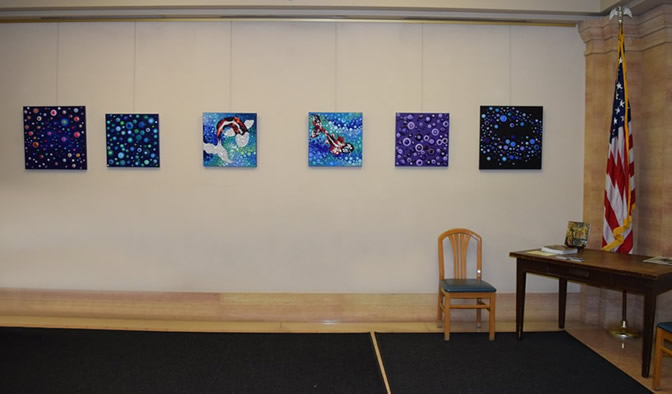 Sara's obsession to detail and quest to captivate has swiftly earned her new collectors across the United States and abroad. She currently lives in Richmond, Virginia, where her studio is located. Her prior career as a Biglaw attorney at K&L Gates, LLP (Pittsburgh) instilled in her the drive to create high-quality work that makes an immediate impact. Her travels to and experiences in Israel, Thailand, Italy, Canada, and Mexico heavily influence her use and expression of color.
Process Each pointillism work takes form through Sara's application of thousands of dollops of paint individually laid down by hand, either by layering the dots on top of each other or spacing them slightly apart to allow bold backdrops to show through.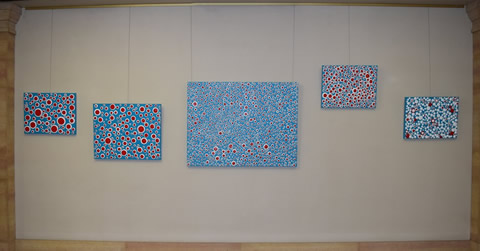 Sara thickens acrylic paint through self-designed techniques developed over two years to create tactile modern works of art. Her goal is to design pieces that encourage viewers to travel and explore abstract landscapes in a multi-sensory experience.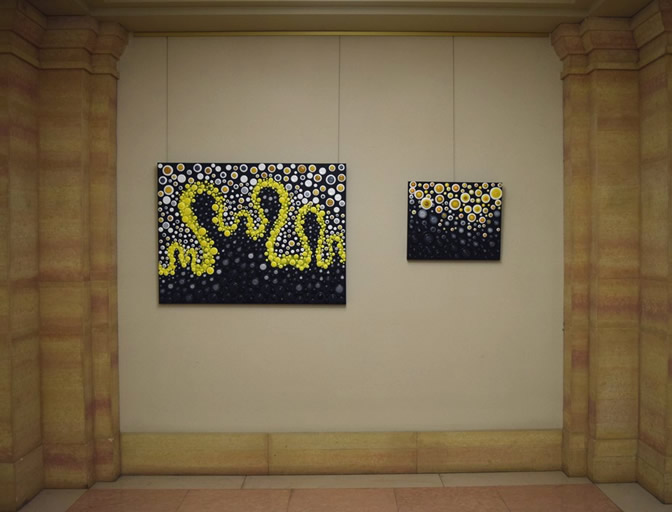 ---
Featured Display 1/2018
About the archive

It is considered one of the most important documentations of 20th-century African American life.

Charles "Teenie" Harris (1908–1998) photographed the events and daily life of African Americans for the Pittsburgh Courier, one of the nation's most influential black newspapers.

One of the paper's principal photographers from the 1930s to 1970s, Harris documented nearly all of the notable events in the city at that time, as well as a wide range of activities in daily life, including Little League games, weddings, church groups, nightlife, and beauty contests.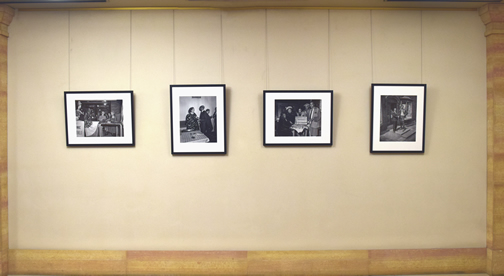 The Harris archive of nearly 80,000 photographic negatives, is a richly detailed record of public personalities and events, and the lives of average people.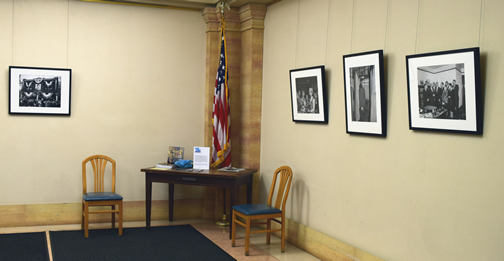 It is considered one of the most important documentations of 20th-century African American life.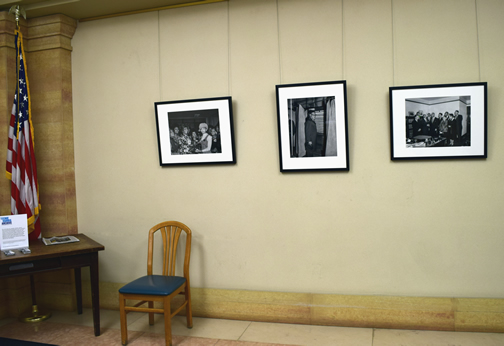 ---
Featured Display 4/2017
Steve Gluz
Steve Gluz is a self-taught artist, concentrating on documenting Western Pennsylvania's industrial past. Born in Jacob's Creek, Pa. 1949, the artist started his painting career while working for Wheeling-Pittsburgh Steel.
Steve retired from Local 373 (Laborers Union) and continues to produce canvases based on past photographic images, paintings from early twentieth century painters, as well as his memories of his days and nights working in the mills.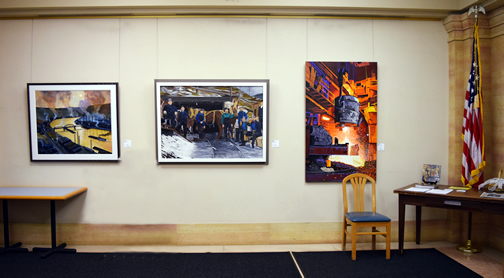 More recently Gluz has become a member of several tri-state based arts
organizations including Pittsburgh Society of Artists, South Hills Art League,
and The Uniontown Arts Club.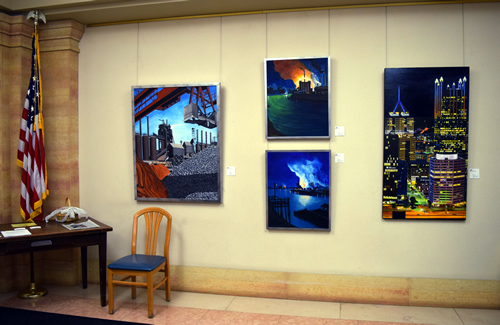 The artist has been included in the following exhibitions:
"Out of the Furnace" 2016 National Road Festival Juried Art Exhibition,
FrankL. Melega Art Museum, Brownsville Pa.
"The Darru 2016-2017 Pittsburgh New Collective Exhibition, Pittsburgh
Center for the Arts, Pittsburgh Pa.
Artist of the Pike 2017, Fran~ L. Melega Museum, Brownsville Pa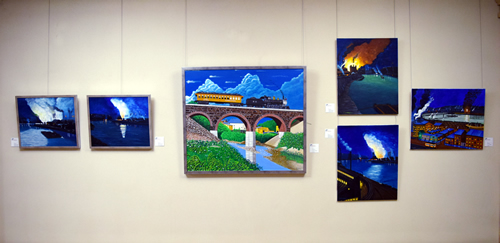 The artist's work is available through Michael Hertrich Art and Frame on Pittsburgh's South Side.
Please contact gallery for purchase of paintings. 412-431-3337 412-613-3171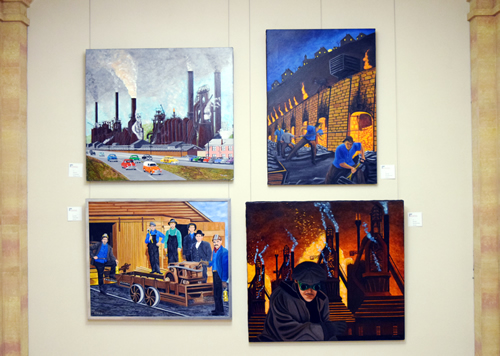 1. Pittsburgh Steel Mill # 1, after Aaron Gorson
2. Pittsburgh Steel Mill #2, after Aaron Gorson
3. Pittsburgh Steel Mill #3, after Aaron Gorson
4. Pittsburgh Steel Mill #4, after Aaron Gorson
5. Pittsburgh Steel Mill #5, after Aaron Gorson
6. Pittsburgh Steel Mill #6, after Aaron Gorson
7. The Darr study
8. J & L Steel with Parkway
9. Duquesne
1 0. Train - Brownsville
11 . Out of this Furnace after E. Smith photo
12. Caster Ladle Washout
13. Out of the Furnace
14. Pittsburgh at Night
15. J & L 2nd Avenue
16. The Darr
17. Untitled after Otto Kuhler
---
Featured Display 01/2017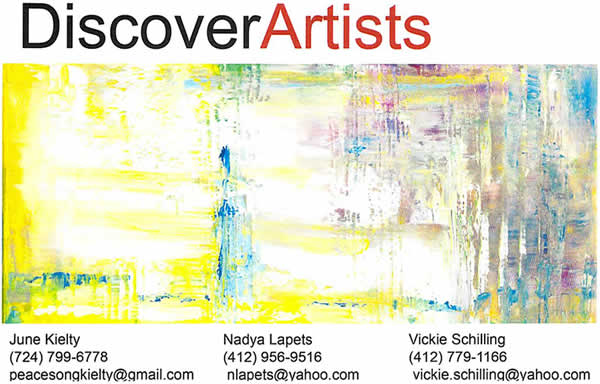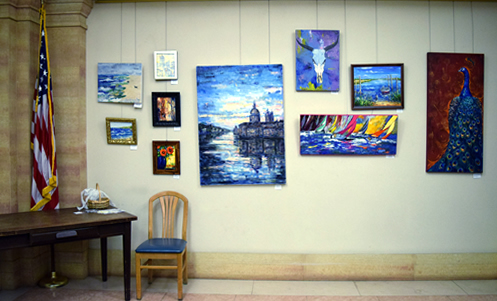 DiscoverArtists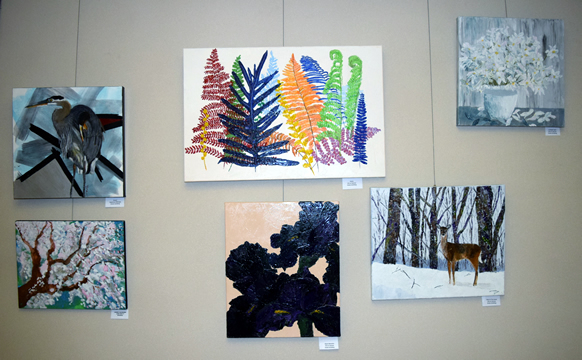 Vickie Schilling - phone 412-779-1166
email vickie.schilling@yahoo.com


June Kielty is primarily a self-taught artist who has experimented with different methods of batiking over the past ten years. She does many pieces related to the environment and also women strengths. She is an active member of Pittsburgh art community. A number of her pieces are available in prints. Her style is colorful whimsical and graphic. June participates in various charity auctions and art shows.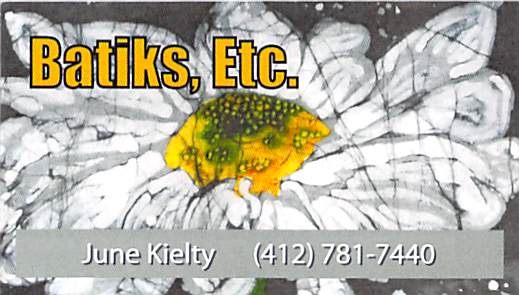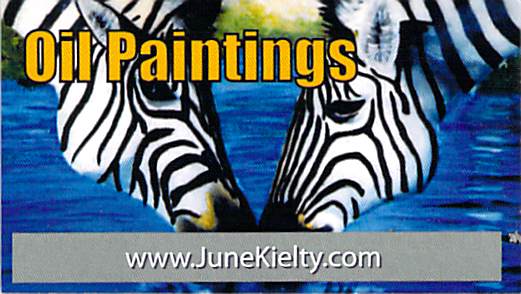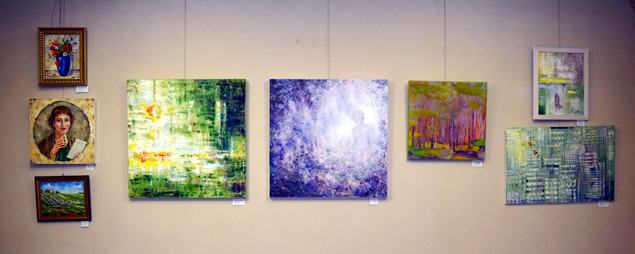 Nadya Lapets is a Russian-born American artist.  She has duel education in Science and Arts:  MD, People Friendship University, Moscow;  graphic communications degree, CCAC, Pittsburgh.
Nadya is a passionate oil artist and a freelance graphic designer. She loves to experiment in different styles: from Impressionism, to Conceptual art, to Abstract Expressionism. Her works are vibrant and full of sunlight.
Nadya Lapets has been participating in various national and international juried art shows and has multiple awards for her works. She is a Board member of the North Hills Art Center, Pittsburgh, PA.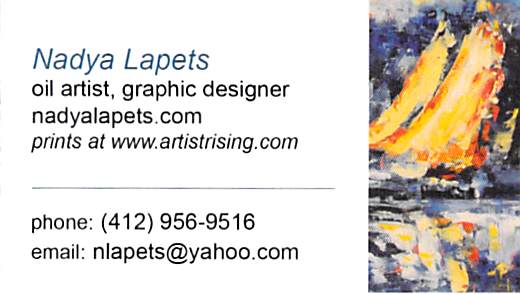 ---
Featured Display 09/2016
4 Amigas
Mosaics ·Prints ·Photography ·Paintings ·Framed ·Sculptures
Debbie Maier Jacknin
Mesina Petra
Virginia A. Berlando
Barbara Cekus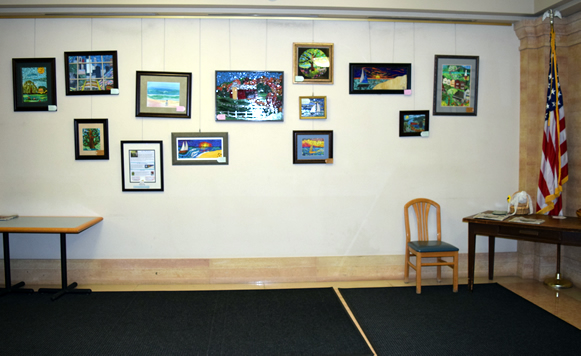 4 Amigas
Debbie Maier Jacknin
(412) 427-5500 / Debo1960@aol.com
SongbirdArtistry .com / MosaicGlassCreations.com

 

 

Title

Medium

 

Love will see you through
Fall in the Country
Flight of the Hummingbird
Sunny Day Sail
A View from the Tunnel
Gazebo by the Lake
A Day at the Park
Love will see you Through
Step Trek
We Will Cross that Covered Bridge When We Get There
Sunset Sail on  a Bright Summer's Day
Tree of Life
Larry Bird

Stained Glass Mosaic
Stained Glass Mosaic
Stained Glass Mosaic
Stained Glass Mosaic
Giclee Print
Giclee Print
Giclee Print
Giclee Print
Giclee Print
Giclee Print
Print
Giclee Print
Giclee Print

Mesina Petra(412)818-7236 / melsinap@gmail.com

 

 

Glistening Tide Pool
Hawaiian Whimsy
Frosted Twigs
Dragonfly Sentry
Orange Dragonfly #1
Hiking Haleakala Volcano
Thistle - Wildflower Hike
Solidago – Wildflower Hike
Frosted Heuchera
Desert Rocks
Mountain Hike at Zugspitze, Germany
Silver Sword, Endangered Species, Hawaii
Winter Hike on Owen Sound
Bird of Prey
The Crashing Blue Pacific
Above the Timberline
Pacific View
The Road Home
Sunset Silhouette
Orange Dragonfly #2

Photography
Photography
Photography
Photography
Photography
Photography
Photography
Photography
Photography
Photography
Photography
Photography
Photography
Photography
Photography
Photography
Photography
Photography
Photography
Photography

Virginia A. Berlando
(412)630-8159 / vberlando@aol.com

 

 

PopART
Rain Splash
Bird-on-Pond
Water Falling
Sapphire Night
Earth
Black Irises
Cat's Paw
Ice

Frame Sculpture
Painting
Painting
Painting
Painting
Painting
Painting
Painting
Frame Sculpture

Barbara Cekus
(412) 366-7462 / Fkrasa321@comcast.net

 

 

Crazy
Metalica
Serendipity
Ming Waterfall
Bubble Bubble
Sunset Surf
Serenity
Babbling Brook
Woodland Wildflowers
Misty Morning
Grand View

Painting
Painting
Painting
Painting
Painting
Painting
Painting
Painting
Painting
Painting
Painting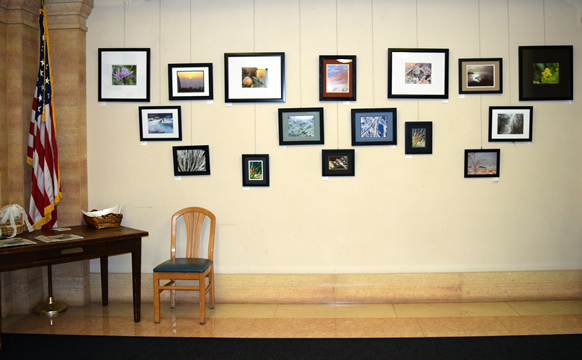 4 Amigas
---
Featured Display 06/2016
The Art Therapists at Children's Hospital of Pittsburgh of UPMC
The things that hospitalized children feel and experience are sometimes
too difficult to talk about or even comprehend.
Sometimes there are no words for what a child or family member is feeling.
The artwork being displayed at the U.S. District Court Building
shares these patients' stories and emotional responses of their hospitalization.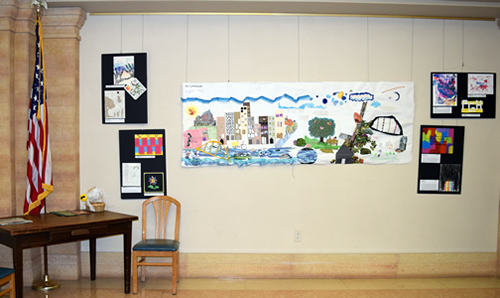 Art Therapy provides the opportunity for creative self-expression in visual form. Art therapy uses the creative process, the produced artwork, and verbal processing to resolve emotional conflicts, achieve insight, and increase self-esteem and self-awareness.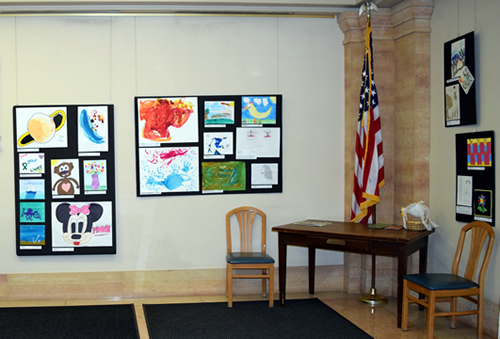 The Art Therapists at Children's Hospital of Pittsburgh of UPMC work with patients, as well as with their entire family, to provide family and sibling support during a patient's hospitalization. Their goal is to help patients and families meet various medical and psychosocial goals including the following: self-expression, reducing anxiety, increase self-esteem, pain management, distraction, and emotional support.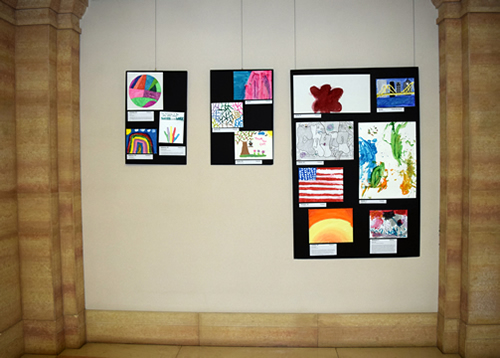 To meet these needs, the Art Therapy department at Children's Hospital offers a variety of support groups meeting the needs of various populations, as well as hosting Open Art Studios where patients and families can freely make art in a studio environment with the support of those going through a similar journey.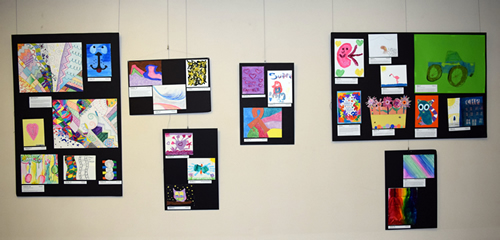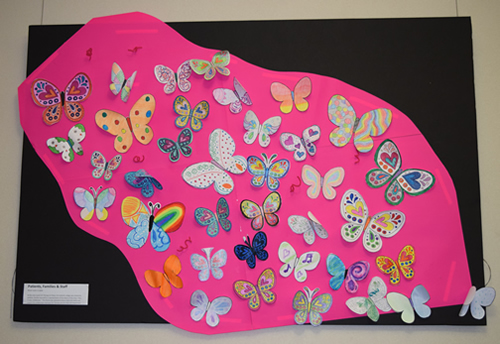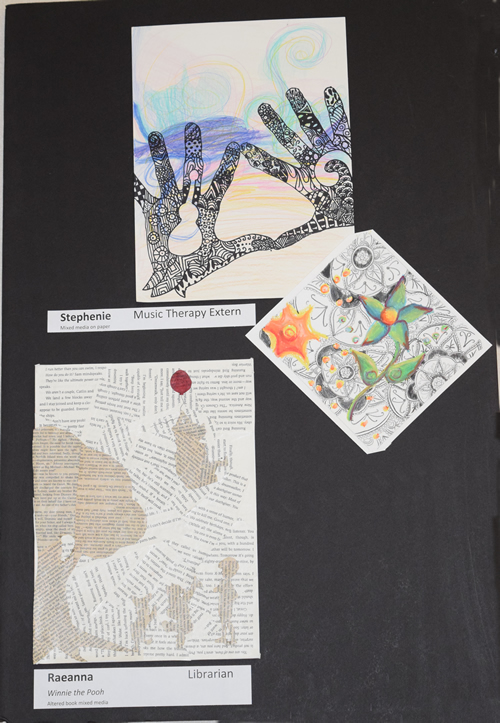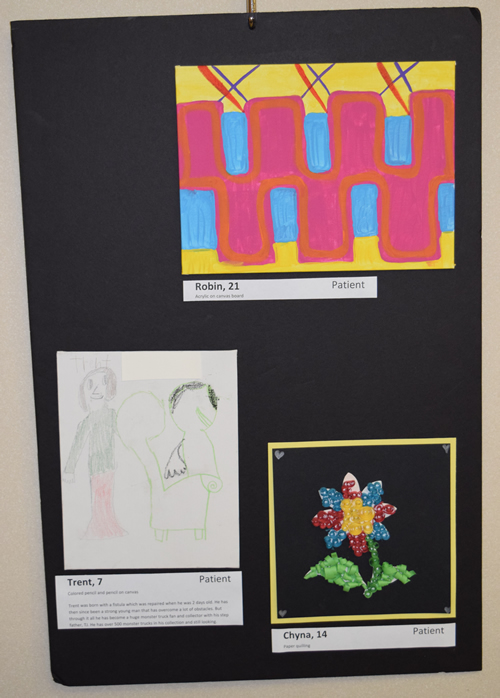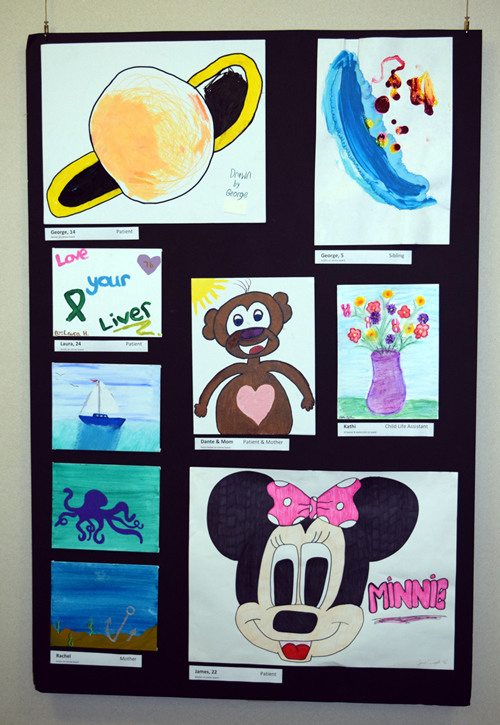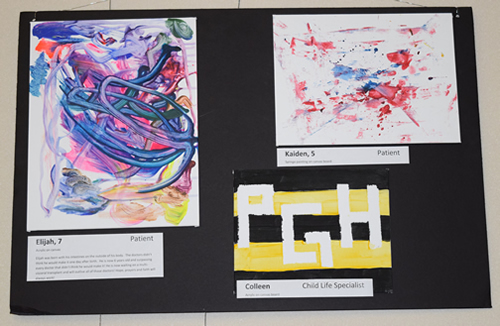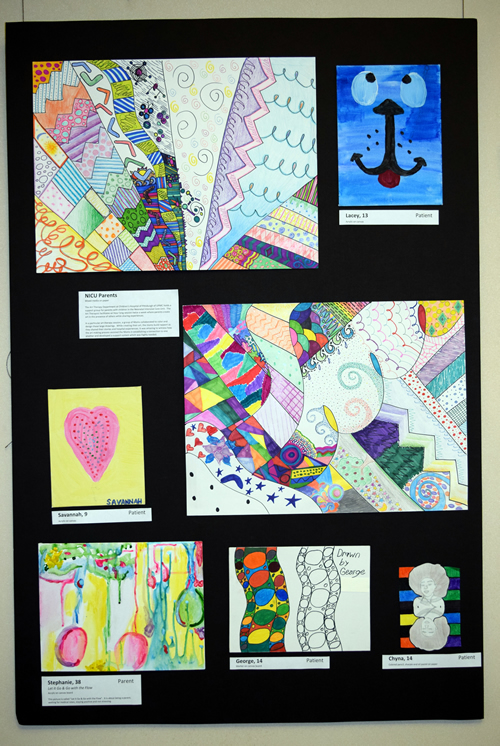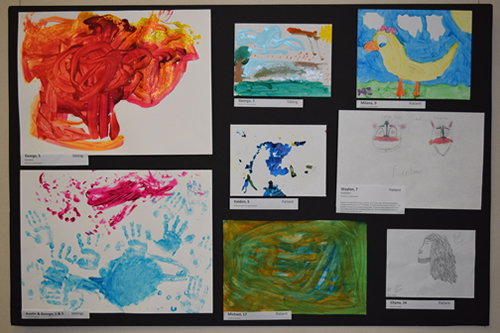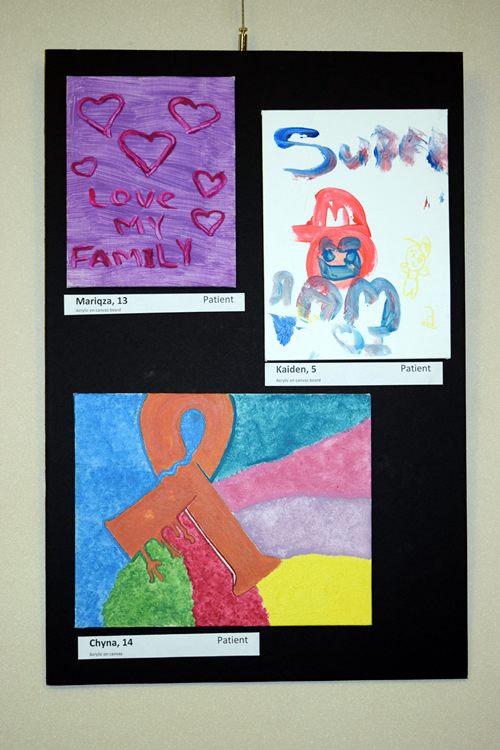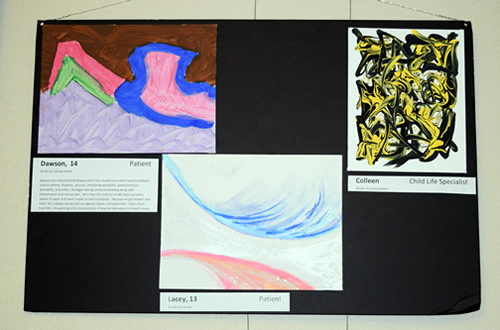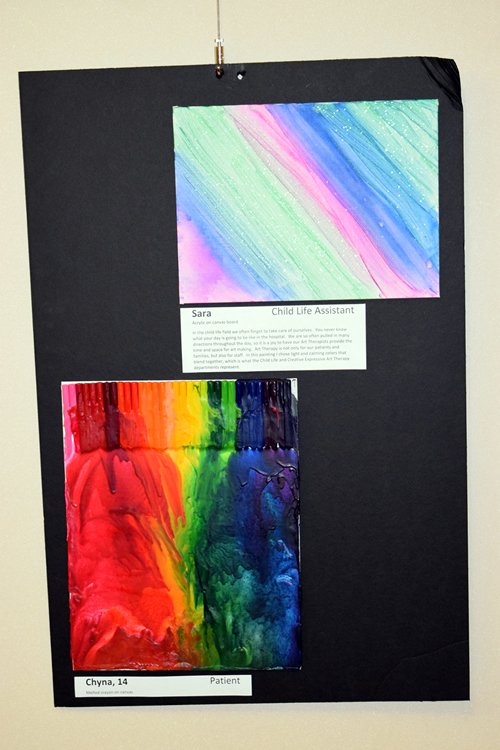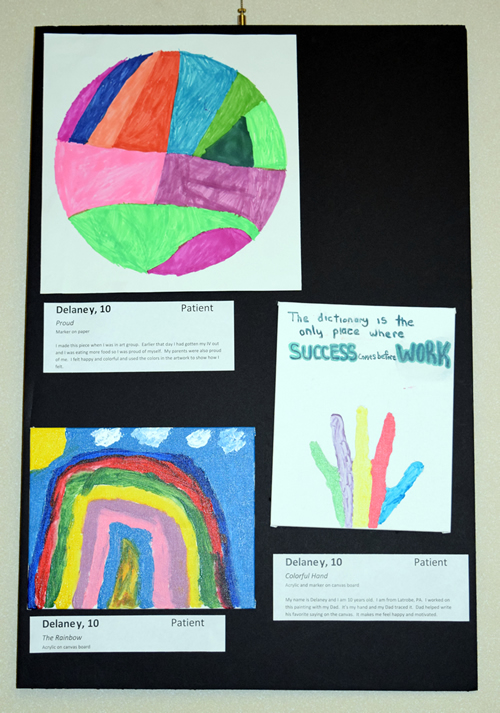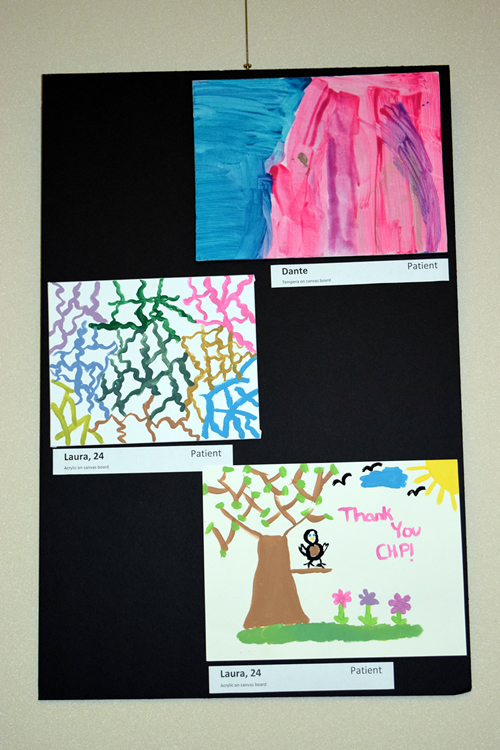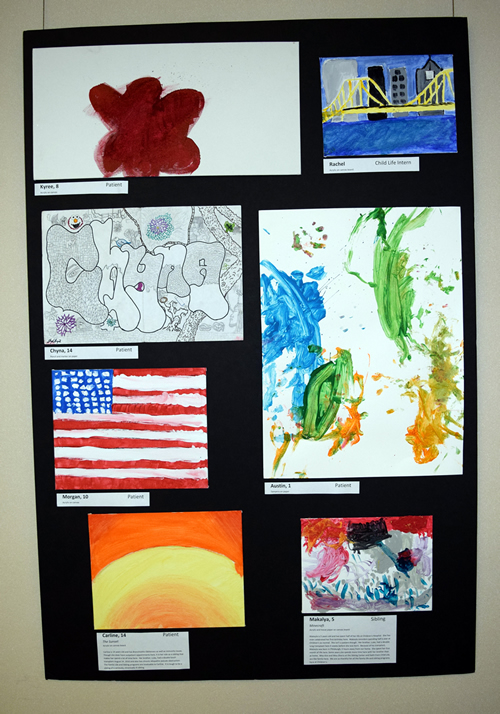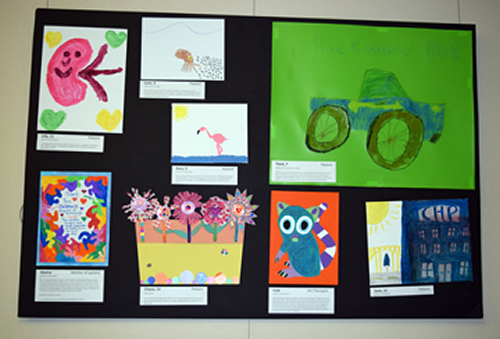 Featured Display 03/2016
Local high school students'
perceptions of the justice system in their daily lives
The Pittsburgh Division of the United States District Court for the Western District of Pennsylvania regularly invites regional artists, craftsman, and related groups to publicly display their personal creations in the main lobby of the courthouse.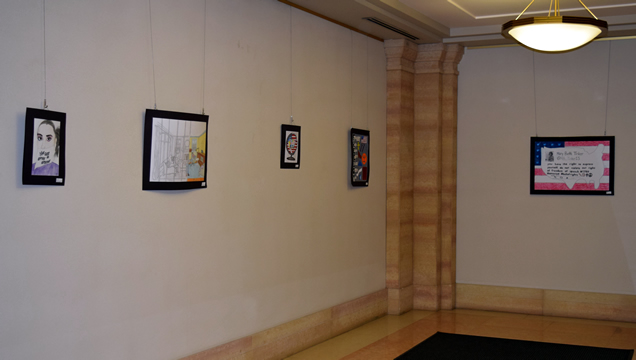 This year, in celebration of our national Bill of Rights Day on December 15, 2015, students from Highlands High School submitted personal artwork for display at the courthouse.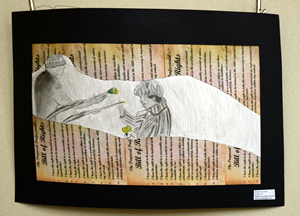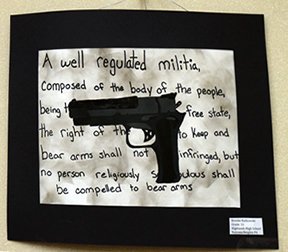 Submissions reflected the students' perceptions of the justice system, the ideals embodied by the Bill of Rights, and how the rights enshrined therein impact students in their daily lives.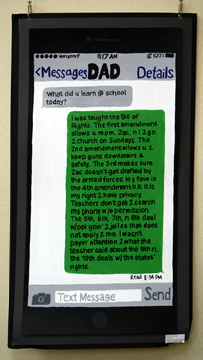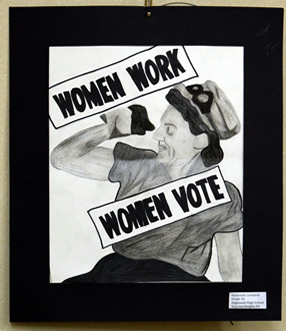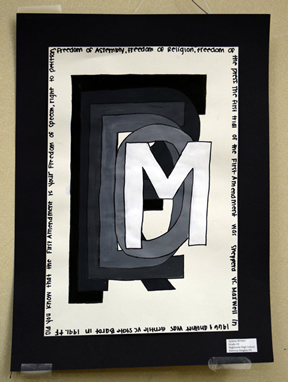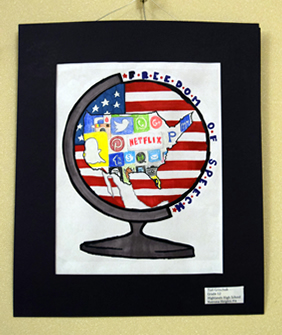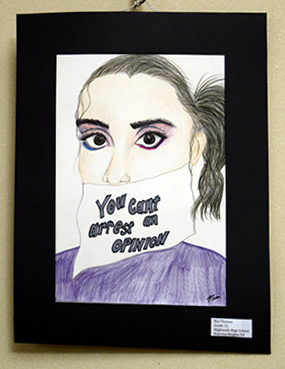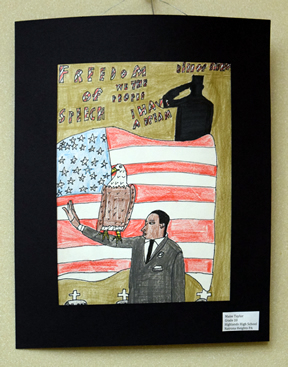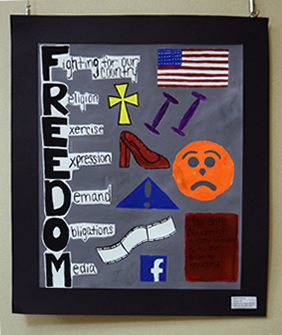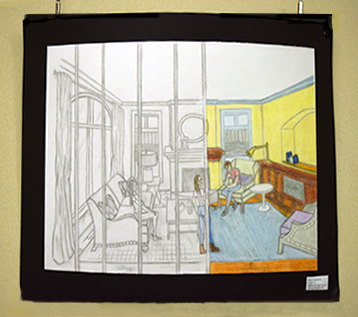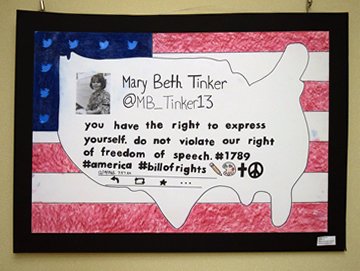 Featured Display 12/2015
A & H
Photography
Adam Hinderliter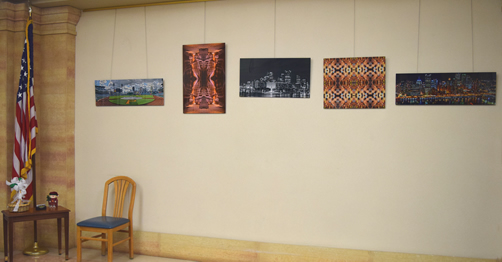 Adam Hinderliter is a devoted photographer whose photographic passion is nature. He roams the countryside to capture his unique shots.   Adam studied at the Art Institute of Pittsburgh and has been an avid photographer since 2000.

In the last few years cityscapes are a focus.  Not only the beautiful parts of a city, but also the urban decay become a profound image.  Graffiti, rusting bridge supports, and the elegant buildings become art images.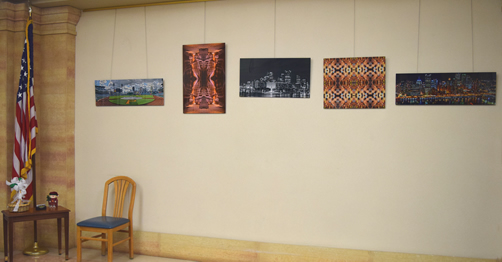 Adam's Ambiguous Designs is pure play and creativity.  These photos are derived from a single shot that Adam delights in altering. The result is nothing like the original, but becomes a unique work of art.  Of course, the portrait of a solitary animal will always be an interest. Adam captures the individual personality of wildlife.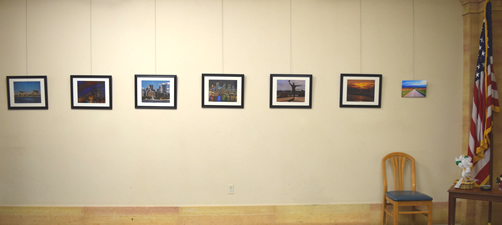 Not only does Adam print pieces on archival paper, but he has the capability of printing each photograph on metal. The images are infused into the surface and they take on a magical luminescence. The effect of this new art medium is uniquely stunning. The colors are vibrant and the luminescence is breath taking.


Every photograph of Adam's is a Limited Edition. All photographs are numbered and signed by the artist.
Featured Display 9/2015
abandoned pittsburgh
photography by
chuck beard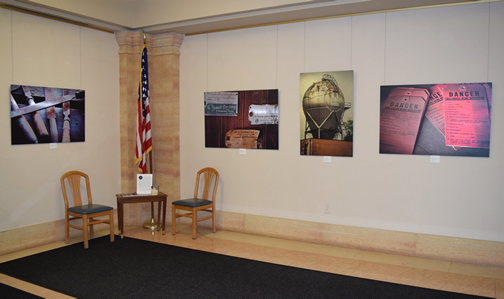 Welcome to the land of pierogies, babushkas, neb-noses, gumbands, jagoffs, jimmies and redding up.

The first evening World Series was played here ... the first polio vaccine was developed here ... the first motion-picture theater was opened here ... and the first Big Mac and banana split were eaten here.

Few American cities have retained their immigrant-founded
ethnic neighborhoods, and yet proud Pittsburghers can still be thoroughly Polish, German, Jewish or Italian in Polish Hill, Deutschtown, Squirrel Hill or Bloomfield.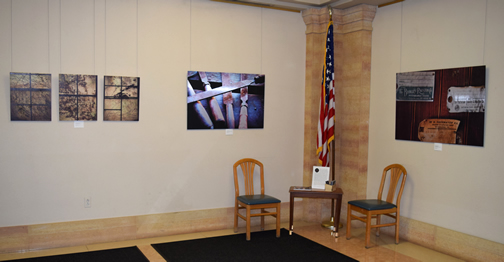 Pittsburgh now looks to a future of innovative technology, medicine, financial services and education, and is rightly proud of its blue-collar charm and much-lauded livability. But Pittsburghers are slow to give up their ghosts. Rusted skeletons of steel mills and rail depots line the rivers, corroded reminders of a city's past forged in steel. Churches built in the 19th century by devout East European immigrants now stand desanctified and decayed. The Abandoned Pittsburgh project explores these forgotten places where a strange, haunting beauty still exists.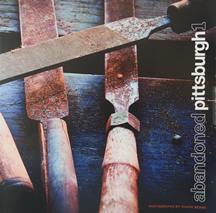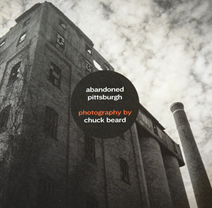 Books and prints are available at http://www.abandonedpittsburgh.com/
Featured Display 6/2015
Pittsburgh Society of Illustrators

Pittsburgh Society of Illustrators (PSI) was founded in 1997.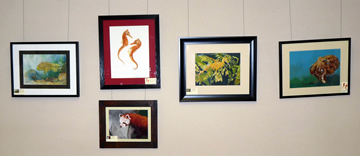 We are a future-oriented professional group that sees no limits to the possibilities
of the narrative art form of illustration, serving not only all print markets,
but the web/interactive, animation, interior design, outdoor exhibit,
and collectors' markets as well.

We are the fourth largest Society of Illustrators in the United States,
with every technique and process eclectically represented.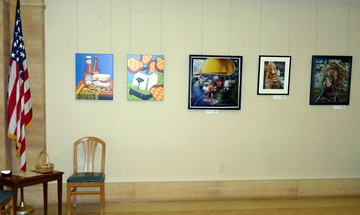 PSI exists to fill the specific needs for an organization with which all
Pittsburgh area illustrators and other persons interested in the
aims of the society (buyers, gallery directors, educators, etc.) can affiliate.

---
Pittsburgh Society of Illustrators
Judith Lauso has worked as a painter, illustrator, art instructor and book illustrator for over twenty years. Her body of work includes book and cover illustration, portraits, sports-figure portraits, and illustrative-portrait renderings in addition to small-scale mural work. Since 2010-2014, she has concentrated on illustrating four, published children's books and doing varied illustration commissions. Judith holds art degrees from the Art Institute of Pittsburgh and the University of Pittsburgh. She has also worked at CCAC, south, and Bethel School House instructing adult and children's art classes. In addition, she taught art classes at the Children's Museum of Pittsburgh, and Carnegie Museum Studio.
Judith is a member of Bethel Artists League, Pittsburgh Society of Artists and Pittsburgh Society of Illustrators. Her work is part of both private and corporate collections.
Contact info: (ph) 412-854-3154
Email: Judith.lauso@gmail.com
Website:   www.iudithlauso.com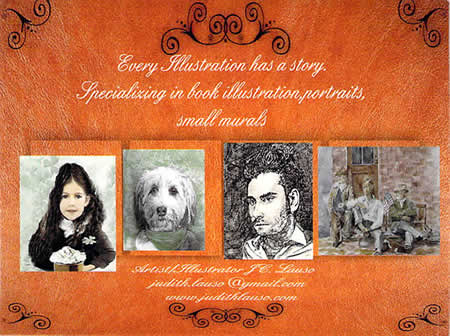 Ron Magnes
ronmagnes.com
Fine Art Prints
ron-magnes.artistwebsites.com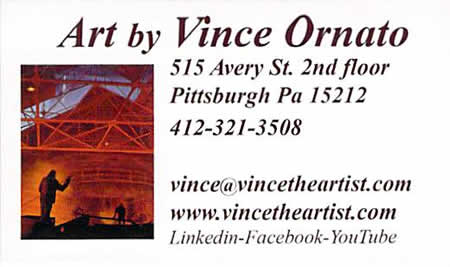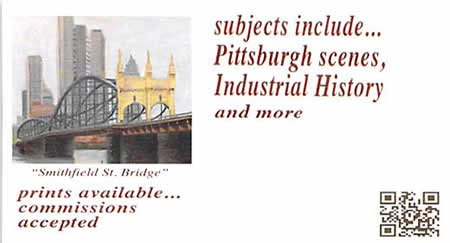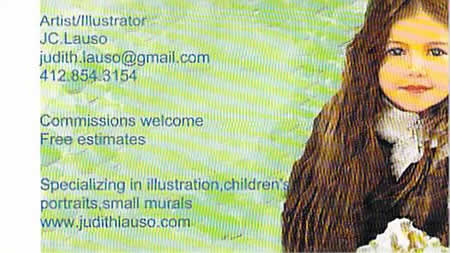 Featured Display 3/2015
Sandra Beitsinger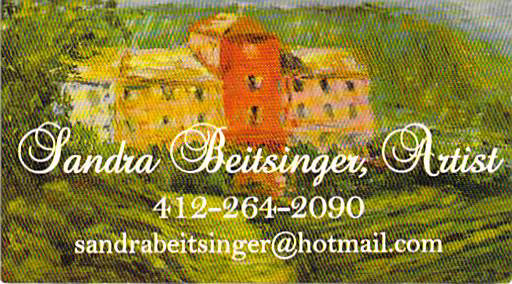 Sandra Beitsinger enjoyed painting for forty years, studying
and taking numerous workshops in the U.S. and Europe.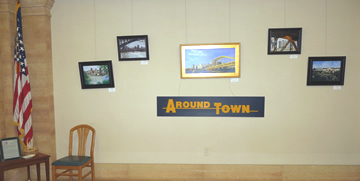 Most of her artwork depicts images discovered through
her extensive travels in Italy, France and Austria.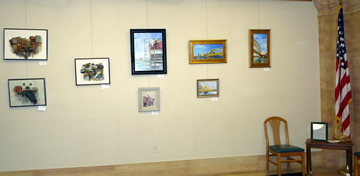 Although Sandra has explored different mediums and styles,
she favors painting with oils using the
impasto technique in the impressionistic style.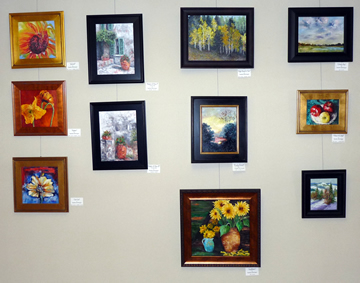 Currently, she is finding satisfaction recreating monochromatic
knife paintings from vintage black and white family photos.
There is a story to be told behind each of her paintings.
Selected paintings can be reproduced as a giclee.
Contact Sandra regarding purchasing a specific painting.
Art acquisition contact:
Sandra Beitsinger
412-264-2090
412-443-4142 cell
sandrabeitsinger@hotmail.com
---
Featured Display 12/2014
PITTSBURGH VISIONS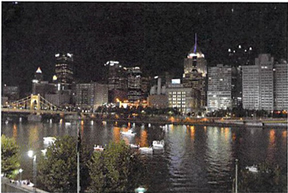 Pittsburgh and Southwestern Pennsylvania are a photographer's delight.
The architecture is unique and the skylines ore one of a kind.   The surrounding area is rich in vivid landscapes and colors, thanks to the geological forces that shaped this region so long ago. In the photographs selected for this showing, my hope was to let you see the colors, lines, and angles that surround us, which we sometimes in our hectic lives take for granted. We see many of these sights daily...but sometimes we don't actually feel what we are seeing. So take a few moments and try to feel these colors, these sights, these angles.  I hope what you get out of this is a greater appreciation for the artistic quality of our man-made and natural surroundings. Thank you for taking the time to view these photographs.
Eric Falk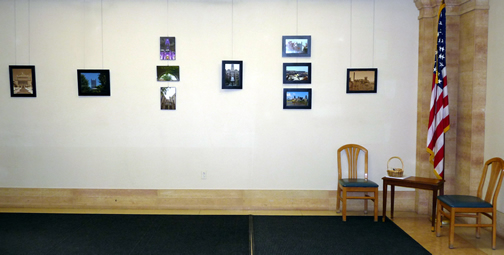 Contact information
Mr. Falk is an avid amateur photographer who is particularly interested in natural and man­ made architecture.  He has his own webpage which can be found at
https://prime .500px.com/ercfalk1959.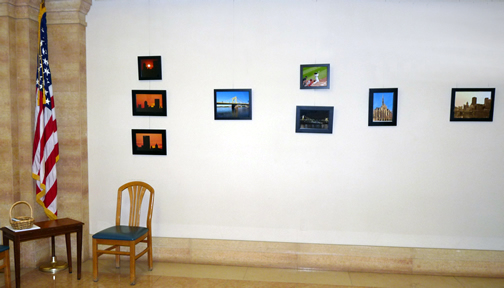 ---
Featured Display 9/2014
The North Hills Art Center (NHAC)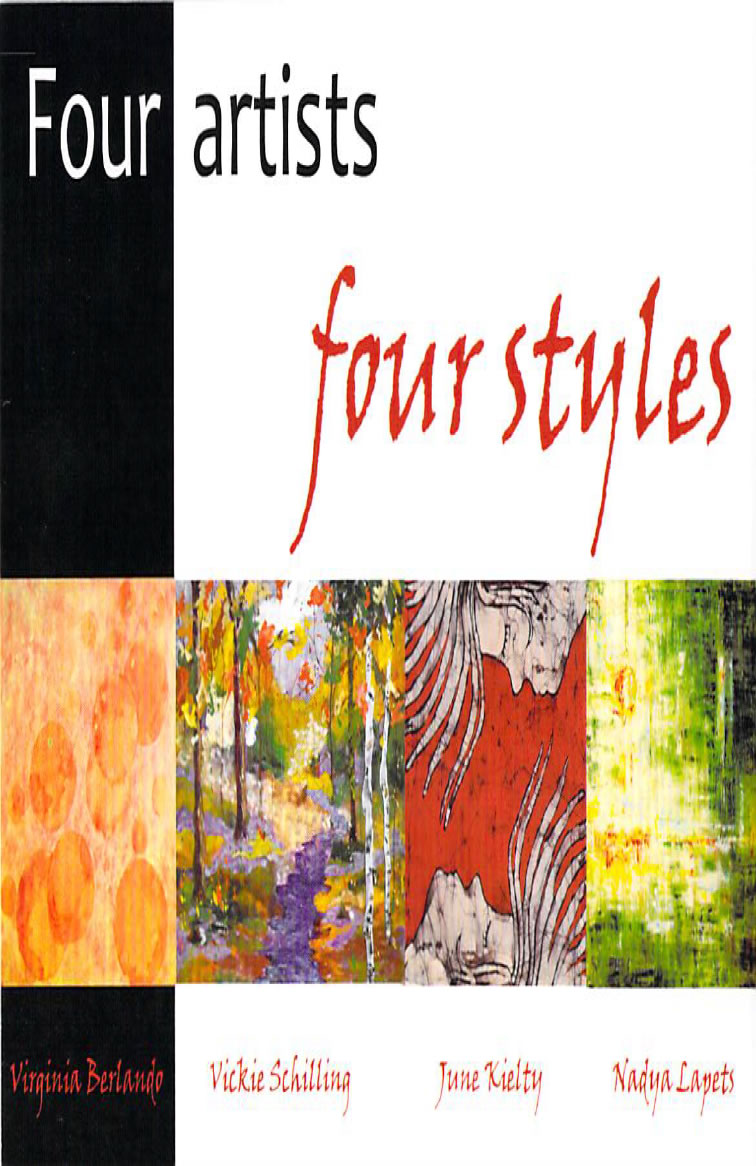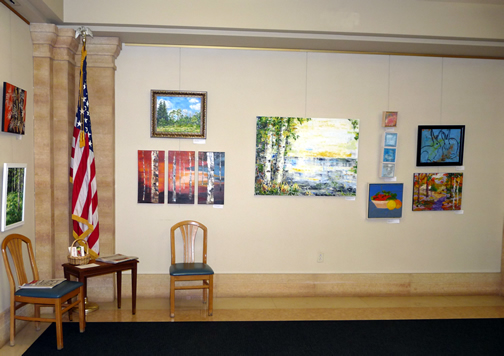 Contact information
Vrrginia Berlando phone 412-630-8159
email vberlando@aol.com
June Kielty            phone 724-799-6778
Nadya Lapets          phone 412-956-9516
email nlapets@yahoo.com
Vickie Schilling      phone 412-779-1166
email vickie.schilling@yahoo.com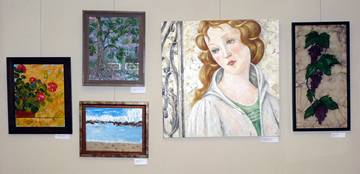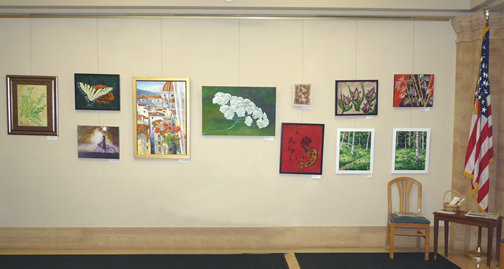 Art acquisition contact:
June Kielty
(724)799-6778
---
Featured Display 6/2014
The North Hills Art Center (NHAC)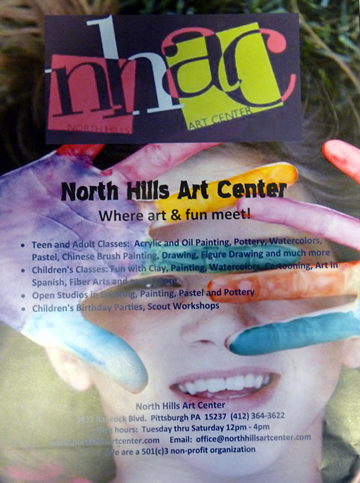 The North Hills Art Center (NHAC) is a 501(c)3 non-profit organization
founded in 1959 by a group of artists dedicated to providing a haven for
people to learn, express themselves and appreciate all forms of art.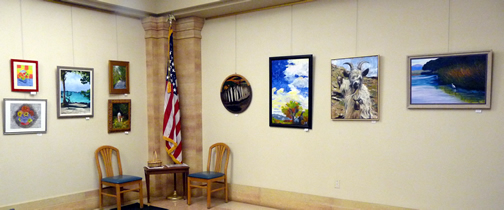 The center offers affordable, quality art enrichment with classes ranging
from pottery to painting, pastels to paper arts for all age groups and
levels of experience.

Featuring themed, student and exclusive shows each year, the
center also offers opportunities for amateurs and professionals to
exhibit their artwork.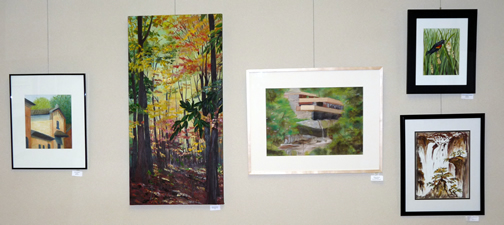 Gallery and Office Hours:
Mondays and Wednesdays from 10 a.m. to 2 p.m.
Tuesdays, Thursdays, and Fridays from 12 p.m. to 4 p.m.


North Hills Art Center
3432 Babcock Blvd., Ross Twp.
Pittsburgh, PA 15237
(412) 364-3622



Membership and class information is available at
www.northhillsartcenter.org.
---
Featured Display 3/2014
Federal Employee and Family Art Exhibit
Presented by the Community Outreach Committee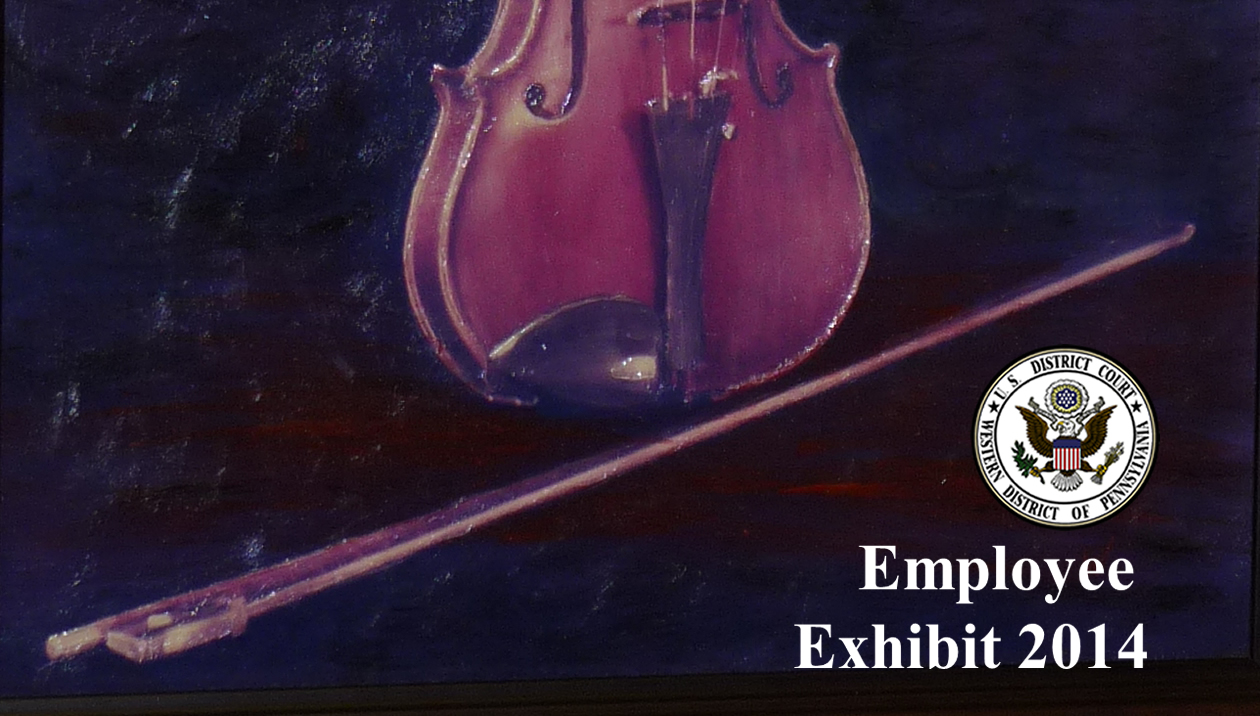 We are well represented with many mediums, topics and entries from
multiple departments of all of our offices.


"Alpaca" woven shawl - Patricia Price Clerk's Office Johnstown
Belgian Hare - Erin Gibson - Chambers Johnstown
Off the Trail in Millvale PA - Jim Imhof - Chambers Pittsburgh
Father's Violin - Dan Wilt - Information Systems
de novo - Ginevra Ventre - Chambers Pittsburgh


On Pointe - Natalya Marinch - Information Systems
Reichtag, Berlin - Judge Bissoon - Chambers Pittsburgh
Untitled - Karen Earley - Court Reporter
Cucumber Falls, Ohiopyle - Dan Wilt - Information Systems
Portland Headlight - Rodger Leasure - Information Systems
Bobcat - Elena Marzina - Chambers Pittsburgh
Untitled - Miranda Marinch - Information Systems


Flagship Niagra Making Ready - Dan Wilt - Information Systems
Self Portrait - Tristan Marinch - Information Systems
Dyrham Park, Bath, England - Laura Bunting - Chambers Pittsburgh
Key West Sunset - Patty Alberti - US Attorney's Office
Mom's Christgmas Gift - Kelly Trapani - Chambers Pittsburgh
Alamo Walk - Dan Wilt - Information Systems
Clear Creak State Park - Dan Wilt - Information Systems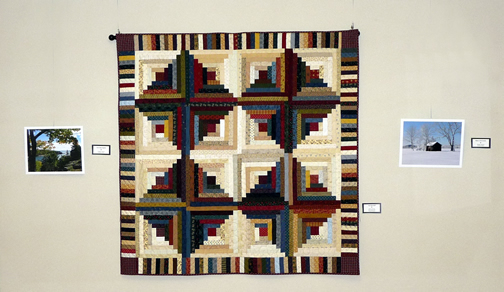 Fall in New England - Rodger Leasure - Information Systems
Log Cabin Quilt - Karen Schwab - Chambers Pittsburgh
Winter in the Country - Rodger Leasure - Information Systems
---
Featured Display 1/2014
Manchester Craftsmen's Guild
Youth & Arts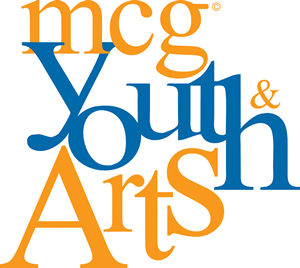 City of Bridges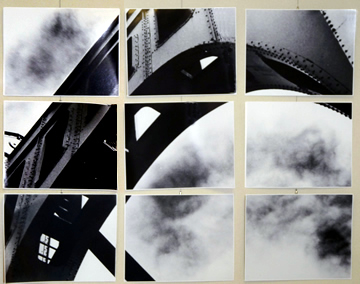 For ten weeks the students from the City of Bridges class were taken out on various field trips to some of Pittsburgh's most notable bridges.  Students would learn the history of each bridge and then have the chance to photograph what inspired them while on the structures.  They used 35mm film cameras, then learned to process their film and print their photographs in MCG's darkroom.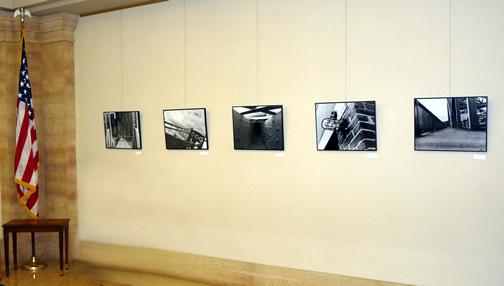 About MCG Youth & Arts
MCG Youth & Arts is a center for arts and learning.  Support for this esteemed non-profit comes from various grants, foundations and individual donations.  Students may participate in programs including, but not limited to, courses in ceramics, photography, design and digital arts; career and college exposure activities; and exhibits by internationally renowned artists who also conduct workshops with MCG students. 

Additionally, MCG Youth & Arts hosts a number of educational opportunities for principals, teachers and the community, and offers public access to its two galleries at no cost.  All of MCG Youth & Arts' programs are implemented by professional working artists, and maintain an 8:1 student:teacher ration in order to provide students the attention they need to succeed.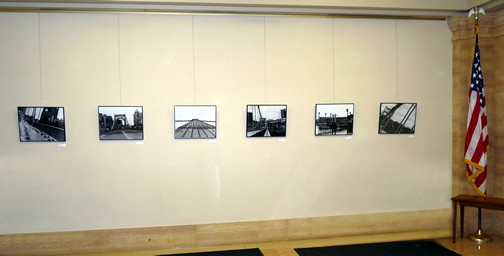 For more information, please visit www.mcgyouthandarts.org.
---
Featured Display 9/2013
Roy Engelbrecht Photography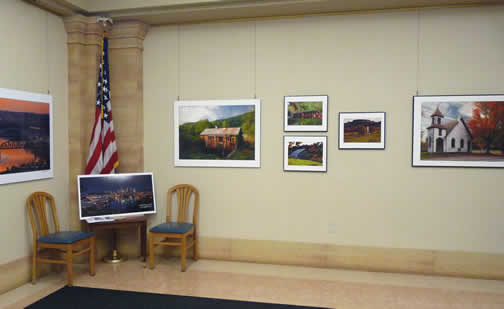 Roy Engelbrecht Photography is a commercial photography studio specializing in studio work and architectural photography. It utilizes film and digital cameras. The film formats range from 35mm to 4x5 and 6x17, while digital equipment can provide up to 48 MB as single shots. The studio includes a 2500 square foot shooting area with cove. In-house facilities include dye sublimation printers, large format inkjet printers, CD burners, and conventional color prints from negatives up to 12"x18".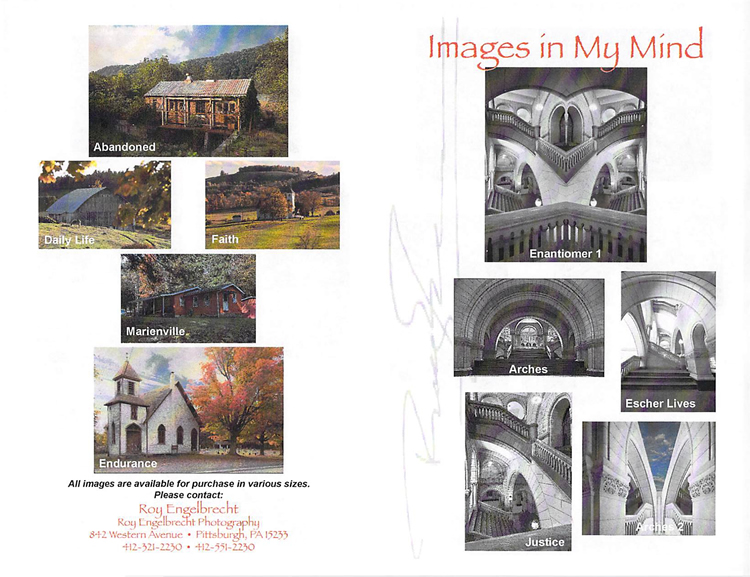 Presently, Roy is President of the Pittsburgh Chapter of ASMP (American Society of Media Photographers.) His studio is located in Pittsburgh's North Hills.
---
Featured Display 6/2013
WHITEHALL ARTS
John Johns founded Whitehall Arts back in 1969.
John's idea behind forming this group was to promote art in the
South Hills and surrounding areas.
Another goal was to give artists a connection to each other and a chance to exhibit and sell their work.  John Johns was also interested in promoting the arts to educate the public.  He was past president of the Art Institute of Pittsburgh, so promoting arts  to the public was important  to him.  He often did demo's with Whitehall Arts in public places to make the public aware of the different facets of art.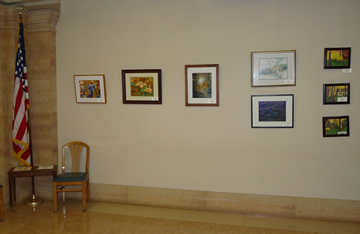 Our  artists'  abilities  range  from  beginners  to  professional.    Many  of  us learned  from  each  other,  from  workshops  we  had,  and  from   demo's performed  by various guest artists  at general  meetings.  As years went on some of our members taught workshops, which shows that years of growth as artists has been proof of being a member of Whitehall Arts was a blessing to our members.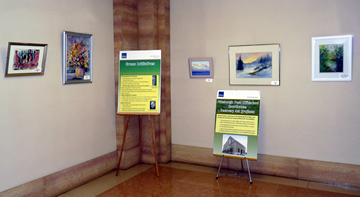 Many lasting friendships have flourished over the years. One group of artists, the Wednesday Five, has been painting on Wednesdays for the past 34 years. They probably would not have met, but for Whitehall Arts; and this is not the exception in this group.

For all these wonderful experiences we all derived from being a member of Whitehall Arts, we are ever grateful to John Johns for his insight in forming our group. John passed on to glory several years ago. We all miss him very much.
Featured Display 3/2013
Pittsburgh CAPA 6–12
is a Creative and Performing Arts Magnet school located
in the heart of Pittsburgh¹s downtown cultural district. In 2009,
Pittsburgh CAPA was named a Blue Ribbon School of Distinction by the
U.S. Department of Education. U.S. News and World Report awarded
Pittsburgh CAPA a Bronze Medal in their 2010 America¹s Best High Schools
List.
The vision of Pittsburgh's Magnet School for the Creative and Performing Arts (CAPA)
is to establish a best-in-class teaching and learning environment that enables students
in grades 6-12 to study the arts for their intrinsic, aesthetic, historical and cultural
values. This environment includes the interaction and input of all stakeholders: parents, teachers, students and the community. CAPA is enhanced by partnerships and
collaborations with local arts organizations and universities aimed at providing
students with a myriad of opportunities in which to explore the relationship between
the world of school and the worlds of family and work.
As a Pittsburgh Public School, CAPA is an environment that enables students to become
adults with a lifelong involvement in, and appreciation of, the arts.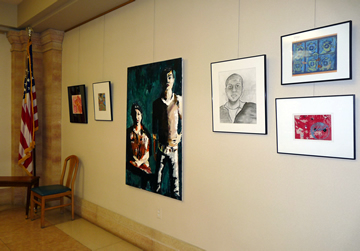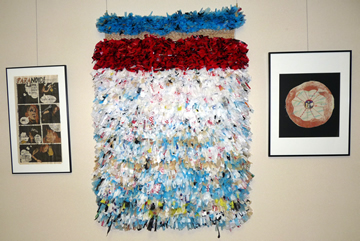 The artwork on display was created by
CAPA Visual Art Students in grades 8-12.
Featured Display 1/2013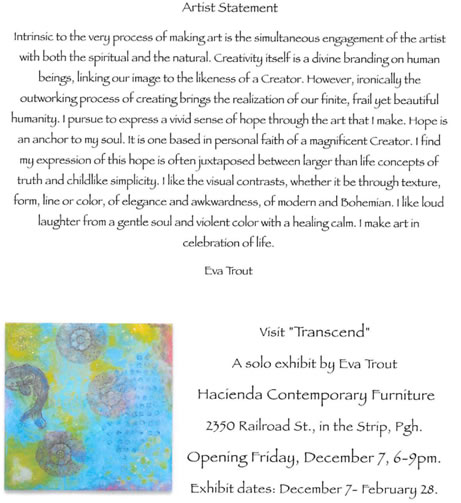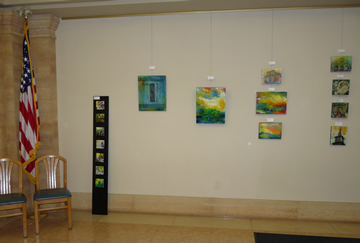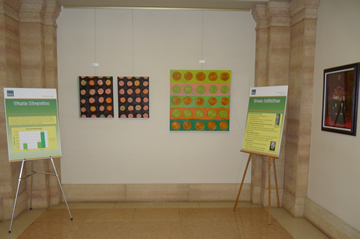 Featured Display 9/2012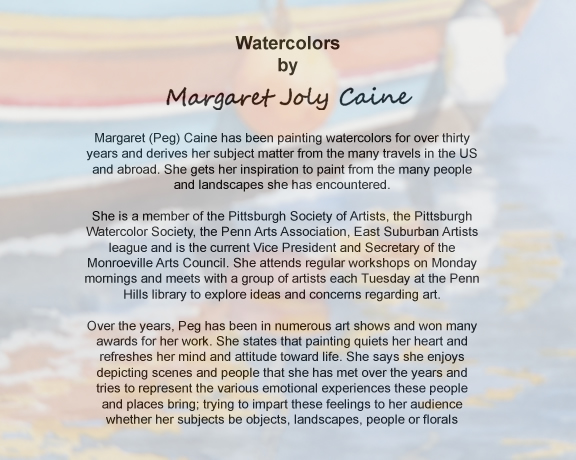 Featured Display 6/2012
New Horizons and Valley Art Clubs
This exhibit is the combined works of artists from New Horizons,
the art group from the Center in the Woods Senior Center in California, Pa,
and the Valley Art Club which is based in Charleroi
with an annual exhibition in Monessen.
It was organized in 1941 under the auspices of the Monessen
Women's Club and the name was changed to the Valley Art Club in 1951.  
Its purpose is to promote art, cultural appreciation and the beauty of the
Mon Valley with an award for the "Best Valley Scene" at the yearly exhibition.
Featured Display 2/2012
Alexander Patho Photography
The exhibit is an impressionistic journey through the Pittsburgh landscape expressed in the
new collection of photographs by Alexander Patho.
from February 29, 2012 through May 16, 2012.
www.pathophoto.com
412-486-1621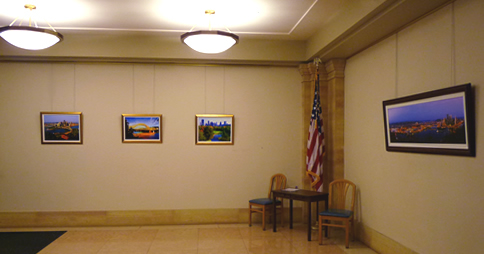 Each photograph is individually created by the artist using the latest
Giclee printing technology at the Patho Fine Art Studio.


Giclée Production is the process of creating high quality reproduction prints from original works of art, using the latest, archival digital printing technology.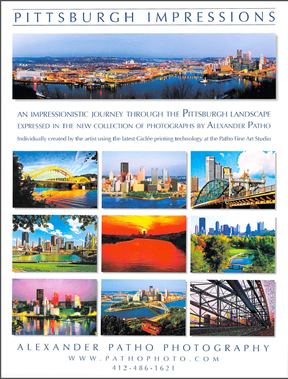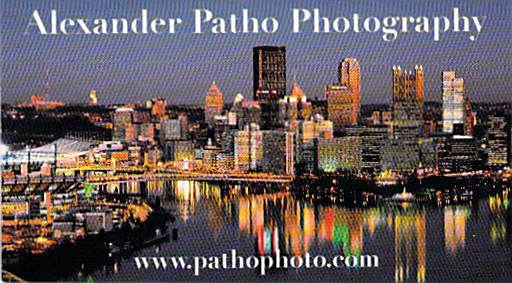 Alexander Patho Photography
209 Notrh Rose Dr.
Glenshaw, PA 15116
Architectural-Commercial-Fine Art Photography
412-486-1621
www.pathophoto.comAlexander Patho is a internationally recognized fine art photographer. 
His striking color images are the culmination of forty-five years of research and exploration of photographic art and technique.  The seamless fusion of traditional photography with cutting edge digital archival print making characterizes his artistic method. From image capture to the final print, he completes every aspect of the photographic process himself, maintaining complete control over it. 
---
Featured Display 1/2012

Eileen Potter Kopelman
The exhibit is a series of oil and 22 karat gold leaf paintings,
by Eileen Potter Kopelman in the main lobby
from January 18, 2012 through February 28, 2012.
See all of her work at www.rockinggrannyfineart.com


The painting "When Swine Flew" won a Merit Award at the 2011 Hoyt Regional Juried Art Exhibition in New Castle at the Hoyt Institute of Fine Arts.

Bragozzo Boat, Venice" was painted from a photo Ms. Kopelman took from a cruise ship deck in Venice.
(The sail has gold leaf on it)

The painting "Camel at Petra" won "Best of Show" at the Penn Art Association show in 2010.

 

 

"Elephant Family" was based on elephants at the Pittsburgh Zoo.

 
"Mare and Foal" are Standard Bred race horses from western Pennsylvania.
Featured Display 12/2011
Eileen Potter Kopelman
The exhibit was a series of 28 oil paintings, by Eileen Potter Kopelman, pertaining to the Wyoming Massacre in the main lobby from December 5, 2011 through January 17, 2012.
See all of her work, including the Wyoming Massacre series, at
www.rockinggrannyfineart.com

The Wyoming Massacre and the Battle of Wyoming were part of the Revolutionary War in the Wyoming Valley of the Susquehanna River, near Wilkes-Barre. On July 3, 1778 the British and their Iroquois and Tory allies attacked the settlement. One thousand able-bodied men were in Connecticut with the American military and thus were unable to defend it. The remaining 350 old men and boys fought an enemy force of 11,000-16,000 men.

            This painting The Yankees March Out to Meet the Enemy shows the Americans being lured forward by the smoke from the Tory built Fort Wintermute, which the British burned as a ruse to make to make it look as if they were retreating. The Indians, who would break through their line, are hiding in the swamp in the foreground. The enemy claimed they took 227 scalps that day. The Indians, to their credit, followed orders from the British and did not kill any women or children in either the Battle of Wyoming or the Massacre that followed. However, at the end of the encounter almost all of the farms in the Wyoming Valley, as well as crops in the fields, were reduced to ashes. The people fled on foot through the swamp and on boats and rafts on the river. A few lucky ones escaped on horseback. The following year, General Sullivan's American army retaliated and chased the Indians halfway to Niagara, reducing their villages and crops to rubble along the way. When the Native Americans returned, they found themselves suddenly starving and poverty stricken. If they had sided with the Americans instead of the British during the American Revolution, they might have come out of the war with their lifestyles intact.

            Kopelman, of Lower Burrell, Westmoreland County and originally from Susquehanna County, has exhibited paintings in juried shows at the Hoyt Institute of Fine Arts in New Castle, PA, and at the Southern Alleghenies Museum of Art in Ligonier, PA, and has won prizes for her work in both venues. She has won numerous other awards. The artist researched and painted the series over a five year period from 2004 to 2009.

            The paintings are not for individual sale, but the artist would someday like to see the entire series find a suitable home in northeastern Pennsylvania.

The Yankees March Out to Meet the Enemy

 
A color booklet titled The Wyoming Massacre by the artist accompanies the exhibit and can be purchased by going to www.xlibris.com/bookstore.

 

 

 
---
Featured Display 9/2011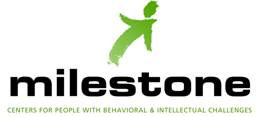 For more information about our programs or to purchase artwork, call:
Jennifer Macioce, LCSW,NCGC
Director of Day Treatment & Deaf Services
412‑473-8059
jmacioce@milestonecentersinc.org
Through Milestone's therapeutic programs in the arts, many participants are able to develop their talents and increase their self-confidence and self-esteem.

Milestone's Press Release
Unlikely Exhibit Opens At Federal Courthouse

 

 
---
Featured Display 6/2011
Susan Castriota
The Courthouse illustrations are pen & ink done by hand. The color illustrations are a blend of pen & ink, pastel pencil and acrylics.
All prints are copied from original art/paintings by Pittsburgh Artist Susan Castriota. For information about the sale of this art work, additional prints, and greeting cards illustrated by Susan, please email   susancastriota@aol.com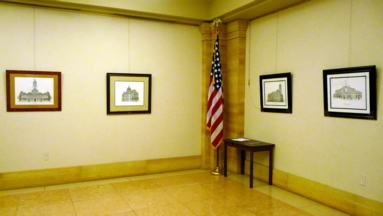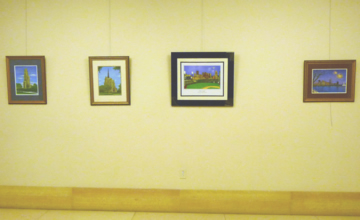 ---
Featured Display 3/2011
Pittsburgh Society of Artists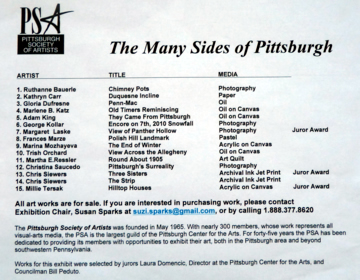 ---
Featured Display 1/2011
Manchester Craftsmens's Guild

---
Featured Display 9/2010
CYNTHIA F. COOLEY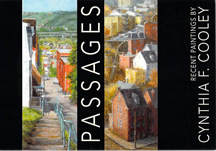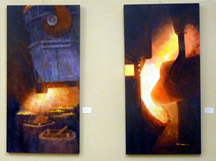 ---
Featured Display 6/2010
Young Men and Women's African Heritage Association, Inc.
YMWAHA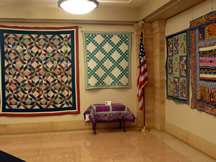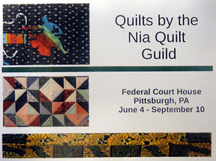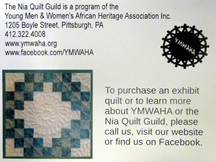 Installation of the YMWAHA exhibit June 4, 2010
---
Featured Display 2/2010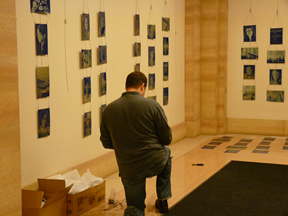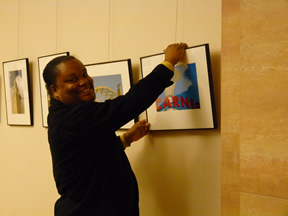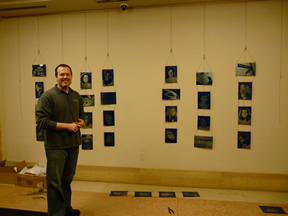 Installation of the exhibit February 17, 2010